Joan Quigley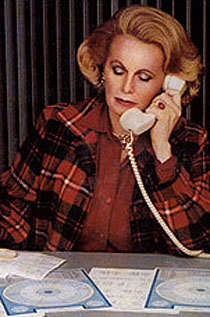 Born: 10-Apr-1927
Birthplace: Kansas City, MO
Died: 23-Oct-2014
Cause of death: unspecified

Gender: Female
Race or Ethnicity: White
Occupation: Paranormal
Nationality: United States
Executive summary: Reagan's astrologer
Heiress astrologer based in San Francisco. Introduced to Nancy Reagan by Merv Griffin in 1976, after appearing as a guest on his talk show. After Ronald Reagan was nearly assassinated by John Hinckley in 1981, Quigley told the First Lady that she could have forseen the tragedy and averted it through the use of her star charts. For the next seven years, Quigley set the president's schedule based on precise astrological calculations, determining (often to the second) the most auspicious dates and times for conferences, travel, and state functions. Quigley's technique involved comparing the star charts for a hypothetical individual with Reagan's birthday (his exact time of birth was unknown, so charts had to be extrapolated from events in his life) with that of another hypothetical individual born on 4 July 1776.
Her consultancy was terminated in 1988 when ousted Chief of Staff Donald Regan revealed the existence of a White House astrologer in his 1988 book For the Record:
Although I had never met this seer -- Mrs. Reagan passed along her prognostications to me after conferring with her on the telephone -- she had become such a factor in my work, and in the highest affairs of the nation, that at one point I kept a color-coded calendar on my desk (numerals highlighted in green ink for "good" days, red for "bad" days, yellow for "iffy" days) as an aid to remembering when it was propitious to move the president of the United States from one place to another, or schedule him to speak in public, or commence negotiations with a foreign power.
Regan later described his reaction:
I was aghast to think that the wife of the President of the United States was using a public telephone to discuss the movements of the President of the United States with a party who had never been cleared by the Secret Service, or anybody else. It was wrong. And I don't care what others say of my conduct in reporting this, but I think it had to be out of bounds.
Father: John B. Quigley (hotelier)
Sister: Ruth


University: Vassar College (1947)


Seventeen astrology column, as Angel Star, late 1960s


Author of books:
Astrology for Teens (1969, astrology, as Angel Star)
Astrology for Adults (1969, astrology)
Astrology for Parents of Children and Teenagers (1971, astrology)
What Does Joan Say?: My Seven Years As White House Astrologer to Nancy and Ronald Reagan (1990, memoir)





Requires Flash 7+ and Javascript.



Do you know something we don't?
Submit a correction or make a comment about this profile






Copyright ©2019 Soylent Communications