Alexander Graham Bell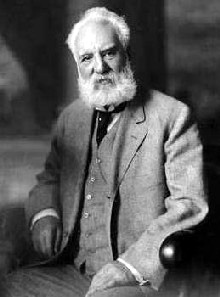 AKA Alexander Bell
Born: 3-Mar-1847
Birthplace: Edinburgh, Scotland
Died: 2-Aug-1922
Location of death: Baddeck, Nova Scotia, Canada
Cause of death: Diabetes complications [1]
Remains: Buried, Beinn Breagh Estate, Baddeck, Nova Scotia, Canada

Gender: Male
Religion: See Note [2]
Race or Ethnicity: White
Sexual orientation: Straight
Occupation: Inventor
Nationality: United States
Executive summary: Inventor of the telephone
Even as a boy, Alexander Bell was fascinated by the mechanics of speech and sound, and told friends that one day they might be able to speak over the telegraph. His father taught the deaf, and had developed what was called the "visible speech" system to help deaf children learn to speak. Even his grandfather had worked with children to overcome their speech impediments. In a rather gruesome but telling episode, young Bell and his brother experimented with the larynx of a dead sheep, and found that if they forced air through it the lifeless organ could make sounds akin to speech.
Friends and family called him Alec, and he was not given a middle name at birth. His brothers had middle names, and feeling somewhat shortchanged he asked his father if he could add 'Graham' as a tribute to a friend and family boarder, Alexander Graham. As a present for the boy's eleventh birthday, his father acquiesced.
As an adult, A. G. Bell followed in his father's footsteps and taught elocution to the deaf and hard-of-hearing. His first deaf students included 5-year-old George Sanders, whose father later became a principle investor in Bell's telephone system, and 16-year-old Mabel Hubbard, who became Bell's wife when she was 19. He taught at the Boston School for Deaf Mutes, which was later absorbed into Boston University, where Bell became a professor of vocal physiology.
His first inspiration for the "electrical speech machine" — the telephone — came in 1874, while he was tinkering with an earlier idea, the "harmonic telegraph" that could send more than one telegraphed messages at once. Over the next few years, working with his assistant, Thomas A. Watson, Bell discovered that under certain circumstances sound could be carried short distances across telegraph wires. On 10 March 1876 their experiments led to an unplanned breakthrough, when Bell muttered a sentence at his shop table ("Mr. Watson, come here -- I want you.") and Watson, wiring equipment on another floor of the same building, heard his voice clearly, right through the wires.
They started the Bell Telephone Company, ancestor of the present day Bell systems, in 1877, and Bell was a driving force behind establishment of the academic journal Science in 1880. For his invention of the telephone, he won the Grand Volta Prize in 1880, an honor accompanied by a substantial cash honorarium, which Bell used the create the Volta Laboratory for research of hearing issues (now the Alexander Graham Bell Association for the Deaf and Hard of Hearing). In 1882 he purchased control of Western Electric, which manufactured the next several generations of telephones, and in 1885 he established the American Telephone and Telegraph Company (AT&T). He was a founding member of the National Geographic Society in 1888, and President of that organization for several years at the turn of the Twentieth Century.
After President James Garfield was shot on 2 July 1881, Bell read newspaper accounts of the President's worsening condition. Doctors were unable to find a bullet lodged in Garfield's chest, as medical x-rays had not yet been invented, but Bell remembered that an audible feedback could be heard when electrified telephone equipment was held near a piece of metal — could this phenomenon be used to locate the bullet in the President's body? Bell volunteered his services, and when he tested his theory on Civil War veterans it reliably indicated which former soldiers still carried bullets in their bodies and which did not. However, when Garfield's physicians let him try it at the President's bedside, Bell's method failed. He was jeered at in the media as a publicity-seeker, and Garfield eventually died after more than two months of misery. Scientists have since surmised that Bell's ingenious metal-detector could have worked, but it was thwarted by another new invention of the time — the metal bedsprings in the mattress, which Bell never knew about.
Over the years numerous other inventors and industrialists challenged Bell's patents in almost 600 court cases, five of which went to the US Supreme Court. Bell and his companies prevailed repeatedly in these cases, and in his latter years he was a wealthy man, living at his sprawling seaside estate in Nova Scotia. There he experimented with numerous other projects, from tests of a high-speed hydrofoil boat to a tetrahedral kite that could lift a man into the air. He was particularly interested in flight — in 1907 he established the Aerial Experiment Association, which drew Glenn Curtiss as a charter member.
His daughter Marion married botanist David G. Fairchild. By Bell's death in 1922, over 13,000,000 telephones were in use world-wide.
---
[1] Complications from diabetes, according to some reports, or progressive anemia, according to the New York Times.

[2] According to his wife, Bell was given some Unitarian literature in 1901 and after reading it he told her, "I have always considered myself as an agnostic, but I have now discovered that I am a Unitarian Agnostic".

Father: Alexander Melville Bell (teacher of the deaf, b. 1819, d. 1905)
Mother: Eliza Grace Symonds (musician, b. 1809, d. 1897)
Mother: Harriet Shibley (stepmother)
Brother: Melville James Bell (b. 1845, d. 1870 tuberculosis)
Brother: Edward Charles Bell (b. 1848, d. 1867 tuberculosis)
Wife: Mabel Hubbard (b. 25-Nov-1857, m. 11-Jul-1877, d. 1923, deaf)
Daughter: Elsie May Bell Grosvenor-Myers (b. 1878, d. 1971)
Son: Edward Bell (b. 1881, d. infancy)
Daughter: Marian Hubbard Bell Fairchild ("Daisy", b. 1880, d. 1962)
Son: Robert Bell (b. 1883, d. 1883 stillborn)


High School: Royal High School of Edinburgh, Edinburgh, Scotland
Teacher: Weston House Academy, Elgin, Morayshire, Scotland
University: University of Edinburgh
Professor: University College London
Teacher: Somersetshire College, Bath, England
Teacher: Boston School for Deaf Mutes (1871-73)
University: Vocal Physiology, Boston University (1873-75)


National Geographic Society President (1896-1904)
AT&T Founder (1885)
Western Electric Principle Owner (1882-1922)
Science Co-Founder (1880)
Bell Telephone Company Founder (1877)
Alessandro Volta Prize 1880
Hughes Medal 1913
French Legion of Honor
National Aviation Hall of Fame
IEEE Edison Medal 1914
National Inventors Hall of Fame
Smithsonian Institution Regent
Alexander Graham Bell Association for the Deaf and Hard of Hearing Founder (1880)
American Academy of Arts and Sciences
National Geographic Society Charter Member, 1888
Phi Beta Kappa Society
Scottish Ancestry
Naturalized US Citizen 1882
Units of Measure sound (bel, decibel)
Lunar Crater Bell (21.8° N, 96.4° W, 86 km. diameter)
Risk Factors: Dyslexia





Requires Flash 7+ and Javascript.



Do you know something we don't?
Submit a correction or make a comment about this profile






Copyright ©2019 Soylent Communications