Giovanni da Verrazano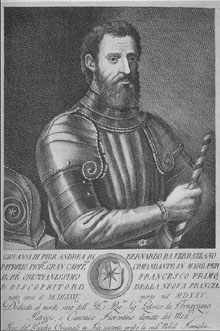 Born: 1485
Birthplace: Val di Greve, Tuscany, Italy
Died: 1528
Location of death: Lesser Antilles
Cause of death: unspecified
Remains: Missing

Gender: Male
Religion: Roman Catholic
Race or Ethnicity: White
Occupation: Explorer
Nationality: Italy
Executive summary: Discovered New York Harbor
Navigator, born about 1485, of good family, at Val di Greve, near Florence. Entering the naval service of Francis I of France, he soon became famous as a corsair, preying on the ships of Spain and Portugal, one of his prizes in 1522 being the treasure ship sent to Charles V by Hernando Cortes with Mexican spoils.
In January 1524, he began a voyage of discovery to the New World on behalf of his patron Francis I, during which he kept a log of his experiences. In 1556 Ramusio published in his collection of voyages a letter written by Verrazano giving an account of his voyage to the coast of North America and its exploration from 30° to 50° N. latitude. It is the first post-Columbian description of the North Atlantic coast, and gives the first description of New York Bay and harbor and the present Hudson River. From there he sailed along Long Island Sound to Block Island and Newport, of which he makes mention. From this notebook of the voyage his brother Hieronimo drew in 1529 a map of the North Atlantic coast, which is now in the museum of the Propaganda at Rome, and testifies to the accuracy of Verrazano's observations along the coast as far as a point in present-day Maine, after which he returned to France, arriving at Dieppe in July, 1524. Little that is authentic is known of his subsequent career; Spanish records relate that he was captured in 1527, while cruising off the coast of Cadiz, and executed by order of the Emperor Charles V. The modern view is that he was eaten by cannibals in the Lesser Antilles.
A bronze statue, set up in 1910, by his admiring fellow countrymen, facing the mouth of the great river on whose east bank the metropolis of the United States has grown, proclaims their conviction that Giovanni da Verrazano, and not Henry Hudson, was its discoverer. He is the namesake of New York City's Verrazano Narrows Bridge.
Do you know something we don't?
Submit a correction or make a comment about this profile

Copyright ©2021 Soylent Communications