Corey Hart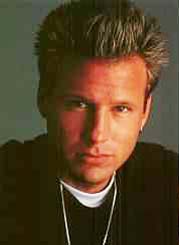 AKA Corey Mitchell Hart
Born: 31-May-1962
Birthplace: Montreal, Quebec, Canada

Gender: Male
Race or Ethnicity: White
Sexual orientation: Straight
Occupation: Musician
Nationality: Canada
Executive summary: Wears his sunglasses at night
Corey Hart lived in Spain and Mexico City until about age ten; when his parents divorced, Hart spent most of his time with his mother, moving back to their homeland of Canada, and then to Kay Biscayne, Florida. When he was 13, Hart's older sister introduced him to singer Tom Jones. Jones was impressed by the boy's singing, and introduced him to Paul Anka, who produced a couple of songs for Hart -- one of them was a cover of Anka's "Ooh, Baby" -- but neither song was a success and the teenager returned to Canada.
When he was 19, Hart met Billy Joel and recorded a demo with Joel's band in Long Island, New York. He wrangled a contract with the label Aquarius, who sent him to England for three months to pull together a record when he was 20. He cajoled Eric Clapton into playing the dobro guitar on one track, "Jenny Fey", and got to hang out with Pete Townshend. When the album was completed, he begged the label to let him add one more song, "I Wear My Sunglasses at Night". In November of 1983, the album My First Offense was released, and Hart became an overnight success at 21. He was nominated for a Top New Artist Grammy for the album, but lost to Cyndi Lauper. In 1985, he released his follow-up album, The Boy in the Box, with the single "Never Surrender," which went higher on the Billboard charts than any other song he recorded.
Hart was attractive, brooding, and smart, the kind of young man a lot of women wanted, making him a sex symbol of the '80s. He was asked to record "The Heat is On" for the movie Beverly Hills Cop and "Danger Zone" from Top Gun, but refused, insisting he would only record his own music. Hart's appeal was so great he was even approached about being in movies, and he reportedly turned down the Michael J. Fox role in Back to the Future.
As the 1980s faded, so did Hart's commercial appeal. He continued to write and record until 1992, when, "disenchanted and disheartened", he took a hiatus. When he began to write again in 1996, he was approached by Celine Dion and wrote three songs for her. Hart now lives in the Bahamas with his wife and their four children, where he writes songs and produces, mostly for Canadian performers.
Wife: Erika Gagnon (graphic designer, div. 1994)
Wife: Julie Masse (singer, m. 2000, three daughters, one son)
Daughter: India (b. 8-Jul-1995)
Daughter: Dante (b. 23-Dec-1997)
Daughter: River (b. 18-Nov-1999)
Son: Rain (b. 19-Jan-2004)

Official Website:
http://www.coreyhart.com/
Do you know something we don't?
Submit a correction or make a comment about this profile

Copyright ©2019 Soylent Communications