Lady Mary Wortley Montagu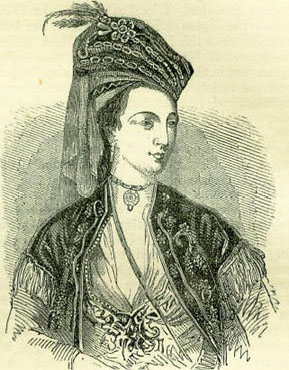 Born: 26-May-1689
Birthplace: London, England
Died: 21-Aug-1762
Location of death: London, England
Cause of death: unspecified
Remains: Buried, Grosvenor Chapel, London, England

Gender: Female
Race or Ethnicity: White
Occupation: Author
Nationality: England
Executive summary: Letters
English letter-writer, eldest daughter of Evelyn Pierrepont, afterwards Duke of Kingston, was baptized at Covent Garden on the 26th of May 1689. Her mother, who died while her daughter was still a child, was a daughter of William Feilding, earl of Denbigh. Her father was proud of her beauty and wit, and when she was eight years old she is said to have been the toast of the Kit-Kat Club. He took small pains with the education of his children, but Lady Mary was encouraged in her self-imposed studies by her uncle, William Feilding, and by Bishop Gilbert Burnet. She formed a close friendship with Mary Astell, who was a champion of woman's rights, and with Anne Wortley Montagu, granddaughter of the first Earl of Sandwich. With this lady she carried on an animated correspondence. The letters on Anne's side, however, were often copied from drafts written by her brother, Edward Wortley Montagu, and after Anne's death in 1709 the correspondence between him and Lady Mary was prosecuted without an intermediary. Lady Mary's father, now Marquess of Dorchester, declined, however, to accept Montagu as a son-in-law because he refused to entail his estate on a possible heir. Negotiations were broken off, and when the marquess insisted on another marriage for his daughter the pair eloped (1712).
The early years of Lady Mary Wortley Montagu's married life were spent in rigid economy and retirement in the country. Her husband was M.P. for Westminster in 1715, and shortly afterwards was made a commissioner of the treasury. When Lady Mary joined him in London her wit and beauty soon made her a prominent figure at court. Early in 1716 Montagu was appointed ambassador at Constantinople. Lady Mary accompanied him to Vienna, and from there to Adrianople and Constantinople. He was recalled in 1717, but they remained at Constantinople until 1718. The story of this voyage and of her observations of Eastern life is told in a series of lively letters full of graphic description. From Turkey she brought back the practice of inoculation for smallpox. She had her own children inoculated, and encountered a vast amount of prejudice in bringing the matter forward. Before starting for the East she had made the acquaintance of Alexander Pope, and during her absence he addressed to her a series of extravagant letters, which appear to have been chiefly exercises in the art of writing gallant epistles. Very few letters passed after Lady Mary's return, and various reasons have been suggested for the subsequent estrangement and violent quarrel. Mr. Moy Thomas suggests that the cause is to be found in the last of the "Letters during the embassy to Constantinople." It is addressed to Pope and purports to be dated from Dover, the 1st of November 1718. It contains a parody on Pope's "Epitaph on the Lovers struck by Lightning." The manuscript collection of these letters was passed round a considerable circle, and Pope may well have been offended at the circulation of this piece of satire. Jealousy of her friendship with Lord Hervey has also been alleged, but Lady Louisa Stuart says Pope had made Lady Mary a declaration of love, which she had received with an outburst of laughter. In any case Lady Mary always professed complete innocence of all cause of offense in public. She is alluded to in the Dunciad in a passage to which Pope affixed one of his insulting notes. A Pop upon Pope was generally supposed to be from her pen, and Pope thought she was part author of One Epistle to Mr A. Pope (1730). Pope attacked her again and again, but with especial virulence in a gross couplet in the "Imitation of the First Satire of the Second Book of Horace", as Sappho. She asked a third person to remonstrate, and received the obvious answer that Pope could not have foreseen that she or any one else would apply so base an insult to herself. Verses addressed to an Imitator of Horace by a Lady (1733), a scurrilous reply to these attacks, is generally attributed to the joint efforts of Lady Mary and her sworn ally, Lord Hervey. She had a romantic correspondence with a Frenchman named Rémond, who addressed to her a series of excessively gallant letters before ever seeing her. She invested money for him in South Sea stock at his desire, and as was expressly stated, at his own risk. The value fell to half the price, and he tried to extort the original sum as a debt by a threat of exposing the correspondence to her husband. She seems to have been really alarmed, not at the imputation of gallantry, but lest her husband should discover the extent of her own speculations. This disposes of the second half of Pope's line "Who starves a sister, or forswears a debt" (Epilogue to the Satires, I 113), and the first charge is quite devoid of foundation. She did in fact try to rescue her favorite sister, the countess of Mar, who was mentally deranged, from the custody of her brother-in-law, Lord Grange, who had treated his own wife with notorious cruelty, and the slander originated with him.
In 1739 she went abroad, and although she continued to write to her husband in terms of affection and respect they never met again. At Florence in 1740 she visited Horace Walpole, who cherished a great spite against her, and exaggerated her eccentricities into a revolting slovenliness. She lived at Avignon, at Brescia, and at Lovere, on the Lago d'Iseo. She was disfigured by a painful skin disease, and her sufferings were so acute that she hints at the possibility of madness. She was struck with a terrible fit of sickness while visiting the countess Palazzo and her son, and perhaps her mental condition made restraint necessary. As Lady Mary was then in her sixty-third year, the scandalous interpretation put on the matter by Horace Walpole may safely be discarded. Her husband spent his last years in hoarding money, and at his death in 1761 is said to have been a millionaire. His extreme parsimony is satirized in Pope's Imitations of Horace (2nd satire of the 2nd book) in the portrait of Avidieu and his wife. Her daughter Mary, countess of Bute, whose husband was now prime minister, begged her to return to England. She came to London, and died in the year of her return, on the 21st of August 1762.
Lady Mary's "Town Eclogues" were published in a pirated edition as Court Poems in 1716. Of her famous Letters from the East she made a copy shortly after her return to England. She gave the manuscript to Benjamin Sowden, a clergyman of Rotterdam, in 1761. After Lady Mary's death this was recovered by the Earl of Bute, but meanwhile an unauthenticated edition, supposed to have been prepared by John Cleland, appeared (1763), and an additional volume, probably spurious, was printed in 1767. The rest of the correspondence printed by Lord Wharncliffe in the edition of her letters is edited from originals in the Wortley collection. This edition (1837) contained "Introductory Anecdotes" by Lady Bute's daughter, Lady Louisa Stuart. Lady Mary's journal was preserved by her daughter, Lady Bute, until shortly before her death, when she burnt it on the ground that it contained much scandal and satire, founded probably on insufficient evidence, about many distinguished persons.
Father: Evelyn Pierrepont (Duke of Kingston)
Mother: (dau. of William Feilding, Earl of Denbigh)

Do you know something we don't?
Submit a correction or make a comment about this profile

Copyright ©2019 Soylent Communications