Joseph Sargent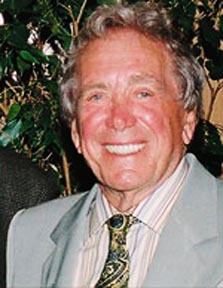 AKA Giuseppe Danielle Sorgente
Born: 25-Jul-1925
Birthplace: Jersey City, NJ
Died: 22-Dec-2014
Location of death: Malibu, CA
Cause of death: Heart Failure

Gender: Male
Race or Ethnicity: White
Sexual orientation: Straight
Occupation: Film Director
Nationality: United States
Executive summary: The Taking of Pelham One Two Three
Joseph Sargent was a top film director for decades. If his name is unfamiliar, it is because he worked mostly in television, but he crafted some terrific telefilms and won a mantle full of awards. As a rule, if you see "Directed by Joseph Sargent," do not change the channel.
He started as an actor, and even briefly made it to Broadway, but never progressed beyond small roles. He wanted to direct, and he got his chance with episodes of the original Lassie in the 1950s, and The Fugitive, Gunsmoke, Bonanza, and It Takes A Thief in the 1960s. He only directed one episode of the original Star Trek, but it was the excellent early episode "The Corbomite Maneuver", and in his memoirs Leonard Nimoy wrote that Sargent helped him better understand the emotion-suppressed character of Spock.
In the 1970s Sargent moved from episodic television to TV movies, and his résumé after that reads like an extended "best of" list: Tribes, with rebellious hippie Jan-Michael Vincent drafted into drill sergeant Darren McGavin's Marine platoon; Maybe I'll Come Home in the Spring, with Sally Field in one of her first serious dramatic roles as a teenaged runaway; The Marcus-Nelson Murders, the excellent crooked-cop drama that introduced detective Theo Kojak (Telly Savalas) and won Sargent his first Emmy and Directors Guild Awards; the top-notch cancer tearjerker Sunshine with songs by John Denver to set the mood; Amber Waves with Dennis Weaver and Kurt Russell in an ode to farm life and recovering from Vietnam; and Miss Evers' Boys with Alfre Woodard and Laurence Fishburne in the true story of the Tuskeegee syphilis experiments.
Sargent's 2004 medical drama Something the Lord Made with Mos Def and Alan Rickman won the director his second DGA, and Warm Springs with Kenneth Branagh as Franklin D. Roosevelt won his third. In addition to The Marcus-Nelson Murders, Sargent won Emmys for Love Is Never Silent with Mare Winningham as the hearing daughter of deaf parents; Caroline? with Stephanie Zimbalist in a mystery of identity or impersonation; and Miss Rose White with Kyra Sedgwick and Amanda Plummer as long-separated sisters.
With his early television work, Sargent earned a reputation for delivering good quality on time and on budget, with no fancy tricks -- qualities which made him attractive to low-budget film producers, so he had occasional chances on the big screen. He made the superb action film set on a subway train, The Taking of Pelham One Two Three with Walter Matthau; the excellent science fiction story of a sentient, sinister supercomputer Colossus: The Forbin Project with Eric Braeden; the underrated biography MacArthur with Gregory Peck as Douglas MacArthur; and The Man with James Earl Jones as America's first black President. Nobody is perfect, of course, and Sargent was also responsible for the uninspired sequel Jaws 4: The Revenge, for which he won the un-coveted Golden Raspberry Award as Worst Director.
Sargent met his first wife, actress Mary Carver, on the set of the classic From Here to Eternity, where he and she both had bit parts. She later went on to modest success playing the mother of bickering detectives on Simon & Simon. Sargent's second wife, actress Carolyn Nelson, married him in 1970 and worked almost exclusively in small roles on his projects.
Father: Domenico Sargente
Mother: Maria Sargente
Wife: Mary Carver (actress, b. 3-May-1924, div.)
Daughter: Lia Sargent (anime and video game voice actor)
Daughter: Athena Sargent
Wife: Carolyn Nelson (actress, m 22-Nov-1970)

FILMOGRAPHY AS DIRECTOR
Sybil (2007)
Warm Springs (4-Apr-2005)
Something the Lord Made (30-May-2004)
Out of the Ashes (13-Apr-2003)
Salem Witch Trials (24-Dec-2002)
Bojangles (4-Feb-2001)
For Love or Country: The Arturo Sandoval Story (18-Nov-2000)
A Lesson Before Dying (22-May-1999)
Crime and Punishment (11-Oct-1998)
The Wall (24-May-1998)
Miss Evers' Boys (22-Feb-1997)
Mandela and de Klerk (16-Feb-1997)
Streets of Laredo (12-Nov-1995)
World War II: When Lions Roared (19-Apr-1994)
Abraham (3-Apr-1994)
Skylark (7-Feb-1993)
Miss Rose White (26-Apr-1992)
Ivory Hunters (20-Aug-1990)
Caroline? (29-Apr-1990)
The Incident (4-Mar-1990)
Day One (5-Mar-1989)
The Karen Carpenter Story (1-Jan-1989)
Jaws: The Revenge (17-Jul-1987)
Passion Flower (1986)
Terrible Joe Moran (27-Mar-1984)
Nightmares (9-Sep-1983)
Coast to Coast (3-Oct-1980)
Goldengirl (15-Jun-1979)
MacArthur (30-Jun-1977)
The Night That Panicked America (31-Oct-1975)
Hustling (22-Feb-1975)
The Taking of Pelham One Two Three (2-Oct-1974)
Sunshine (9-Nov-1973)
White Lightning (22-Oct-1973)
The Man (19-Jul-1972)
Maybe I'll Come Home in the Spring (16-Feb-1971)
Tribes (10-Nov-1970)
Colossus: The Forbin Project (8-Apr-1970)
The Hell with Heroes (28-Aug-1968)
One Spy Too Many (28-Feb-1966)

FILMOGRAPHY AS ACTOR
Ivory Hunters (20-Aug-1990)
Caroline? (29-Apr-1990)

Do you know something we don't?
Submit a correction or make a comment about this profile

Copyright ©2019 Soylent Communications