Ricardo Sanchez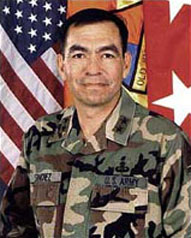 Born: 1953
Birthplace: Rio Grande City, TX

Gender: Male
Religion: Christian
Race or Ethnicity: Hispanic
Sexual orientation: Straight
Occupation: Military
Nationality: United States
Executive summary: Commander of US forces in Iraq, 2003-04
Military service: US Army
Like many devout Christians, Lt. General Ricardo Sanchez has a favorite Bible verse. But as the Abu Ghraib torture scandal unfolded, his verse seemed especially fitting. It's from Psalms: "Blessed be the Lord my strength, which teacheth my hands to war, and my fingers to fight: My goodness, and my fortress; my high tower, and my deliverer; my shield, and he in whom I trust; who subdueth my people under me."
Ricardo grew up poor, in a Texas border town. He was the first member of his family to graduate from high school, and during his years in school he enrolled in the Army ROTC program. In return, the government paid for his college education. Ultimately he was promoted to Lt. General, becoming the Army's highest-ranking Hispanic.
As it happens, Lt. Gen. Sanchez personally gave the order to use unmuzzled dogs against Abu Ghraib inmates. He also approved the use of temperature extremes, sleep-cycle reversal, and bread-and-water diets. These tactics were selected based on advice he sought from the commanders of the Guantanamo Bay military prison. And this was after he had approved even harsher interrogation tactics (which were subsequently rescinded), such as: confiscating prisoners' religious items, manipulating their light exposure, and posing as citizens of a country known for inhumane treatment of prisoners (oh, the irony).
In late May of 2004 the Pentagon announced that they would be rotating General Sanchez out of Iraq, after 13 months in charge of all military operations there. Nevertheless, Army officials denied that the removal had anything to do with the Abu Ghraib scandal. That same day, President George W. Bush heartily endorsed his work: "Rick Sanchez has done a fabulous job. He's been there for a long time. His service has been exemplary." Since returning from Iraq, Gen Sanchez has criticized the Bush administration's handling of the war, stated that the current strategy is doomed to failure, and argued for the withdrawal of troops in the name of US national security.
Father: Domingo Sanchez (d.)
Mother: Maria Elena Sauceda Sanchez
Sister: Diane Sanchez
Wife: Maria Elena Garza (m. 19-Jan-1974)
Daughter: Lara Marissa
Daughter: Rebekah Karina
Son: Daniel Ricardo
Son: Michael Xavier
Son: (d.)

High School: (Rio Grande City, TX)
University: BS Math and History, Texas A&M University Kingsville (1973)
University: MS Operations Research and Systems Analysis, Naval Postgraduate School

Bronze Star With "V" device and oak leaf cluster

Do you know something we don't?
Submit a correction or make a comment about this profile

Copyright ©2019 Soylent Communications