Frederick K. C. Price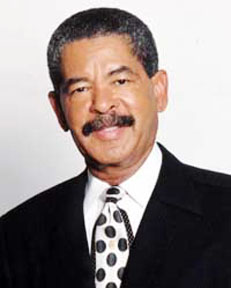 AKA Frederick K C Price
Born: 3-Jan-1932
Birthplace: Santa Monica, CA

Gender: Male
Religion: Born-Again Christian
Race or Ethnicity: Black
Sexual orientation: Straight
Occupation: Religion
Nationality: United States
Executive summary: Televangelist
Built the 10,145-seat Crenshaw Christian Center megachurch inside a geodesic dome in south Los Angeles.
Ordained Rosey Grier.
"The Bible says that He has left us an example that we should follow His steps. That's the reason why I drive a Rolls Royce. I'm following Jesus' steps." [Trinity Broadcasting Network, December 9, 1990]
"You can talk about me all you want while I'm driving by in my Rolls Royce that's paid for, and I got the pink slip on it. Talk all you want. Bad mouth all you want. Don't hurt me in the least. Doesn't bother me. It's a whole lot easier to be persecuted when I'm riding in my car and I got the pink slip than it is when I'm riding in a car and owe my soul to the company store." [TBN, March 29, 1992]
When you have developed your faith to such an extent that you can stand on the promises of God, then you won't need medicine. That's the reason I don't take medicine.
Father: Fred Price
Mother: Winifred Price
Sister: Delores W. Jones
Brother: (1 brother)
Wife: Betty Ruth Scott (m. Mar-1953)
Daughter: Angela Marie Evans
Daughter: Cheryl Ann Crabbe
Daughter: Stephanie Pauline Buchanan
Son: Frederick Kenneth Price
Son: Frederick Price III (d. 1962, hit by a car)

High School: Dorsey High School, Los Angeles, CA
University: AA, Los Angeles City College
Theological: BA Biblical Studies, Friends International Christian University, Merced, CA (1978)
Theological: MA Divinity, Friends International Christian University, Merced, CA (1982)
Theological: PhD Ministry, Friends International Christian University, Merced, CA (1988)
Theological: PhD Religious Studies, Friends International Christian University, Merced, CA (1992)

Born-Again Christian
Risk Factors: Glossolalia

Official Website:
http://faithdome.org/
Do you know something we don't?
Submit a correction or make a comment about this profile

Copyright ©2019 Soylent Communications