Nicolaas Bloembergen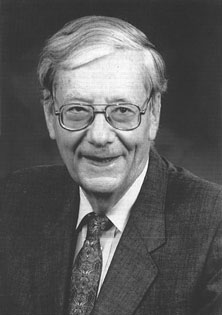 Born: 11-Mar-1920
Birthplace: Dordrecht, Netherlands
Died: 5-Sep-2017
Location of death: Tucson, AZ
Cause of death: Heart Attack

Gender: Male
Race or Ethnicity: White
Sexual orientation: Straight
Occupation: Physicist
Party Affiliation: Democratic
Nationality: United States
Executive summary: Nonlinear optics
American physicist Nicolaas Bloembergen made modifications to Charles H. Townes's maser in the mid-1950s, developing the three-level maser, which pumps electrons to the highest level until the electrons emit microwave radiation and then, after the level fades, again stimulates the electrons to emit energy at a lower frequency. Later, working with Arthur L. Schawlow, he invented the new technique of laser spectroscopy, which allows investigations of matter that had been undetectable without such technology. His work has had practical applications ranging from surgical operations to fiber optics. He studied under E. M. Purcell, and worked on the team that developed the principles of nuclear magnetic resonance. With Schawlow and Kai M. Siegbahn, he won the Nobel Prize for Physics in 1981.
As a young man, he escaped from the Nazi regime, an ordeal he described in his self-penned Nobel biographical essay:
The remaining two dark years of the war I spent hiding indoors from the Nazis, eating tulip bulbs to fill the stomach and reading Kramers' book Quantum Theorie des Elektrons und der Strahlung by the light of a storm lamp.
Father: Auke Bloembergen (chemical engineer)
Mother: Sophia Maria Quint (French teacher)
Wife: Huberta Deliana Brink (m. 1950, two daughters, one son)
Daughter: Antonia
Son: Brink
Daughter: Juliana


High School: Municiple Gymnasium, Utrecht, Holland (1937)
University: BS, University of Utrecht (1941)
University: MA, University of Utrecht (1943)
Scholar: Nuclear Magnetic Resonance, Harvard University (1943-45)
University: PhD Physics, University of Leiden (1948)
Fellow: Harvard University (1949-51)
Teacher: Physics, Harvard University (1951-57)
Professor: Gordon McKay Professor of Applied Physics, Harvard University (1957-80)
Professor: Rumford Professor of Physics, Harvard University (1974-80)
Professor: Gerhard Gade University Professor, Harvard University (1980-)
Professor: Optical Sciences, University of Arizona (2001-)


Guggenheim Fellowship 1957
APS Oliver E. Buckley Condensed Matter Prize 1958
IEEE Morris Liebmann Memorial Award 1959
Franklin Institute Stuart Ballantine Medal 1961
National Medal of Science 1974
Lorentz Medal 1978
OSA Frederic Ives Medal 1979
Nobel Prize for Physics 1981 (with Arthur L. Schawlow and Kai M. Siegbahn)
Commander of the Order of Orange-Nassau 1983
IEEE Medal of Honor 1983
EGU Alexander von Humboldt Medal 1989
American Academy of Arts and Sciences 1956
American Physical Society President, 1991
Federation of American Scientists Board of Sponsors
French Academy of Sciences Foreign Member, 1980
Harvard Society of Fellows Junior Fellow, 1949-51
Indian Academy of Sciences Foreign Fellow, 1978
IEEE
National Academy of Engineering 1984
National Academy of Sciences 1959
Optical Society of America
Royal Netherlands Academy of Sciences 1956
Dutch Ancestry
Naturalized US Citizen 1958


Official Website:
http://www.optics.arizona.edu/faculty/resumes/bloembergen.htm

Author of books:
Nuclear Magnetic Relaxations (1948, physics)
Nonlinear Optics (1965, physics)
Encounters in Nonlinear Optics (1996, selected papers)





Requires Flash 7+ and Javascript.



Do you know something we don't?
Submit a correction or make a comment about this profile






Copyright ©2019 Soylent Communications