Bob Dole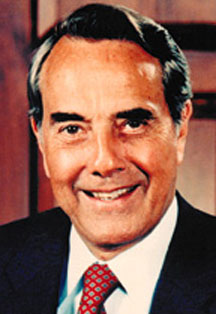 AKA Robert Joseph Dole
Born: 22-Jul-1923
Birthplace: Russell, KS

Gender: Male
Religion: Presbyterian
Race or Ethnicity: White
Sexual orientation: Straight
Occupation: Politician
Party Affiliation: Republican
Nationality: United States
Executive summary: US Senator from Kansas, 1969-96
Military service: US Army (1942-48, arm paralyzed)
During an August 22, 2004 appearance on CNN's Late Edition with Wolf Blitzer, former U.S. Senator Bob Dole derided Democratic presidential candidate John Kerry for accepting purple hearts for allegedly non-life-threatening injuries:
"Three Purple Hearts and never bled that I know of. I mean, they're all superficial wounds. Three Purple Hearts and you're out... I mean, the first one, whether he ought to have a Purple Heart -- he got two in one day, I think. And he was out of there in less than four months, because three Purple Hearts and you're out. And as far as I know, he's never spent one day in the hospital. I don't think he draws any disability pay. He doesn't have any disability. And boasting about three Purple Hearts when you think of some of the people who really got shot up in Vietnam."
But in his 1988 autobiography, Dole described the circumstances around one of his own purple heart medals this way:
As we approached the enemy, there was a brief exchange of gunfire. I took a grenade in hand, pulled the pin, and tossed it in the direction of the farmhouse. It wasn't a very good pitch (remember, I was used to catching passes, not throwing them). In the darkness, the grenade must have struck a tree and bounced off. It exploded nearby, sending a sliver of metal into my leg -- the sort of injury the Army patched up with Mercurochrome and a Purple Heart.
Father: Doran R. Dole
Mother: Bina Talbott
Sister: Gloria
Sister: Norma Jean
Brother: Kenny
Wife: Phyllis Holden (m. Jun-1948, div. 1972, one daughter)
Daughter: Robin (b. 18-Oct-1954)
Girlfriend: Lesley Stahl (journalist, dated a few times)
Wife: Elizabeth Dole (US Senator, m. 6-Dec-1975)


High School: Russell High School, Russell, KS (1941)
University: University of Kansas, Lawrence, KS
University: University of Arizona
University: AB, Washburn Municipal University, Topeka, KS (1952)
Law School: LLB, Washburn Municipal University, Topeka, KS (1952)


US Senator, Kansas (3-Jan-1969 to 11-Jun-1996, resigned)
Republican National Committee Chairman (1971-73)
US Congressman, Kansas 1st (1963-69)
US Congressman, Kansas 6th (1961-63)
Kansas State House of Representatives (1951-53)
Member of the Board of Asia Universal Bank (2007-)
APCO Worldwide Senior Counselor (2004)
Verner, Liipfert, Bernhard, McPherson and Hand Special Counsel
4-H Club Honorary Co-Chair, Centennial Initiative Committee (2001)
American Bar Association
American Political Science Association Advisory Committee
Bread for the World Board of Directors
Bush-Cheney '04
Caring Institute Board of Trustees (Honorary)
DeMint for Senate Committee
District of Columbia Bar
Dole-Kemp '96 Candidate
Elizabeth Dole Committee
Elizabeth Dole for President
Benevolent & Protective Order of the Elks
Friends of John Boehner
It's My Party Too Board of Directors
Freemasonry 33rd Degree
Friends of Dick Lugar
Friends of George Allen
George W. Bush for President
The Hawkeye PAC
John McCain 2008
Kennedy Center Trustee Emeritus
Keep Our Mission PAC
Kiwanis Club
Knights Templar
The Leadership Circle PAC
Leadership PAC 2006
National Coalition on Health Care
National Republican Senatorial Committee
New Republican Majority Fund
Northern Lights PAC
Rand Paul for US Senate 2010
Ryan for Congress
Santorum 2000
Santorum 2006
Senate Victory Fund PAC
Shriners
Steele for Maryland
Tragedy Assistance Program for Survivors Honorary Board of Directors
Veterans of Foreign Wars
Kappa Sigma Fraternity
Bronze Star with oak leaf cluster
Purple Heart twice
International Security Leadership Award 1986
Presidential Medal of Freedom 17-Jan-1997
World Food Prize 2008 (with George McGovern)
Shrapnel Injury
Paralyzed right arm
Prostate Surgery (18-Dec-1991)
Hip Replacement Surgery Dec-2004
Endorsement of American Express
Endorsement of Dunkin' Donuts
Endorsement of Pepsi 2001
Endorsement of Pfizer Viagra
Endorsement of Visa 1996
Funeral: Richard Nixon (1994)
Funeral: Ronald Reagan (2004)
Funeral: Tim Russert (2008)
Funeral: Jesse Helms (2008)
Risk Factors: Prostate Cancer, Smoking


TELEVISION
The Daily Show Guest political commentator, Indecision 2000


FILMOGRAPHY AS ACTOR
Wordplay (6-Apr-2006) · Himself


Official Website:
http://www.bobdole.org/

Author of books:
One Soldier's Story: A Memoir (2005, memoir)





Requires Flash 7+ and Javascript.



Do you know something we don't?
Submit a correction or make a comment about this profile






Copyright ©2019 Soylent Communications