Kin Hubbard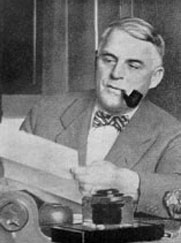 AKA Frank McKinney Hubbard
Born: 1-Sep-1868
Birthplace: Bellefontaine, OH
Died: 26-Dec-1930
Location of death: Indianapolis, IN
Cause of death: unspecified
Remains: Buried, Crown Hill Cemetery, Indianapolis, IN

Gender: Male
Race or Ethnicity: White
Occupation: Cartoonist
Nationality: United States
Executive summary: Abe Martin of Brown County
Syndicated cartoonist, Abe Martin of Brown County (1904-30).
Eulogy by Will Rogers, published 27 December 1930:
Kin Hubbard is dead. To us folks that attempt to write a little humor his death is just like Edison's would be to the world of invention. No man in our generation was within a mile of him, and I am so glad that I didn't wait for him to go to send flowers. I have said it from the stage and in print for twenty years. Just think -- only two lines a day, yet he expressed more original philosophy in 'em than all the rest of the paper combined. What a kick Twain and all that gang will get out of Kin.
Held a series of jobs at Indiana newspapers. Written in country dialect, Kin's material is painful to read today.

Father: Thomas Hubbard (newspaper publisher)


Is the subject of books:
Kin Hubbard: Creator of Abe Martin, 1952, BY: Fred C. Kelly


Author of books:
Brown County Folks (1910)
Abe Martinís Primer (1914)
Abe Martin's Almanack (1921)
Abe Martinís Wise Cracks (1927)






Do you know something we don't?
Submit a correction or make a comment about this profile






Copyright ©2019 Soylent Communications