Conrad Murray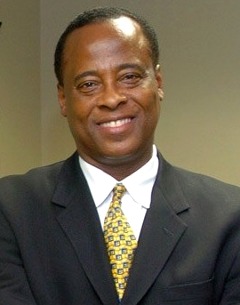 AKA Conrad Robert Murray
Born: 19-Feb-1953
Birthplace: St. Andrews, Grenada

Gender: Male
Race or Ethnicity: Black
Sexual orientation: Straight
Occupation: Doctor
Nationality: United States
Executive summary: Michael Jackson's personal physician
Cardiologist Conrad Murray was reportedly paid $150,000 per month to act as Michael Jackson's personal physician. He prescribed inordinately high levels of propofol for Jackson to induce sleep, leading to the singer's death, and to Murray's conviction for involuntary manslaughter.
Propofol, marketed under the brand name Diprivan, is a very strong hypnotic agent that is administered intravenously and is widely used in surgical anesthesia. At his trial, doctors testified that the drug should be administered only in hospital settings, but reports have suggested that Jackson's sleep cycle was entirely controlled by Conrad's nightly administration of the drug. Jackson was also taking up to twenty other prescription drugs including dilaudid, fentanyl, methadone, percocet, and vicodin.
Murray told investigators that when he arrived at Jackson's home on the night of the singer's death, Jackson was already unconscious, and that he performed cardiopulmonary resuscitation in an attempt to save his life. He said that he called paramedics within ten minutes; investigators claimed the wait was an hour and twenty-two minutes. Prosecutors also say that Murray did not inform paramedics or admissions personnel at UCLA Medical Center that Jackson had been given propofol. For his part, Murray has proclaimed his innocence in a YouTube post, saying "I told the truth, and I have faith the truth will prevail."
He was born in Grenada, raised for his first seven years by his maternal grandparents who were farmers there, then lived with his mother in Trinidad and Tobago. He first met his father when he came to America in 1978, and he earned his medical degree at Nashville's Meharry Medical College in 1989. He operated private practices in Las Vegas and Houston, and first met Jackson in 2006 when he provided medical treatment for one of Jackson's children in Las Vegas.
Father: Rawle Andrews (physician, d. 2001)
Mother: Milta
Wife: Blanche (second wife)

University: BS Biology, Texas Southern University (1983)
Medical School: MD, Meharry Medical College, Nashville, TN (1989)
Scholar: Cardiology, University of Arizona

Involuntary Manslaughter 25-Jun-2009 Los Angeles, CA (convicted)
Inmate: Los Angeles County Jail
Bankruptcy 2002 (California)
Naturalized US Citizen

Do you know something we don't?
Submit a correction or make a comment about this profile

Copyright ©2019 Soylent Communications