Written on the Wind (Dec-1956)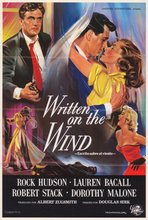 Director: Douglas Sirk
Writer: George Zuckerman
From novel: Written on the Wind by Robert Wilder
Music: Frank Skinner
Producer: Albert Zugsmith
Keywords: Romantic Drama




Alcoholic Texas millionaire Kyle Hadley falls in love with and proposes to Lucy, an executive secretary he has just met; Kyle's nymphomaniac sister, Marylee, sets her eyes on friend Mitch Wayne, who is also in love with Lucy. Technicolor soap opera with high production values. Won an Oscar for Best Supporting Actress; received additional nominations for Best Supporting Actor and Best Original Song.
CAST
REVIEWS
Review by Gay Greene (posted on 27-May-2009)
I may have said this before, but it bears repeating. "Written on the Wind" is the quintessential film of the '50s, flying in the face of the placid Eisenhower years. Douglas Sirk knew exactly what he was doing when he wanted to show the shallowness of excess. This film is a classic, beautifully done cinematically, based loosely on a true story, and with a musical score that is unsurpassed. Although Lauren Bacall chose to play the sympathetic wife -- the bigger of the two female leads -- it is Dorothy Malone who easily walks away with the picture. Her screen time is limited, but her character's presence is felt throughout the film. Her Academy Award was well-deserved.
---
Do you know something we don't?
Submit a correction or make a comment about this profile

Copyright ©2014 Soylent Communications