Stephen Hawking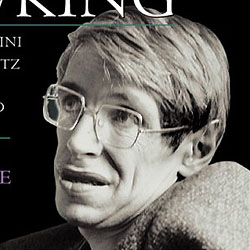 AKA Stephen William Hawking
Born: 8-Jan-1942
Birthplace: Oxford, England

Gender: Male
Religion: Agnostic [1]
Race or Ethnicity: White
Sexual orientation: Straight
Occupation: Physicist
Nationality: England
Executive summary: Wheelchair-bound physicist
Stephen Hawking has Isaac Newton's old job at Cambridge University. Hawking's principal areas of research are cosmology (the origin, structure, and evolution of the universe), general relativity (extensions of Einstein's theory of special relativity), and quantum mechanics (the laws of physics, as applied on sub-atomic scales). He wrote A Brief History of Time, which sold at least 25,000,000 copies, and was probably read by thousands and understood by hundreds.
In 1963, he was diagnosed with amyotrophic lateral sclerosis, or Lou Gehrig's Disease, which erodes muscle control. By the mid-1970s Hawking couldn't walk. His wife provided most of his care, and eventually nurses were hired. Hawking later dumped his wife and took up with one of his nurses. His speech slowly deteriorated, until pneumonia and a tracheotomy left him able to converse or write only by signaling when someone pointed to a pre-selected list of words, letters, or items. Now he speaks with a computerized voice synthesizer, selecting words off menu screens.
Hawking had a cameo on Star Trek: The Next Generation, playing poker with Data, Newton, and Einstein. On The Simpsons, Hawking told Homer, "Your theory of a doughnut-shaped universe is interesting... I may have to steal it." He has declined knighthood, explaining that he "dislikes the whole concept."
---
[1] "It is difficult to discuss the beginning of the universe without mentioning the concept of God. My work on the origin of the universe is on the borderline between science and religion, but I try to stay on the scientific side of the border. It is quite possible that God acts in ways that cannot be described by scientific laws, but in that case, one would just have to go by personal belief."

Father: Frank Hawking (physician)
Mother: Isobel (political activist)
Sister: Mary
Sister: Philippa
Brother: Edward
Wife: Jane Wilde (m. 1965; div. 1991)
Son: Robert (b. 1967)
Daughter: Lucy (b. 1970)
Son: Timothy (b. 1979)
Wife: Elaine Mason (his nurse; m. 1995, sep. 2006)


High School: St. Albans School Hertfordshire, England (1958)
University: BS Natural Science, Oxford University (1962)
University: PhD Cosmology, University of Cambridge (1965)
Professor: University of Cambridge


Eddington Medal 1975
Hughes Medal 1976
Albert Einstein Medal 1979
Royal Astronomical Society Gold Medal 1985 (with Thomas Gold)
Wolf Prize in Physics 1988 (with Roger Penrose)
Copley Medal 2006
Presidential Medal of Freedom 12-Aug-2009
Commander of the British Empire 1982
Royal Society 1974
Pontifical Academy of Sciences
Traveled to the USSR 1973
Tracheotomy 1985
Asteroid Namesake 7672 Hawking


FILMOGRAPHY AS ACTOR
Futurama: The Beast with a Billion Backs (24-Jun-2008) · Himself [VOICE]
The 11th Hour (19-May-2007) · Himself
A Brief History of Time (Oct-1991) · Himself


Official Website:
http://www.hawking.org.uk/

Author of books:
A Brief History of Time (1988, popular science)
Black Holes and Baby Universes and Other Essays (1993, popular science)
The Universe in a Nutshell (2001, popular science)
The Grand Design (2009, popular science)





Requires Flash 7+ and Javascript.



Do you know something we don't?
Submit a correction or make a comment about this profile






Copyright ©2014 Soylent Communications