Caleb McGillvary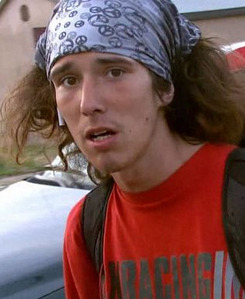 AKA Caleb Lawrence McGillvary
Born: 3-Sep-1988
Birthplace: Edmonton, Alberta, Canada

Gender: Male
Race or Ethnicity: White
Occupation: Criminal Defendant, Meme
Nationality: Canada
Executive summary: Kai the Hatchet-Wielding Hitchhiker
Professional drifter, calling himself Kai. He achieved notoriety as an Internet meme when he used a hatchet to defend a woman from an obese Jesus-crazed attacker. Kai's narration of the attack went viral on YouTube.
Interview with Sophie Saint Thomas, VICE, undated but April 2013, demonstrating an interest in slightly unorthodox "herbology":
Sophie: What do you do when you disappear?

Kai: I get in contact with a friend who contacts another friend and then show up in a car, I get into the car, change my appearance slightly, get in another car and then disappear off into the woods. I play drums and guitar. I head down to the beach and surf. I skateboard off hills into the countryside, and I walk around in the forest and identify new plants.
Posted to Kai's Facebook, 14 May 2013:
what would you do if you woke up with a groggy head, metallic taste in your mouth, in a strangers house... walked to the mirror and seen come dripping from the side of your face from your mouth, and started wretching, realizing that someone had drugged, raped, and blown their fuckin load in you? what would you do?
On 16 May 2013, McGillvary was arrested in Philadelphia for the murder of Joseph Galfy, Jr., an attorney and former US Army Major who was killed wearing only underwear and socks at his home in Clark, New Jersey.

Father: Gil McGillivary (retired probation officer)
Mother: Shirley


Murder of Joseph Galfy, Jr. (13-May-2013, arrested)
Suicide Attempt 17-Jul-2013






Do you know something we don't?
Submit a correction or make a comment about this profile






Copyright ©2017 Soylent Communications