Miracle in the Rain (31-Mar-1956)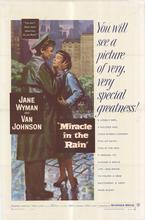 Director: Rudolph Maté
Writer: Ben Hecht
From novel by: Ben Hecht
Keywords: Drama




In New York City during WWII, a secretary with a heretofore dreary life falls in love with a young soldier from Tennessee, awaiting his orders to be sent overseas. Before he goes, she gives him a small token, an ancient Roman coin. Poignant romance by Ben Hecht that plays on your emotions.
| Name | Occupation | Birth | Death | Known for |
| --- | --- | --- | --- | --- |
| Peggie Castle | Actor | 22-Dec-1927 | 11-Aug-1973 | Lily Merrill on Lawman |
| Fred Clark | Actor | 19-Mar-1914 | 5-Dec-1968 | A Place in the Sun |
| Marcel Dalio | Actor | 17-Jul-1900 | 20-Nov-1983 | The Sun Also Rises |
| William Gargan | Actor | 17-Jul-1905 | 17-Feb-1979 | Martin Kane, Private Eye |
| George Givot | Actor | 18-Feb-1903 | 7-Jun-1984 | Greek Ambassador of Good Will |
| Eileen Heckart | Actor | 29-Mar-1919 | 31-Dec-2001 | Butterflies Are Free |
| Halliwell Hobbes | Actor | 16-Nov-1877 | 20-Feb-1962 | British-American character actor |
| Josephine Hutchinson | Actor | 12-Oct-1903 | 4-Jun-1998 | North by Northwest |
| Arte Johnson | Comic | 20-Jan-1929 | | Veddy interestink |
| Van Johnson | Actor | 25-Aug-1916 | 12-Dec-2008 | The Caine Mutiny |
| Alan King | Comic | 26-Dec-1927 | 9-May-2004 | Jewish comic and Friars Club fixture |
| Barbara Nichols | Actor | 30-Dec-1929 | 5-Oct-1976 | Sweet Smell of Success |
| Paul Picerni | Actor | 1-Dec-1922 | 12-Jan-2011 | Lee Hobson on The Untouchables |
| Jane Wyman | Actor | 5-Jan-1917 | 10-Sep-2007 | Falcon Crest |
REVIEWS
Review by reen (posted on 18-Jun-2005)
This classic World War 2 romance about the ordinary and shy secretary, who falls in love with a handsome young soldier, can make even the toughest viewer choke up with tears. Jane Wyman, as Ruth Wood can't believe love has found her, she thought she wasn't meant for that kind of love. Tragedy strikes and the soldier, Van Johnson is killed in the war. Performances to watch are the clerk in Ruth's work place who although not fighting, tracks the war on a large map in his office, and the elderly neighbor who laments, "Aww, the lousy rain." Ruth, after the soldier's death, loses the will to live, and goes out in the rain to St. Paul's Cathedral where the miracle occurs and we are left to presume she has died, after seeing a vision of her soldier love. Some debate that she has not died, but will be revived and because of the "coin" will regain the will to live. The soldier called her "Ruthie". So romantic, so sad...
---
Review by Anonymous (posted on 27-Aug-2007)
I have seen this film a few times, dating back from when I was a young girl. The last time was just today (August 2007); and still have found it just as moving as I did from the first time I viewed it. The climax is naturally as the title of the movie introduces to the viewer, the moment she is "in the rain",and she is unwell with Pneumonia. The words that are expressed by 'Art', to Ruth (when she sees him outside the Church in the rain), are very moving and memorable to the viewer. "Love never goes away". (Ruth sees Art's apparition- and does not want him to go away). We don't know at this stage if it is the Pneumonia or it is a miracle and he has actually appeared to her. As the movie goes on, it is revealed she has a Roman coin clenched in her fist,and that it is a miracle, and he was actually there. A lovely movie. It certainly opens up your heart to a softer side of life's meaning.
---
Do you know something we don't?
Submit a correction or make a comment about this profile

Copyright ©2019 Soylent Communications