Jane Wyman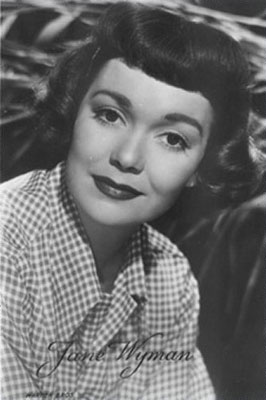 AKA Sarah Jane Mayfield
Born: 5-Jan-1917 [1]
Birthplace: St. Joseph, MO
Died: 10-Sep-2007
Location of death: Palm Springs, CA
Cause of death: Natural Causes
Remains: Buried, Forest Lawn Memorial Park, Cathedral City, CA

Gender: Female
Religion: Roman Catholic
Race or Ethnicity: White
Sexual orientation: Straight
Occupation: Actor
Nationality: United States
Executive summary: Falcon Crest
Jane Wyman was a movie star in the 1940s and 50s. Her most famous films include The Yearling with Gregory Peck, Magnificent Obsession with Rock Hudson, The Glass Menagerie with Kirk Douglas, and Billy Wilder's alcoholic classic The Lost Weekend with Ray Milland. She won an Oscar for her wordless performance in Johnny Belinda, as a small-town deaf-mute rape victim. In You're in the Army Now she gave Regis Toomey a kiss lasting three minutes and five seconds, which some cinema experts cite as the longest kiss in film history.
She was born Sarah Jane Mayfield. Her parents divorced when she was four years old, and her father died mysteriously a few months later. He was only 27. Her mother couldn't handle raising her alone, so Sarah Jane was taken in by kindly neighbors, the Fulks family. It's uncertain whether she was ever legally adopted, but school registrations list her as Sarah Jane Fulks after that. When the man of the Fulks household died some years later, Mrs. Fulks and Sarah Jane moved to Los Angeles. Four years later, at 18, she got a bit role in The Kid from Spain, and over the next several years her movie roles got bigger bit-by-bit. She also sang on the radio, as Jane Durrell. She met Ronald Reagan on the set of Brother Rat in 1938, and they were married for most of the 1940s. During much of that time, Reagan was away at the Army Air Force Motion Picture Unit in Culver City, California, making WWII training and propaganda movies for the government.
As the "red scare" warmed up, Reagan testified before the House Committee on Un-American Activities in 1946, but didn't "name names". He was elected president of the Screen Actors Guild in 1947, and Wyman felt abandoned and perplexed by his growing political aspirations. When she left him, he was reportedly heartbroken, and begged for another chance. In the divorce settlement, she got custody of their children and $500 a month for their support.
By the mid-1950s, Wyman was a much bigger movie star than Reagan ever was, but after her 40th birthday she knew her roles would get fewer, smaller, and less interesting. So she jumped to the newfangled medium of television, taking over as hostess, producer, and sometimes star of the long-running anthology series, Fireside Theater. The series had been on NBC since 1949, but Wyman was the first woman to host. Her name carried clout -- the show was promptly renamed Jane Wyman Presents The Fireside Theatre, and later called Jane Wyman Theater and The Jane Wyman Show. Wyman starred in 42 of the 92 episodes made during her tenure and supervising most behind-the-scenes aspects with her business partner, Lew Wasserman. Curiously, Wasserman had once been Reagan's personal agent.
Wyman and Wasserman regularly hired up-and-coming actors, and gave early work to writers like Rod Serling (before The Twilight Zone), Quinn Martin (before The Untouchables), and Gene Roddenberry (before Star Trek). She signed Aaron Spelling's first few paychecks as a writer, decades before Melrose Place. The show became known for demanding top-notch work from everyone involved. "I learned one thing", Wyman said. "You can always get quality if you are quality". The show ended in 1958, but reruns popped up in daytime slots and even network prime time slots through the mid-1960s.
After that, Wyman rarely worked, turning down offers for Joan Crawford-esque horror movies or supporting roles as wacky grandmothers. She also became an artist, painting California landscapes. But in 1981, her ex-husband Reagan was sworn in as President of the United States, and Wyman was suddenly more "in demand". She came out of retirement with a roar, playing the matriarch of the Channing family on TV's Falcon Crest until 1990.
In retirement, she joined a Dominican order of the Catholic church, and in death she was buried in her habit.
---
[1] Reports of Wyman born 1914 or being 93 years at death are false. Following her death, her official website posted an explanation: "Even though the date of January 4, 1914 was often given — because, like many people in the film industry, Jane initially wanted to be seen as older for career reasons — the State of Missouri issued a birth certificate for Sarah Jane Mayfield on January 5, 1917 to Manning J. Mayfield and Gladys Hope Christian, a doctor's stenographer and office assistant. Friends who have seen Wyman's driver's license and passport also confirm her 1917 birth date."

Father: Manning J. Mayfield (d. 21-Jan-1922)
Mother: Gladys Hope Christian (b. 1895, m. 17-May-1916, d. Dec-1960)
Father: Richard Fulks (stepfather; d. 25-Mar-1928)
Mother: Emma (Reiss) Fulks (stepmother)
Husband: Ernest Eugene Wyman (m. 8-Apr-1933)
Husband: Fred Karger (m. 1-Nov-1952, div. 7-Dec-1954, m. 11-Mar-1961, div. 9-Mar-1965)
Husband: Ronald Reagan (U.S. President; b. 6-Feb-1911, m. 1940, div. 1948, d. 5-Jun-2004)
Daughter: Maureen Reagan (b. 4-Oct-1941, d. 8-Aug-2001)
Son: Michael Reagan (adopted; talk show host; b. 18-Apr-1945)
Daughter: Christine Reagan (b. 26-Jun-1947, d. 26-Jun-1947)


University: University of Missouri


Oscar for Best Actress 1949 for Johnny Belinda
Golden Globe 1949 for Johnny Belinda
Golden Globe 1951 for World Film Favorite, Female
Golden Globe 1952 for The Blue Veil
Golden Globe 1984 for Falcon Crest
Hollywood Walk of Fame 1620 Vine St. (television)
Hollywood Walk of Fame 6607 Hollywood Blvd. (motion pictures)
Animal Bite monkey, on the set of My Man Godfrey (1936)
Converted to Catholicism
Miscarriage 1940s
Endorsement of Liggett Group Chesterfield cigarettes
Risk Factors: Diabetes, Smoking, Arthritis


TELEVISION
Falcon Crest Angela Channing (matriarch, 1981-90)


FILMOGRAPHY AS ACTOR
Off the Menu: The Last Days of Chasen's (Oct-1997) · Herself
How To Commit Marriage (7-Jul-1969) · Elaine Benson
Bon Voyage! (17-May-1962)
Pollyanna (19-May-1960)
Holiday for Lovers (24-Jul-1959)
Miracle in the Rain (31-Mar-1956)
All That Heaven Allows (7-Jan-1956) · Cary Scott
Lucy Gallant (20-Oct-1955)
Magnificent Obsession (4-Aug-1954)
So Big (21-Oct-1953) · Selina DeJong
Let's Do It Again (17-Jul-1953) · Constance Stuart
Just for You (Sep-1952)
The Story of Will Rogers (17-Jul-1952) · Mrs. Will Rogers
Starlift (14-Dec-1951) · Herself
The Blue Veil (26-Oct-1951)
Here Comes the Groom (20-Sep-1951) · Emmadel Jones
Three Guys Named Mike (1-Mar-1951) · Marcy Lewis
The Glass Menagerie (28-Sep-1950) · Laura Wingfield
Stage Fright (23-Feb-1950) · Eve Gill
The Lady Takes a Sailor (16-Dec-1949)
A Kiss in the Dark (25-Mar-1949) · Polly Haines
Johnny Belinda (14-Sep-1948) · Belinda McDonald
Magic Town (7-Oct-1947) · Mary Peterman
Cheyenne (6-Jun-1947) · Ann Kincaid
The Yearling (18-Dec-1946) · Orry Baxter
Night and Day (2-Jul-1946) · Gracie Harris
One More Tomorrow (1-Jun-1946) · Frankie Connors
The Lost Weekend (16-Nov-1945) · Helen St. James
Hollywood Canteen (15-Dec-1944) · Herself
Crime by Night (9-Sep-1944) · Robbie Vance
The Doughgirls (30-Aug-1944) · Vivian Marsden
Make Your Own Bed (26-May-1944)
Princess O'Rourke (23-Oct-1943) · Jean Campbell
Footlight Serenade (1-Aug-1942)
My Favorite Spy (28-May-1942)
Larceny, Inc. (24-Apr-1942) · Denny Costello
The Body Disappears (6-Dec-1941) · Joan Shotesbury
You're in the Army Now (1-Nov-1941)
Bad Men of Missouri (26-Jul-1941) · Mary Hathaway
Honeymoon for Three (18-Jan-1941) · Elizabeth Clochessy
Tugboat Annie Sails Again (18-Oct-1940)
My Love Came Back (13-Jul-1940) · Joy O'Keefe
Gambling on the High Seas (22-Jun-1940) · Laurie Ogden
Flight Angels (18-May-1940)
An Angel from Texas (27-Apr-1940) · Marge Allen
Brother Rat and a Baby (13-Jan-1940) · Claire Terry
Private Detective (9-Dec-1939) · Myrna Winslow
Kid Nightingale (4-Nov-1939)
Torchy Blane... Playing with Dynamite (12-Aug-1939) · Torchy Blane
The Kid from Kokomo (19-May-1939) · Marian Bronson
Tail Spin (19-Feb-1939) · Alabama
Brother Rat (29-Oct-1938) · Claire Adams
The Crowd Roars (5-Aug-1938) · Vivian
Wide Open Faces (18-Apr-1938)
He Couldn't Say No (19-Mar-1938) · Violet Coney
Mr. Dodd Takes the Air (11-Aug-1937)
The Singing Marine (3-Jul-1937) · Joan
Slim (24-Jun-1937) · Stumpy's Girl
The King and the Chorus Girl (27-Mar-1937) · Babette Latour
Ready, Willing and Able (6-Mar-1937) · Dot
Smart Blonde (2-Jan-1937) · Dixie





Requires Flash 7+ and Javascript.



Do you know something we don't?
Submit a correction or make a comment about this profile






Copyright ©2019 Soylent Communications