Doc Savage: The Man of Bronze (7-Jul-1975)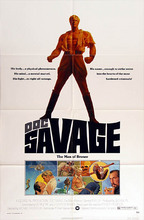 Director: Michael Anderson
Writers: Joe Morhaim; George Pal
From novel: Man of Bronze by Kenneth Robeson (pseudonym of Lester Dent)
Music: Frank De Vol
Producer: George Pal
Keywords: Action/Adventure, Comic Book, Treasure Hunt, Superheroes




Renaissance man superhero Doc Savage finds among the effects of his recently deceased father, a claim to a lost city of gold in Central America. Poor script, bad acting, and insufficient budget fatally mar this pulp adventure set in the 1930s and modeled after the old time serials. At the studio's insistence, contains much Batman-influenced camp, all of it falling flat. George Pal's final production, which he found embarrassing. Six years ahead of Raiders of the Lost Ark (1981), but not at all in the same league.
REVIEWS
Review by anonymous (posted on 10-Apr-2006)
Made in the post-Vietnam era, when traditional heroes were spoofed and/or killed, the movie had flashes of what could be, but that made it all the more disappointing for true Doc fans. Only a few years later, when Star Wars was released, Hollywood, and the American public, realized the desire for good guys defeating bad guys. Ely made a good Doc Savage; his crew was decent; but scratch the costume and belt buckle, and especially the music. But those aforementioned flashes? When Doc confronts the sniper on the skyscraper; when he takes bullets to the chest on board the steamer ... It's interesting that it's never been released on video or DVD; would that someone had the courage to try it again. The people that did The Mummy movies have a flair for the era; so does Philip Jackson, with King Kong. Brendon Fraser would make a good Doc, and with CGI, no prob in casting his associates and then distorting proportions to fit with the pulp descriptions ...
---
Do you know something we don't?
Submit a correction or make a comment about this profile

Copyright ©2019 Soylent Communications