Spider-Man 3 (16-Apr-2007)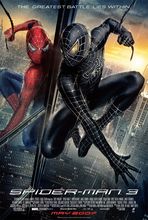 Director: Sam Raimi
Writers: Ivan Raimi; Sam Raimi; Alvin Sargent
Keywords: Action/Adventure, Superheroes, Comic Book, New York




Final entry in Sam Raimi's Spider-Man trilogy sees Peter Parker squaring off against a cast of new threats and problems in his personal and "professional" lives.
ABSTRACT
Second sequel to Spider-Man (2002). Peter Parker seems to have finally figured his troubles out at the onset of this wrap-up to Sam Raimi's three-part treatment of the Spider-Man saga, striking a healthy balance between Mary Jane Watson's needs and the responsibility his powers bring. Complacency doesn't sustain itself forever, of course, as Harry Osborn's intent to stake his claim as a villain called the "New Goblin" comes along just as Peter's familiar red suit turns black and amplifies his powers, carrying the unintended consequence of bringing his negative traits to the forefront more than ever before and forcing him to confront his inner demons.
[watch trailer]
REVIEWS
Review by Lewis Brian (posted on 31-May-2007)
This film was good for the stunts and special effects but not as good as the other Spiderman movies. Starring Tobey Maguire, Kirsten Dunst James Franco, Topher Grace and Thomas Haden Church, Spiderman-3 is one of the best superhero films I have ever seen. The only two real times when you'd have to hide behind the cusions are when Flint Marko (Thomas Haden Church) is melted down into sand by the radioactive machine and turns into the Sandman and when Marie-Jane Watson (Kirsten Dunst) is trapped in the web created by Venom, previously known as Eddie Brock (Topher Grace). This film is great for those action and adventure lovers. Even if you don't like superhero films, I'd eat my hat if you didn't like this one. One of the best American 21st century movies.
---
Do you know something we don't?
Submit a correction or make a comment about this profile

Copyright ©2019 Soylent Communications