Stan Lee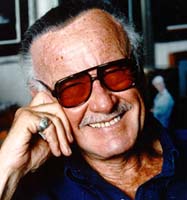 AKA Stanley Martin Lieber
Born: 28-Dec-1922
Birthplace: Manhattan, NY
Died: 12-Nov-2018
Location of death: Los Angeles, CA
Cause of death: unspecified
Remains: Cremated

Gender: Male
Religion: Jewish [1]
Race or Ethnicity: White
Sexual orientation: Straight
Occupation: Cartoonist
Party Affiliation: Democratic
Nationality: United States
Executive summary: Created Spider-Man and The Hulk
Military service: US Army Signal Corps (WWII)
As is often the case with people who accomplish great things, Stan Lieber had a bit of an advantage. His cousin was married to Martin Goodman, the owner of Timely Comics. Lee started at Timely as a writer at age 16, just before the company changed its name to Marvel, and he quickly worked his way up to head writer, editor and art director, under the pen name Stan Lee.
For decades, Marvel eschewed complex characters, and had an informal quota on words of three or more syllables. By the time Lee's midlife crisis came along, he knew he had to get out of the comic business -- or do just one comic book he could be proud of. Working with Marvel's master artist Jack Kirby, Lee invented The Fantastic Four in 1961, and gave his teen superheroes utterly human, non superhero problems. They had zits and arguments with their parents. This combination of superhuman powers and human foibles quickly proved popular, and Lee began remaking the Marvel line -- Spider-Man, the Incredible Hulk, the Amazing Thor, Daredevil, the X-Men, and more. For decades, Lee was amazingly prolific, scripting at least a couple of comic books virtually every week, and some weeks as many as five. He orchestrated and supervised Marvel's creative side, making sure each series was written and drawn by people who had the right creative spark.
Lee is now mostly retired from Marvel. He briefly oversaw his own Stan Lee Media, until it went down in a blaze of corruption in 2001. The company's vice president, Stephen Gordon and his brother, Jonathan, were convicted of wire fraud, bank fraud, and making false statements in connection with a check-kiting scheme. Lee himself was not indicted.
---
[1] The Jewish Journal, 14 July 2000.

Father: Jacob Aaron Lieber ("Jack", b. 1886, d. 1968)
Mother: Celia Solomon (b. 1894, d. 1947)
Brother: Larry Lieber
Wife: Joan Clayton Boocock (m. 5-Dec-1947, d. 6-Jul-2017, two daughters)
Daughter: Joan Celia Lee (b. 1950)
Daughter: Jan (b. 1953, d. infancy)


High School: DeWitt Clinton High School, Bronx, NY


Marvel Comics (1939-)
Hollywood Walk of Fame 2011 (7072 Hollywood Blvd.; motion pictures)
Romanian Ancestry
Jewish Ancestry
Risk Factors: Pacemaker


FILMOGRAPHY AS ACTOR
Avengers: Endgame (22-Apr-2019)
Captain Marvel (27-Feb-2019)
Spider-Man: Into the Spider-Verse (8-Dec-2018) [VOICE]
Venom (1-Oct-2018)
Teen Titans Go! To the Movies (22-Jul-2018) [VOICE]
Ant-Man and the Wasp (25-Jun-2018)
Avengers: Infinity War (23-Apr-2018)
Black Panther (29-Jan-2018)
Spider-Man: Homecoming (28-Jun-2017)
Guardians of the Galaxy Vol. 2 (19-Apr-2017)
X-Men: Apocalypse (9-May-2016)
Captain America: Civil War (12-Apr-2016)
Deadpool (8-Feb-2016)
Yoga Hosers (24-Jan-2016)
Ant-Man (29-Jun-2015)
Avengers: Age of Ultron (13-Apr-2015)
Big Hero 6 (23-Oct-2014)
Guardians of the Galaxy (21-Jul-2014)
The Amazing Spider-Man 2 (10-Apr-2014)
Captain America: The Winter Soldier (13-Mar-2014)
Thor: The Dark World (30-Oct-2013) · Himself
Superheroes: A Never-Ending Battle (8-Oct-2013)
Iron Man 3 (18-Apr-2013)
The Amazing Spider-Man (13-Jun-2012) · School Librarian
The Avengers (11-Apr-2012)
Trek Nation (30-Nov-2011) · Himself
Comic-Con Episode IV: A Fan's Hope (10-Sep-2011) · Himself
Thor (21-Apr-2011)
With Great Power: The Stan Lee Story (24-Jul-2010) · Himself
Iron Man 2 (26-Apr-2010) · Himself
Bigger, Stronger, Faster (Apr-2008) · Himself
Fantastic Four: Rise of the Silver Surfer (13-Jun-2007) · Himself
Spider-Man 3 (16-Apr-2007)
Confessions of a Superhero (10-Mar-2007) · Himself
X-Men: The Last Stand (22-May-2006)
Fantastic Four (6-Jul-2005)
The Princess Diaries 2: Royal Engagement (7-Aug-2004)
Spider-Man 2 (30-Jun-2004)
Comic Book: The Movie (27-Jan-2004) · Himself
Hulk (17-Jun-2003) · Security Guard
Daredevil (9-Feb-2003) · Old Man at Crossing
Parts of the Family (10-Jan-2003)
Citizen Toxie: The Toxic Avenger IV (7-Apr-2001) [VOICE]
X-Men (13-Jul-2000) · Hot Dog Vendor
Mallrats (20-Oct-1995) · Himself
The Ambulance (30-Aug-1990)
Comic Book Confidential (10-Sep-1988) · Himself





Requires Flash 7+ and Javascript.



Do you know something we don't?
Submit a correction or make a comment about this profile






Copyright ©2019 Soylent Communications