Shrek 2 (15-May-2004)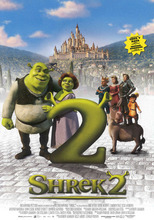 Directors: Andrew Adamson; Kelly Asbury; Conrad Vernon
Writers: Andrew Adamson; Joe Stillman; J. David Stem; David N. Weiss
From novel: Shrek! by William Steig (juvenile storybook)
Music by: Harry Gregson-Williams
Producers: Aron Warner; David Lipman; John H. Williams




Sequel to 2001's Shrek follows the continued adventures of a fairytale land's resident green ogre.
ABSTRACT
First sequel to Shrek (2001). Shrek has successfully rescued the beautiful Princess Fiona from the scheming Lord Farquaad and his plans to reign supreme over their native kingdom, prompting her parents to invite him over to dinner as the pair marry and settle into a life together. Chaos doesn't stray too far behind for everyone's favorite ogre, however, as his difficulties getting along with the King soon give way to a conflict with a determined Prince Charming's attempts to win Fiona's heart.
CAST
Mike Myers
... Shrek (voice)
Eddie Murphy
... Donkey (voice)
Cameron Diaz
... Princess Fiona (voice)
Julie Andrews
... Queen (voice)
Antonio Banderas
... Puss In Boots (voice)
John Cleese
... King (voice)
Rupert Everett
... Prince Charming (voice)
Jennifer Saunders
... Fairy Godmother (voice)
Additional Voices
Aron Warner
... Wolf (voice)
Kelly Asbury
... Page, Elf, Nobleman, etc. (voice)
Cody Cameron
... Pinocchio, Three Pigs (voice)
Conrad Vernon
... Gingerbread Man, Cedric, etc. (voice)
Christopher Knights
... Blind Mouse (voice)
David P. Smith
... Herald, Man with Box (voice)
Mark Moseley
... Mirror, Dresser (voice)
Kelly Cooney
... Fast Food Clerk (voice)
Wendy Bilanski
... Bar Frog (voice)
Larry King
... Ugly Stepsister (voice)
Guillaume Aretos
... Receptionist (voice)
Chris Miller
... Humphries, Magic Mirror (voice)
Latifa Ouaou
... Doll, Jill (voice)
Alina Phelan
... Maiden #1, Generic Female #2 (voice)
Erika Thomas
... Maiden #2 (voice)
Joan Rivers
... Herself (voice)
Andrew Adamson
... Captain of the Guards (voice)
REVIEWS
Review by frank (posted on 7-Oct-2005)
Could animated charicters be better then the actual actor? The answer in Shrek2 they are. Oh the story is thin and the dialogue is spotty but when it all comes together Mike and Eddy blow you away. and Benderas is a pro. He does drama, muisicals, toungue-in-cheek comedy as well as the best. Did I like it? You bet.
---
Do you know something we don't?
Submit a correction or make a comment about this profile

Copyright ©2019 Soylent Communications