Saved (21-Jan-2004)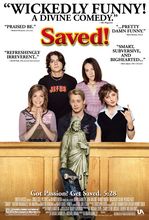 Director: Brian Dannelly
Writers: Brian Dannelly; Michael Urban
Music by: Christophe Beck
Producers: Michael Stipe; Sandy Stern; Michael Ohoven; William Vince
Keywords: Comedy, High School, Gay, Pregnancy




A young woman in an evangelical town turns into a pariah when she becomes pregnant in the course of "de-gaying" her boyfriend.
ABSTRACT
Mary is a "good girl" on top of the world at her middle American Christian high school, ruling the roost alongside manipulative confidant Hilary Faye. Mary's lily-white world darkens when her boyfriend openly speculates about his possible homosexuality; determined to do anything to repress his gayness after seeing Jesus in a vision, she becomes pregnant out of wedlock and a pariah in her community. Cast aside by her old friends, Mary finds solace in the company of her school's zany outcasts.
"Lord Jesus is in the house!!! Who's down with the G-O-D??"
CAST
Jena Malone
... Mary
Mandy Moore
... Hilary Faye
Macaulay Culkin
... Roland
Patrick Fugit
... Patrick
Heather Matarazzo
... Tia
Eva Amurri
... Cassandra
Chad Faust
... Dean
Elizabeth Thai
... Veronica
with
Martin Donovan
... Pastor Skip
Mary-Louise Parker
... Lillian
Kett Turton
... Mitch
Julia Arkos
... PE Coach
Donna White
... Trudy Mason
James Caldwell
... Hairdresser
Nicki Clyne
... Guitar Player
Aaron Douglas
... Paramedic
Patricia Drake
... Dean's Mother
Brent Fidler
... Church Man
Jay Hilliker
... Waiter -- Host
John Innes
... Pastor
Greg Kean
... Dean's Father
Joe MacLeod
... Lead Singer
Althea McAdam
... Church Wife
Thomas Plustwik
... Carpenter -- Jesus
Syndie Skeeles
... 3-Year-Old Mary
Susan Wilkey
... Pink Bouffant Lady
Valerie Bertinelli
... Herself
REVIEWS
Do you know something we don't?
Submit a correction or make a comment about this profile

Copyright ©2019 Soylent Communications