Macaulay Culkin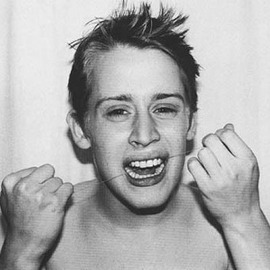 AKA Macaulay Carson Culkin
Born: 26-Aug-1980
Birthplace: New York City

Gender: Male
Religion: Roman Catholic
Race or Ethnicity: White
Sexual orientation: Straight
Occupation: Actor
Nationality: United States
Executive summary: Home Alone
Macaulay Culkin started acting at New York's Ensemble Studio Theater when he was six years old (or four, say some reports). His first film was Rocket Gibraltar at age 8. At 9, he was in John Hughes's Uncle Buck, and held his own against John Candy. Hughes was impressed, and wrote Home Alone with Macaulay in mind. Home Alone was, of course, a monstrously huge hit. Macaulay was 10 and cute, the movie was funny, and suddenly the boy had Hollywood clout. His father had assumed the position of Macaulay's manager after Uncle Buck, and became legendary as one of Hollywood's most overbearing "stage fathers" ever.
The elder Culkin signed his son to star in movie after movie, while Macaulay wasn't even asked which scripts interested him. At 11, he hosted Saturday Night Live. At 12, Culkin and Anna Chlumsky shared MTV's award for Best Kiss of the Year, for their smooch in My Girl. And Culkin started hanging out at Neverland with Michael Jackson.
"Michael and I had an understanding about my father. He knew what that was all about. He'd lived it. It's not like I can just bump into people on the street and say, Oh! You too! It doesn't happen that often. Michael's still a kid. I'm still a kid. We're both going to be about 8 years old forever in some place because we never had a chance to be 8 when we actually were. That's kind of the beautiful and the cursed part of our lives."
Jackson's Neverland was the largest paparazzi-free zone in Culkin's world. "You know there's not going to be a photographer in the bushes. You can walk around and no one will stare at you and you can be normal". Even as an adult, Culkin says, "Neverland is still the only place on earth where I feel absolutely, 100 percent comfortable."

In 1993, when Jackson was first accused of child molestation, Culkin says he wanted to make a public statement in Jackson's defense. "I still wish I had," he says today, "but my father kept me out of it." Meanwhile, Culkin's father's demands on behalf of Macaulay grew larger, and more bizarre. He threatened to keep the child out of Home Alone 2 unless the studio gave Macaulay the lead in another movie, The Good Son. And when the studio agreed, Kit Culkin then demanded that Macaulay's younger sister, Quinn, play his sister in the film. Kit's demands weren't so much about money -- it was more about power -- Kit Culkin wanted power over his son's movies, and seemed to want power over his son.

When Macaulay appeared in George Balanchine's The Nutcracker, his father demanded that Kevin Kline's narration be deleted from the film, or Macaulay wouldn't do the talk shows and newspaper interviews vital to a film's publicity. The film's producers would have cut Kline, but Kit Culkin came back the next morning with more and more demands -- change the sound mix in this scene, take out the special effects in that scene. They said no, and Macaulay -- the pawn in all this -- didn't do publicity for Nutcracker, and it tanked. Macaulay probably didn't want to make Nutcracker anyway. He'd been a student at the American School of Ballet when he was younger, so he presumably knew how to dance, but he mostly just shuffles across the stage. Even his acting seems wooden and forced. His movies started sucking loudly, and critics and ex-fans suggested that adolescence had sapped his cuteness. Between his father, the movies, and the media, Culkin says he'd "lost all conception of what it was like to be normal." Additionally, says Culkin, his father was often drunk and obnoxious.

When he was 14, Culkin's parents, who had never married, separated, and began a bitter and costly court battle over custody of Culkin and his brothers and sisters, most of whom had film "careers", thanks largely to Kit. Culkin's father had moved out, and his mother was spending so much on lawyers that the rest of the family was living in near poverty. Macaulay quit show business, and eventually took both his parents to court to gain control of the money he'd earned. He paid off his mother's debt, and said to hell with his father. Macaulay and two of his brothers, the younger Kieran and the older Shane, got an apartment together. At 17, Culkin married his high school girlfriend, Rachel Miner. They divorced two years later, but he says they're still friends. Culkin went to college but quickly dropped out, and happily for him, he eventually dropped off the pages of the tabloids.

In 2000, Culkin relaunched his career as an adult actor, in the world première of Madame Melville at London's Vaudeville Theatre. He played a 15-year-old, seduced by his literature teacher. "Culkin is absolutely superb," London's Daily Telegraph gushed. On the opening night of Madame Melville, Culkin received a telegram from his father telling him: "You will, as always, be wonderful." Macaulay later told Barbara Walters, "I thought it was very funny that it's been about four years since I've heard from him and he's made contact with me just because I'm getting back to work. That says a lot about the person." Party Monster in 2003 was Culkin's movie comeback, as a crack-smoking gay killer in hot pants. In the comedy Saved, he played a wheelchair-bound Christian student.

Culkin's father Kit had been an actor himself, appearing in 19 professional plays, two of which ran on Broadway. One of Kit's Broadway plays was a production of Hamlet, starring Richard Burton and Hume Cronyn, that was filmed as a 1964 movie. He was also an extra in West Side Story -- Kit Culkin, looking vaguely like a young Bud Cort, is the teenager who catches the basketball as dancing gangsters go by.

Culkin is the godfather of Michael Jackson's children, Prince Michael and Paris, and he still considers Jackson "one of my very best friends in the world."

Father: Christopher Culkin ("Kit", actor, b. 6-Dec-1944)
Mother: Patricia Brentrup (b. 1954, unmarried)
Sister: Jennifer Adamson (half-sister, b. 1971, d. 2000 drug overdose)
Brother: Shane Culkin (b. 1976)
Sister: Dakota Culkin (b. 1979, d. 2008 car accident)
Brother: Kieran Culkin (actor, b. 30-Sep-1982)
Sister: Quinn Culkin (actress, b. 8-Nov-1984)
Brother: Christian Culkin (b. 30-Jan-1987)
Brother: Rory Culkin (actor, b. 21-Jul-1989)
Wife: Rachel Miner (actress, m. 21-Jun-1998, div. 5-Aug-2000)
Girlfriend: Agatha Roleta (model, together 2001)
Girlfriend: Mila Kunis (actress, together 2000s)


High School: Professional Children's School, New York City, NY


Drug Possession: Marijuana 17-Sep-2004 (arrested, Oklahoma City, OK)
Funeral: Michael Jackson (2009)
Risk Factors: Smoking, Marijuana


TELEVISION
Kings Andrew Cross (2009)
Celebrity Poker Showdown Contestant


FILMOGRAPHY AS ACTOR
Changeland (7-Jun-2019)
Leaving Neverland (25-Jan-2019) · Himself
Zoolander 2 (4-Feb-2016)
Sex and Breakfast (30-Nov-2007)
Saved (21-Jan-2004) · Roland
Party Monster (18-Jan-2003)
Michael Jackson: Video Greatest Hits - HIStory (16-Jun-1995)
Richie Rich (21-Dec-1994)
The Pagemaster (23-Nov-1994) · Richard Tyler
Getting Even with Dad (17-Jun-1994) · Timmy
The Nutcracker (24-Nov-1993)
The Good Son (24-Sep-1993) · Henry
Home Alone 2: Lost in New York (20-Nov-1992) · Kevin
My Girl (27-Nov-1991) · Thomas J. Sennett
Only the Lonely (24-May-1991) · Billy
Home Alone (16-Nov-1990) · Kevin
Uncle Buck (16-Aug-1989) · Miles Russell
See You in the Morning (14-Apr-1989)
Rocket Gibraltar (2-Sep-1988)





Requires Flash 7+ and Javascript.



Do you know something we don't?
Submit a correction or make a comment about this profile






Copyright ©2019 Soylent Communications