Nuremberg (16-Jul-2000)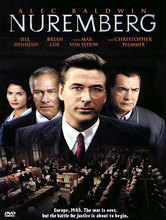 Director: Yves Simoneau
Writer: David W. Rintels (screenplay)
Based on a book: Nuremberg: Infamy on Trial by Joseph E. Persico
Keywords: Drama
TNT miniseries provides viewers with a dramatized account of events surrounding the Nuremberg Trials of Nazi Germany after World War II.
ABSTRACT
Nazi Germany's ignominious defeat at the hands of Allied forces in World War II brought about the Nuremberg Trials, an infamous series of military tribunals held to document Nazi war crimes and implicate various officials in said crimes' planning and execution. The trials, held over an eleven-month period from late 1945 to 1946, are dramatized in Nuremberg, a two-part miniseries documenting the infamous trials' proceedings.
REVIEWS
Review by The Rambler (posted on 28-Mar-2005)
This made in Canada miniseries/remake of the 1961 film Judgement at Nuremberg brings together an allstar cast featuring a talented performance by Brian Cox as Reichsmarchall Hermann Göring defending the atrocities of Nazi war criminals from the onslaught of the american prosecutor Robert H. Jackson (Alec Baldwin). Actual archival footage combined with some revolutionary digital effects make this DVD worthwhile. Filmed in a burnt & demolished warehouse property, a penitentiary and the McConnell mansion (The Assignment) in the Montreal area among other Canadian backdrops.
---
Do you know something we don't?
Submit a correction or make a comment about this profile

Copyright ©2019 Soylent Communications