Enemy at the Gates (7-Feb-2001)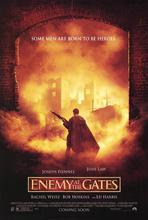 Director: Jean-Jacques Annaud
Writers: Jean-Jacques Annaud; Alain Godard
Keywords: Drama, WWII, Sniper, Nazis




Historical drama follows high-running tensions between two opposing snipers at the Battle of Stalingrad.
ABSTRACT
World War II's Battle of Stalingrad is considered by modern-day historians to have been a turning point in the bloodiest conflict in recorded human history, with Soviet troops pushing back then-hegemonic Nazi forces in a turning of the tides that would ultimately help power the Allies through to an eventual decisive victory. Enemy at the Gates follows an intense interpersonal struggle between Vassili, a revered Russian marksman, and German sniper Koenig as they indulge in a deadly game of cat and mouse while looking to shape their respective destinies.
REVIEWS
Review by ShanghaiJohnnyP (posted on 3-Aug-2008)
Gripping saga of a duel to the death between a Nazi Sniper and his Soviet Counterpart during the Battle of Stalingrad in WWII. Granted,the Soviets were no better at respecting Human Rights than the Nazis during the period 1939-45,but like the US in the Pacific in that period,they were hit first and hard and most definitely had a"Grudge Match"in WWII BFT!! Very realistic battle scenes that keep you in suspense throughout the movie!! The ordinarily'babealicious'Rachel Weisz*(*The Mummy,Mummy Returns)downplays her beauty to play a Female Soviet Sniper in'Enemy at the Gates'while Ron Perlman is good as a hard bitten,cynical survivor of the Gulag released in order to fight the Nazis. The only really incongrous part are of the accents of the cast: Ed Harris plays a German with a generic American accent;while Jude Law;Joseph Fiennes and Rachel Weisz play Russians with a generic British accent. However,it's a very suspensful war thriller that almost(but not quite)makes"Saving Private Ryan"look like"Pee Wee's Big Adventure"!! Most definitely a great guy movie!! So,send your Wife/Girlfriend/Domestic Partner/Significant Other off to the local Monkeyplex to see"Mama Mia"or"Sisterhood of the Traveling Pants II";order a pizza;pop some popcorn in the microwave;grab a beer or two and pop this in the DVD Player and enjoy it!! Three&1/2 Stars.
---
Do you know something we don't?
Submit a correction or make a comment about this profile

Copyright ©2019 Soylent Communications