Bob Hoskins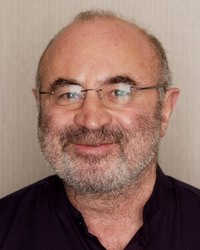 AKA Robert William Hoskins Jr.
Born: 26-Oct-1942
Birthplace: Bury St. Edmund's, Suffolk, England
Died: 29-Apr-2014
Location of death: London, England
Cause of death: Pneumonia

Gender: Male
Race or Ethnicity: White
Sexual orientation: Straight
Occupation: Actor
Nationality: England
Executive summary: Who Framed Roger Rabbit?
Bob Hoskins quit school at 15, and to support himself he worked as a window cleaner, truck driver, steeplejack, merchant seaman, circus performer, ditch-digger, commercial artist, and accountant. He spent two years in Syria living amongst Bedouin tribes. He said that he became an actor accidentally, in 1968, after several drinks in a British pub.
His first marriage ended in divorce when Hoskins had an affair. When the divorce was finalized in 1978, Hoskins was left with nothing, and had a nervous breakdown. At rock bottom, he lived in his Jeep, but rock bottom didn't last long. His 1980 role as a British gangster in The Long Good Friday with Helen Mirren made him a star. His films include Mona Lisa with Michael Caine, and Terry Gilliam's classic nightmare Brazil. Hoskins has also earned good reviews playing J. Edgar Hoover, Nikita Khrushchev, Benito Mussolini, and Manuel Noriega, but he remains best known for co-starring with cartoons in Who Framed Roger Rabbit?.
Father: Robert Hoskins Sr. (bookkeeper)
Mother: Elsie (German gypsy, nursery school teacher, d. 1995)
Wife: Jane Livesey (teacher, m. 1967, div. 1978, one son, one daughter)
Son: Alex
Daughter: Sarah
Wife: Linda Banwell (teacher, m. 1982, until his death, one daughter, one son)
Daughter: Rosa (b. 1985)
Son: Jack (b. 1986)

High School: Stroud Green School, London (dropped out)

Nervous Breakdown 1978
Risk Factors: Dyslexia, Parkinson's

FILMOGRAPHY AS DIRECTOR
Rainbow (7-Dec-1995)
The Raggedy Rawney (10-Sep-1988)

FILMOGRAPHY AS ACTOR
Snow White and the Huntsman (30-May-2012) · Muir
Neverland (4-Dec-2011)
Made in Dagenham (2-Sep-2010) · Albert
A Christmas Carol (3-Nov-2009) · Fezziwig, Old Joe
Doomsday (14-Mar-2008)
Ruby Blue (Oct-2007) · Jack
Go Go Tales (23-May-2007)
Outlaw (24-Feb-2007)
Sparkle (9-Feb-2007)
The Wind in the Willows (18-Dec-2006) · Badger
Hollywoodland (31-Aug-2006) · Edgar Mannix
Garfield: A Tail of Two Kitties (15-Jun-2006) [VOICE]
Paris, je t'aime (18-May-2006)
Stay (24-Sep-2005)
Mrs. Henderson Presents (9-Sep-2005)
Son of the Mask (11-Feb-2005)
Unleashed (2-Feb-2005)
Beyond the Sea (11-Sep-2004) · Charlie Cassotto Maffia
Vanity Fair (1-Sep-2004) · Sir Pitt Crawley
Den of Lions (13-May-2003) · Darius Paskevic
The Sleeping Dictionary (31-Jan-2003)
Maid in Manhattan (13-Dec-2002) · Lionel Bloch
Where Eskimos Live (11-Jan-2002)
The Lost World (25-Dec-2001)
Last Orders (10-Sep-2001)
Enemy at the Gates (7-Feb-2001)
Don Quixote (9-Apr-2000)
Noriega: God's Favorite (4-Mar-2000)
American Virgin (11-Feb-2000)
David Copperfield (25-Dec-1999)
The White River Kid (12-Nov-1999) · Brother Edgar
A Room for Romeo Brass (23-Aug-1999)
Captain Jack (28-May-1999)
Felicia's Journey (May-1999)
Parting Shots (18-Mar-1999)
Cousin Bette (12-Jun-1998)
Spice World (15-Dec-1997) · Himself
TwentyFourSeven (31-Aug-1997)
Michael (25-Dec-1996)
The Secret Agent (7-Sep-1996) · Verloc
Balto (22-Dec-1995) · Boris [VOICE]
Nixon (20-Dec-1995) · J. Edgar Hoover
Rainbow (7-Dec-1995)
World War II: When Lions Roared (19-Apr-1994)
Super Mario Bros. (28-May-1993)
Blue Ice (9-Oct-1992)
Passed Away (24-Apr-1992)
The Inner Circle (25-Dec-1991)
Hook (11-Dec-1991) · Smee
Shattered (25-Sep-1991)
The Favour, the Watch and the Very Big Fish (9-Sep-1991) · Louis
Mermaids (14-Dec-1990) · Lou Landsky
Heart Condition (2-Feb-1990)
The Raggedy Rawney (10-Sep-1988) · Darky
Who Framed Roger Rabbit (21-Jun-1988) · Eddie Valiant
The Lonely Passion of Judith Hearne (23-Dec-1987) · James Madden
A Prayer for the Dying (21-Aug-1987)
The Secret Policeman's Third Ball (1987) [VOICE]
Mona Lisa (13-Jun-1986) · George
Sweet Liberty (14-May-1986) · Stanley Gould
Brazil (20-Feb-1985) · Spoor
The Dunera Boys (1985)
Mussolini and I (1985)
The Cotton Club (14-Dec-1984) · Owney Madden
Lassiter (17-Feb-1984)
The Honorary Consul (30-Sep-1983)
Pink Floyd The Wall (14-Jul-1982)
Othello (4-Oct-1981)
The Long Good Friday (Nov-1980) · Harold
Zulu Dawn (15-May-1979)
Pennies From Heaven (7-Mar-1978)
Royal Flash (2-Oct-1975) · Constable
Inserts (19-Feb-1975) · Big Mac
The National Health (6-Mar-1973)
Up the Front (1972)

Do you know something we don't?
Submit a correction or make a comment about this profile

Copyright ©2019 Soylent Communications