The Holiday (5-Dec-2006)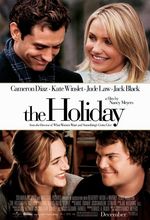 Director: Nancy Meyers
Writer: Nancy Meyers
Keywords: Romantic Comedy




Romantic comedy follows two love-troubled women as they meet "international" men after swapping homes.
ABSTRACT
British newspaper columnist Iris Simpkins and American movie trailer producer Amanda Woods, two middle-aged women upset with their respective love lives, meet on a home-swap website and agree to trade dwellings for two weeks. The Holiday follows the two women as they attempt to adjust to temporary live on opposite sides of the Atlantic, each meeting a charming "foreign" man with the potential to give them a new lease on life if they agree to open their hearts back up to love.
REVIEWS
Review by Larry Johnson (posted on 21-Oct-2007)
Seldom do I watch a movie more than once...occasionally to pacify someone that is with me and wants to watch a certain movie, BUT I have watched this movie twice and may again. It is so livable and so practical. Yet, moving and fulfilling for my hopes and even for my fantasies. The absence of really big names in a movie like this is definitely an asset. Given credit where it is due, every actor/actress, including the children, was absolutely tremendous. Very realistic and believable. So refreshing and encouraging. I only wish they would produce more movies with such low key, high impact effects. I believe that every person involved in this movie, including the off screen team (Producer, Director, etc.) had their hearts set on making this a wonderful creation, which it did indeed turn out to be. I have always watched movies from a technical point of view, but I found myself continually being drawn into the story and touched emotionally to the point of joy and of tears. Thumbs up for a great job. Keep it up. I am the consumer and I have spoken.
---
Do you know something we don't?
Submit a correction or make a comment about this profile

Copyright ©2019 Soylent Communications