Brokeback Mountain (2-Sep-2005)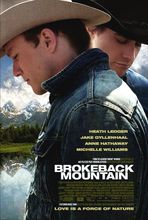 Director: Ang Lee
Writers: Larry McMurtry; Diana Ossana
From short story by: E. Annie Proulx
Music by: Gustavo Santaolalla
Producers: Diana Ossana; James Schamus
Keywords: Western, Romantic Drama, Gay




Two cowboys living off the land in rural Wyoming entertain a secret same-sex romance over a number of years.
ABSTRACT
Ennis Del Mar, a young, impressionable ranch hand, and Jack Twist, a handsome rodeo cowboy and Western archetype, begin work together on a ranch in Wyoming herding sheep in the summer of 1963. The pair almost instantly strike up a connection that soon takes a romantic turn, maintaining a deep level of affection for each other over the years despite their separate paths in life -- and "above-board" relationships -- up until Jack's ambiguous death in the early 1980s.
[watch trailer]
CAST
Heath Ledger
... Ennis Del Mar
Jake Gyllenhaal
... Jack Twist
Linda Cardellini
... Cassie
Anna Faris
... Lashawn Malone
Anne Hathaway
... Lureen Newsome
Michelle Williams
... Alma
and
Randy Quaid
... Joe Aguirre
Graham Beckel
... L. D. Newsome
Scott Michael Campbell
... Monroe
David Harbour
... Randall Malone
Kate Mara
... Alma Jr., Age 19
Roberta Maxwell
... Jack's Mother
Peter McRobbie
... John Twist
Valerie Planche
... Waitress
David Trimble
... Basque
Victor Reyes
... Chilean Sheepherder #1
Lachlan Mackintosh
... Chilean Sheepherder #2
Larry Reese
... Jolly Minister
Marty Antonini
... Timmy
Tom Carey
... Rodeo Clown
Dan McDougall
... Bartender #1
Don Bland
... Biker #1
Steven Cree Molison
... Biker #2
Duval Lang
... Announcer
Dean Barrett
... Bartender #2
Hannah Stewart
... Alma Jr., Age 3
Mary Liboiron
... Fayette Newsome
Kade Philps
... Ennis, Age 9
Steffen Cole Moser
... K. E. Del Mar, Age 11
Brooklyn Proulx
... Jenny, Age 4
Keanna Dubé
... Alma Jr., Age 5
James Baker
... Farmer #1
Pete Seadon
... Farmer #2
Sarah Hyslop
... Alma Jr., Age 9-12
Jacey Kenny
... Jenny, Age 7-8
Jerry Callaghan
... Judge
Cayla Wolever
... Jenny, Age 11
Cheyenne Hill
... Alma Jr., Age 13
Jake Church
... Bobby, Age 10
Ken Zilka
... Roughneck #1
John Tench
... Roughneck #2
Will Martin
... Carl
Gary Lauder
... Killer Mechanic
Christian Fraser
... Grease Monkey
Cam Sutherland
... Assailant
REVIEWS
Review by anonymous (posted on 3-Jun-2006)
This movie is a touching display of love, loss, and life. I have always felt that love is love, regardless of where it comes from, but seeing this movie really affirmed for me WHY I feel this way. The raw emotion of both characters, as well as the tragedy of them going for all those years, hiding from an unaccepting society, instead of following their heart is what really keeps me entralled with Brokeback Mountain. I rented it, and then actually purchased the film, because it is a ground breaker, and a truly masterful and beautiful movie. It focuses more on love than on just the sexuality of same sex relationships in a superb and realistic way. I highly recommend it.
---
Review by J.T. Garner (posted on 25-May-2007)
This movie starts out innocently enough with a beautiful backdrop of what your made to think are the hills of Wyoming at day break. (Most of the filming was actually done in Alberta, Canada) Enis Delmar (Heath Ledger) is a ranch hand looking for work when he runs into Jack Twist (Jake Gyllenhaal). The two are sent to herd sheep on nearby isolated Brokeback Mountain. Slowly they build a friend ship, hunting, riding, and drinking by the fire. One night of drinking makes them a whole lot closer than they ever expected to be and soon the young men find them selves in a bitter sweet love affair that spans the course of 20 years. Both men go there seperate ways and try the family life but as the days go on they long for each others company. Going on long fishing and hunting trips once or twice a year starts taking a toll on their relationship and the more lies they tell the closer they come to be found out. The movie is a lengthy one and that's why I took off 1/2 a star. It's an excellent movie but it's not an action movie. The raciest scene is within the first 45 minutes of the movie. It last maybe 30 seconds? So if that's keeping you from seeing this film, get over it. You can handle it.
---
Do you know something we don't?
Submit a correction or make a comment about this profile

Copyright ©2019 Soylent Communications