A Bridge Too Far (15-Jun-1977)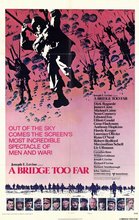 Director: Richard Attenborough
Writer: William Goldman
Based on a book: A Bridge Too Far by Cornelius Ryan
Keywords: Action/Adventure, WWII




Allied troops perform the largest aerial drop in history, 35,000 parachuting behind German lines to seize key bridges, and hold them long enough for tank columns to arrive. Epic dramatization of Bernard Montgomery's doomed plan to end WWII by late 1944, Operation Market Garden. A panoply of stars, some of whom could surely have been left out, did not guarantee box office success. Though certainly with flaws, Attenborough direction is commendable on the most ambitious WWII film since The Longest Day (1962).
REVIEWS
Review by chaz nordhaus (posted on 3-Jul-2008)
First of all the film reveals how the so called Supreme Commander Dwight Eisenhower was overly influenced by the British and their crazy ideas. Field Marshall Montgomery wanted all of the Allied resources to back him up and his foolish plan to end the war in 1944. So the movie begins with disturbing news, the planned area of the Airborne drops are full of German SS Panzer Divisions. But the British intelligence officers decide not to inform anyone in case the big show might be cancelled.(heaven forbid). So the Airborne troops take off, the British Airborne is dropped in Arnhem and they capture one end of the bridge over the Rhine. The 101st is dropped near Einhoven, close to the British tanks led by Monty himself. The 82nd is given a much harder job, to capture two bridges near Nijmegen, and keep the German Panzers inside Germany and not let them disrupt the invasion of Holland. The British tanks begin to move, only to be held up by a hand full of dedicated Germans with Panzerfausts. Now the folly of trying to pull off a blitzkrieg move in a flooded country like Holland with a one lane highway leading to Arnhem becomes apparent. Finally the British tanks make their way to Nijmegen, only to find the 82nd Airborne has not captured the key bridge, because they are under constant attack on their flanks from SS troops that were not supposed to be there. A Major Cook of the 504th Paratroop Reg. is ordered to cross the river by canvas boat with his battalion and capture the opposite side of the river. The men get into the flimsy craft and in the best scene of the movie row across the river under constant and accurate German fire. Only a handful of men make it across the River alive. But they manage to capture the bridge. The British tanks cross the bridge and then stop , its tea time old chap. Meanwhile up in Arnhem a few miles up the road the British Paratroops are getting their butts kicked. The German SS Panzer Divisions have arrived to stop them,so the whole operation is a failure, mainly because the British seem to be in no paticular hurry to end this bloody war.
---
Do you know something we don't?
Submit a correction or make a comment about this profile

Copyright ©2019 Soylent Communications