Gene Hackman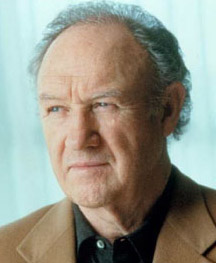 AKA Eugene Allen Hackman
Born: 30-Jan-1930
Birthplace: San Bernardino, CA

Gender: Male
Race or Ethnicity: White
Sexual orientation: Straight
Occupation: Actor
Nationality: United States
Executive summary: The Conversation
Military service: US Marine Corps (1946-49)
Gene Hackman made his name playing tough guys, spies, and smooth villains, and won Oscars playing the drug warrior Popeye Doyle in The French Connection and the sadistic, smiling sheriff in Unforgiven with Clint Eastwood.
Hackman's father abandoned the family when he was 12, and his mother was an alcoholic, leaving their son to be raised mostly by his maternal grandmother. He was briefly jailed as a juvenile for shoplifting, then dropped out of school, ran away at 16 and, lying about his age, joined the Marines. After his tour of duty, he used the GI Bill to study journalism and TV production, and worked as a radio announcer, shoe salesman, and truck driver until, reassessing his life as his 30th birthday approached, he decided to try becoming an actor.
He enrolled for acting classes, became fast friends and eventually roomed with classmate Dustin Hoffman, and soon found a few stage and television roles. In his first, brief screen appearance, he played a policeman in 1961's Mad Dog Coll with Jerry Orbach. He made his Broadway debut opposite Peggy Cass in Children From Their Games, which closed two days after it opened, but by the mid-1960s he was working steadily in a succession of Broadway plays. His first substantial film role was in the drama of mental illness Lilith with Jean Seberg and Warren Beatty, and his first critical acclaim came with his Oscar-nominated role as Beatty's brother in Bonnie and Clyde.
Among his other famous roles, he played the bug-master in The Conversation with John Cazale, the ordinary hero of the cheesy Poseidon Adventure with Shelley Winters, a campy Lex Luthor in Superman with Christopher Reeve, the perfect high school basketball coach in Hoosiers with Barbara Hershey, the sly Secretary of Defense in No Way Out with Kevin Costner, an untalented filmmaker in Get Shorty with John Travolta, a rogue spy in Enemy of the State with Will Smith, and the patriarch of a wildly dysfunctional family in The Royal Tenenbaums with Owen Wilson. Now semi-retired, Hackman's last film was the rather embarrassing Welcome to Mooseport with Ray Romano. Working with archeologist Daniel Lenihan, Hackman has co-written a few novels.
In 2001, Hackman was involved in a very minor fender-bender in Los Angeles. Witnesses said that when the two drivers emerged from their cars to exchange information, the driver of the other vehicle was belligerent, and became more and more angry over several minutes, finally shoving the 71-year-old Hackman. According to the police report, Hackman responded by pummeling the other driver with a half-dozen blows before the two men were restrained. No charges were filed.
His mother burned to death in 1962 when, drunk and smoking in bed, she fell asleep and her cigarette ignited the mattress.
Father: Eugene Ezra Hackman (newspaper pressman)
Mother: Lyda Gray
Brother: Richard Hackman (b. 1942)
Wife: Fay Maltese (bank clerk, dated 1953-56, m. 1-Jan-1956, sep. 1982, div. 1986, two daughters, one son)
Daughter: Elizabeth Hackman
Son: Christopher Hackman (b. 1960)
Daughter: Leslie Hackman
Wife: Betsy Arakawa (health club worker, cohabited 1984-91, m. Dec-1991)

University: Journalism, University of Illinois
Conservatory: Art Students League of New York

Howard Johnson Times Square
Oscar for Best Actor 1972 for The French Connection
Oscar for Best Supporting Actor 1993 for Unforgiven
Golden Globe 1972 for The French Connection
Golden Globe 1993 for Unforgiven
Golden Globe 2002 for The Royal Tenenbaums
Heart Attack 1990
Angioplasty 1990

FILMOGRAPHY AS ACTOR
Birth of the Living Dead (18-Oct-2013) · Himself
I Knew It Was You: Rediscovering John Cazale (16-Jan-2009) · Himself
Welcome to Mooseport (20-Feb-2004) · Monroe
Runaway Jury (9-Oct-2003) · Rankin Fitch
Behind Enemy Lines (17-Nov-2001)
The Royal Tenenbaums (5-Oct-2001)
Heist (10-Sep-2001) · Joe Moore
Heartbreakers (23-Mar-2001)
The Replacements (7-Aug-2000)
Under Suspicion (11-May-2000) · Henry Hearst
Hitchcock, Selznick and the End of Hollywood (Jan-1999) · Himself [VOICE]
Enemy of the State (16-Nov-1998) · Edward "Brill" Lyle
Antz (19-Sep-1998) · Mandible [VOICE]
Twilight (6-Mar-1998) · Jack Ames
Absolute Power (14-Feb-1997) · President Richmond
Extreme Measures (27-Sep-1996) · Dr. Lawrence Myrick
The Birdcage (8-Mar-1996) · Sen. Keeley
The Chamber (14-Feb-1996) · Sam Cayhall
Get Shorty (20-Oct-1995) · Harry Zimm
Crimson Tide (12-May-1995)
The Quick and the Dead (10-Feb-1995) · Herod
Wyatt Earp (24-Jun-1994)
Geronimo: An American Legend (10-Dec-1993)
The Firm (30-Jun-1993)
Unforgiven (3-Aug-1992)
Company Business (6-Sep-1991) · Sam Boyd
Class Action (15-Mar-1991)
Narrow Margin (21-Sep-1990)
Postcards from the Edge (12-Sep-1990) · Lowell
Loose Cannons (9-Feb-1990)
The Package (25-Aug-1989) · Johnny Gallagher
Mississippi Burning (9-Dec-1988) · Anderson
Full Moon in Blue Water (23-Nov-1988)
Another Woman (18-Nov-1988) · Larry
Split Decisions (11-Nov-1988) · Dan McGuinn
Bat * 21 (21-Oct-1988)
No Way Out (14-Aug-1987) · David Brice
Superman IV: The Quest for Peace (24-Jul-1987) · Lex Luthor [VOICE]
Hoosiers (14-Nov-1986) · Coach Norman Dale
Power (9-May-1986)
Target (8-Nov-1985)
Twice in a Lifetime (9-Sep-1985)
Eureka (Oct-1984) · Jack McCann
Misunderstood (30-Mar-1984)
Uncommon Valor (16-Dec-1983) · Col. Rhodes
Under Fire (21-Oct-1983) · Alex Grazier
Reds (3-Dec-1981) · Pete Van Wherry
Superman II (19-Jun-1981) · Lex Luthor
All Night Long (6-Mar-1981)
Superman (15-Dec-1978) · Lex Luthor
March or Die (5-Aug-1977) · Maj. William Sherman Foster
The Domino Principle (25-Jul-1977)
A Bridge Too Far (15-Jun-1977)
Lucky Lady (25-Dec-1975)
Bite the Bullet (20-Jun-1975) · Sam Clayton
Night Moves (11-Jun-1975) · Harry Moseby
French Connection II (21-May-1975)
Young Frankenstein (15-Dec-1974) · Blindman
Zandy's Bride (19-May-1974) · Zandy Allan
The Conversation (7-Apr-1974) · Harry Caul
Scarecrow (31-Aug-1973) · Max Millan
The Poseidon Adventure (12-Dec-1972) · Rev. Scott
Prime Cut (28-Jun-1972)
Cisco Pike (14-Jan-1972)
The French Connection (7-Oct-1971) · Jimmy Doyle
The Hunting Party (16-Jul-1971)
Doctors' Wives (3-Feb-1971)
I Never Sang for My Father (18-Oct-1970) · Gene Garrison
Marooned (10-Nov-1969) · Buzz Lloyd
Downhill Racer (6-Nov-1969)
The Gypsy Moths (28-Aug-1969) · Joe Browdy
Riot (15-Jan-1969)
The Split (4-Nov-1968) · Lt. Walter Brill
Banning (13-Dec-1967)
Bonnie and Clyde (13-Aug-1967) · Buck Barrow
A Covenant with Death (15-Feb-1967)
First to Fight (25-Jan-1967) · Sgt. Tweed
Hawaii (10-Oct-1966)
Lilith (20-Sep-1964) · Norman

Do you know something we don't?
Submit a correction or make a comment about this profile

Copyright ©2019 Soylent Communications