The Magnificent Seven (23-Oct-1960)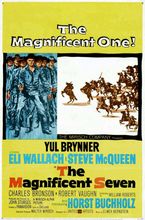 Director: John Sturges
Writer: William Roberts
Music: Elmer Bernstein
Producer: John Sturges
Keywords: Western




Mexican village plagued by bandits hire a group of gunslingers to defend them, in this Old West retooling of Kurosawa's The Seven Samurai (1954), itself inspired by Alexandre Dumas père's novel, The Three Musketeers. Superb character development, excellent cinematography and stageplay, and score by Elmer Bernstein combine to make a remarkable Western.
| Name | Occupation | Birth | Death | Known for |
| --- | --- | --- | --- | --- |
| Val Avery | Actor | 14-Jul-1924 | 12-Dec-2009 | The Anderson Tapes |
| Whit Bissell | Actor | 25-Oct-1909 | 5-Mar-1996 | The Time Tunnel |
| Charles Bronson | Actor | 3-Nov-1921 | 30-Aug-2003 | Death Wish |
| Yul Brynner | Actor | 11-Jul-1920 | 10-Oct-1985 | The King and I |
| Horst Buchholz | Actor | 4-Dec-1933 | 3-Mar-2003 | The Magnificent Seven |
| James Coburn | Actor | 31-Aug-1928 | 18-Nov-2002 | Our Man Flint |
| Brad Dexter | Actor | 9-Apr-1917 | 12-Dec-2002 | The Magnificent Seven |
| Steve McQueen | Actor | 24-Mar-1930 | 7-Nov-1980 | The Great Escape |
| Bing Russell | Actor | 5-May-1926 | 8-Apr-2003 | Dep. Clem Foster on Bonanza |
| Vladimir Sokoloff | Actor | 26-Dec-1889 | 15-Feb-1962 | For Whom the Bell Tolls |
| Robert Vaughn | Actor | 22-Nov-1932 | 11-Nov-2016 | Napoleon Solo on The Man From U.N.C.L.E. |
| Eli Wallach | Actor | 7-Dec-1915 | 24-Jun-2014 | The Magnificent Seven |
CAST
REVIEWS
Review by Glenn Irwin (posted on 17-Mar-2008)
This is a terrific Western... and a good film. Often one's favourite films are guaged at the stage when you first see them. You may see them whenm you are young and they make a greater impression then as opposed to later in your life when you might be a little more 'discerning'. This film is a classic tale of (flawed) good against against evil with the the former triumphing - just. Yes, the film is dated but contains some of the classic 'tough guy' lines of films of that time. The film could not, financially, have been made a few years later than it was because of the prominence of some of its stars. These include Steve McQueen; Charles Bronson and James Coburn. It turned out to be a terrific collection of grade 'A' Hollywood male testosterone of the time. Ironically, Yul Brynner was the star at the relevant time, soon to be overtaken by many of his co-stars in the early sixties. While many feel that Steve McQueen was the star and prime scene-stealer in the course of the film, the true star of the film was Eli Wallach who has never been better as the bandit leader, Calvera. Certainly, the best dialogue is between Wallach and Brynner. I cannot tire of this film. I first saw it as a 13 year old in 1965. I know every line off by heart. It still leaves a glow with me. Ultimately the evil are vanquished. This is probably because the mexican bandits are the worst shots I have ever seen! Most of the good guys are shot dead in the final minutes by retreating banditos who... suddenly.... obtain a handgun accuracy which they did not have in the predecing hour!! Oh well, I accept the flaws!! Watch this film and enjoy....
---
Do you know something we don't?
Submit a correction or make a comment about this profile

Copyright ©2019 Soylent Communications