Donnie Darko (19-Jan-2001)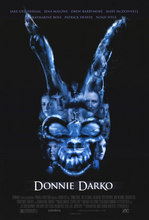 Director: Richard Kelly
Writer: Richard Kelly
Music by: Michael Andrews
Producers: Sean McKittrick; Nancy Juvonen; Adam Fields
Keywords: Fantasy, Surreal, Time Travel, Martyrdom, Halloween, Rabbits




A teenager's encounter with a mysterious costumed figure leads him down a terrifying road.
ABSTRACT
Donnie Darko, a Virginia teenager and social outcast, leaves his bedroom in the middle of the night on October 2, 1988 after a man in a bunny suit identifying himself only as "Frank" leads him outside and claims the world will end in twenty-eight days. Donnie's return to his house and subsequent discovery that a jet engine has destroyed his bedroom sets the stage for the rest of the film, which sees Donnie committing a series of bizarre crimes at Frank's urging as his Apocalypse prophecy draws nearer.
CAST
Jake Gyllenhaal
... Donnie Darko
Jena Malone
... Gretchen Ross
Drew Barrymore
... Karen Pomeroy
James Duval
... Frank
Beth Grant
... Kitty Farmer
Maggie Gyllenhaal
... Elizabeth Darko
Mary McDonnell
... Rose Darko
Holmes Osborne
... Eddie Darko
Katharine Ross
... Dr. Lilian Thurman
Patrick Swayze
... Jim Cunningham
Noah Wyle
... Dr. Kenneth Monnitoff
Alex Greenwald
... Seth Devlin
Gary Lundy
... Sean Smith
Seth Rogen
... Ricky Danforth
Stuart Stone
... Ronald Fisher
Daveigh Chase
... Samantha Darko
Patience Cleveland
... Roberta Sparrow / Grandma Death
David Moreland
... Principal Cole
Jolene Purdy
... Cherita Chen
Arthur Taxier
... Dr. Fisher
Mark Hoffman
... Police Officer
David St. James
... Bob Garland
Tom Tangen
... Man in Red Jogging Suit
Jazzie Mahannah
... Joanie James
Kristina Malota
... Susie Bates
Marina Malota
... Emily Bates
Carly Naples
... Suzy Bailey
Tiler Peck
... Beth Farmer
Lisa K. Wyatt
... Linda Connie
Rachel Winfree
... Shanda Riesman
Jack Salvatore, Jr.
... Larry Riesman
Lee Weaver
... Leroy
Phyllis Lyons
... Anne Fisher
Ashley Tisdale
... Dorky Girl
Alison Jones
... Dorky Sister
Jerry Trainor
... Lanky Kid
Joan Blair
... Mystery Woman
Sarah Hudson
... Friend
Fran Kranz
... Passenger
Scotty Leavenworth
... David
REVIEWS
Review by Beth (posted on 10-Jul-2008)
This movie follows a teenage boy, Donnie Darko, who is severely disturbed mentally (schizophrenia to be exact). He has a history of seeing things that are not actually there and thusly takes medication for that. However, this time is different. He starts to have visions of a large man dressed in an evil looking rabbit costume, named Frank. Donnie narrowly escapes death due to Frank's appearance, causing Donnie to leave his room when disaster strikes. Donnie then finds out, via Frank, that the world will end in approximately 28 days, and only he can fix it. He follows Franks destructive and sometimes violent instructions in order to ensure the world's safety. He discovers a way to travel through time, and with this knowledge comes the burden of fixing the universe. This movie is outstanding. I have yet to see another movie comprable to this one. The dark humor, suspense, and fantasy elements of this movie all work hand and hand to create an orignal masterpiece.
---
Do you know something we don't?
Submit a correction or make a comment about this profile

Copyright ©2019 Soylent Communications