Unforgiven (3-Aug-1992)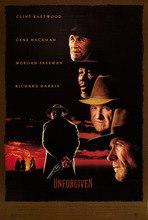 Director: Clint Eastwood
Writer: David Webb Peoples
Keywords: Western, Prostitution, Sniper




Former gunslinger William Munny, who gave up his profession for farming at the request of his late wife, is talked into one more job after falling on hard financial times. Superb western with the mythology removed; the characters without exception inhabit deep ethical gray areas. Won 4 Oscars including Best Supporting Actor, Best Director and Best Picture; received nominations for 5 others including Best Actor, Best Screenplay and Best Cinematography.
[watch trailer]
REVIEWS
Review by tom penner (posted on 21-Feb-2005)
Unforgiven is one of Eastwood's best. It is classic Clint Eastwood, you know it's not the ending where the major character (William Munny) does what is right and lets the bad guys go, NO, Eastwood's character comes out of nowhere, calmly asks "Who owns this shit hole" when he finds out shoots "Skinny" dead. Gene Hackman pipes up "You just shot an unarmed man", and that's when the Classic Eastwood one liner of the movie comes in "He should have armed himself if he is going to decorate his bar with my friend." Man that is arguably the best Eastwood one liner ever.
---
Do you know something we don't?
Submit a correction or make a comment about this profile

Copyright ©2019 Soylent Communications