Conan the Barbarian (14-May-1982)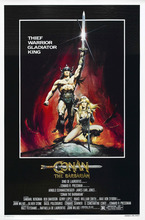 Director: John Milius
Writers: John Milius; Oliver Stone
From story by: Robert E. Howard (story basis)
Music Composed and Conducted by: Basil Poledouris
Producers: Buzz Feitshans; Raffaella De Laurentiis
Keywords: Fantasy/Action, Comic Book, Unintentional Comedy




Orphaned by warrior-sorcerer Thulsa Doom, young Conan progresses from slave laborer to champion gladiator, all while anticipating revenge on the man who killed his parents. Schwarzenegger says almost nothing throughout the entire picture, though it is one of his standout films. Adorned with lavish sets constructed in the days before CGI, it is gritty, dark, and violent. Spawned a lesser sequel, an atrocious remake, and many imitators.
CAST
Arnold Schwarzenegger
... Conan
James Earl Jones
... Thulsa Doom
Sandahl Bergman
... Valeria
Ben Davidson
... Rexor
Cassandra Gaviola
... The Witch
Gerry Lopez
... Subotai
Mako
... The Wizard
Valerie Quennessen
... The Princess
William Smith
... Conan's Father
and
Max von Sydow
... King Osric
With
Franco Columbu
... Pictish Scout
Sven Ole Thorsen
... Thorgrim
Nadiuska
... Conan's Mother
Jorge Sanz
... Young Conan
Luis Barboo
... Red Hair
Leslie Foldvary
... Sacrificial Snake Girl
Gary Herman
... Osric's Guard
Erick Holmey
... Turanian War Officer
Akio Mitamura
... Mongol General
Jack Taylor
... Priest
Kiyoshi Yamasaki
... Sword Master
REVIEWS
Review by anonymous (posted on 21-Jan-2007)
My earliest memories of Conan the character was Marvel Comics as a kid. Then I gradually stumbled upon Robert E Howards original books in my 20's. When I first saw Conan the Barbarian. I could not get enough of it. I saw it four times in the movie theaters, rented it out of Blockbuster, and saw it countless times on Cable Television. I still love the movie. My only disappointment over the years is that the Cable channels, and some of the television channels had edited parts of the violence out of the move over the years of replays, especially taking out the awesome sex scene in which Conan (newly gaining his freedom) had an encounter with a witch, who read him his destiny, but in return for the "price" that the barbarian had to pay for learning about the snake cult that he was seeking, which would lead back to Thulsa Doom. He boned that witch-woman, and had her howling. The witch-woman could barely handle Conan's savage lust. It was as close as you can get to pornography that you rent in those sex shops. Then after that witch woman had the best sex she ever had by a lustful barbarian, she sought to eat him in the end--showing the teeth of a vampire. Conan flipped her into the hearth of her fire. What an ending! That is the best sex scene of the film, and the most talked about among my peers back then. My mind was locked on Sandahl Bergman, that hot sexy actress, who played the character of Valeria, the highly-independently-strong-willed, warrior woman, that only the likes of Conan (Arnold Schwarzenegger)could tame. Sandahl was a woman that I fantasized about. The first woman that I remember drooling over. She was a woman that I wished was my girlfriend. It would have made feel very important as a teenager of 17 years old on the verge of adulthood. Made me wish I would meet a girl as awesome as her. This never happened. Even though Sandahl has been in other movies since the 1982 Conan the Barbarian movie. This is the only movie I know, and remember her best from. The first Hollywood actress that I had a crush on, and paid attention to from what I can remember when I think back over the years. There were other barbarian-type movies that followed Conan the Barbarian, but this one will be my favorite of all barbarian movies. I saw the sequel of Conan the Destroyer. That movie sucked, and was boring, and the story plot was weak. It still give me the feeling of nausea everytime I see it.
---
Do you know something we don't?
Submit a correction or make a comment about this profile

Copyright ©2019 Soylent Communications