Robert E. Howard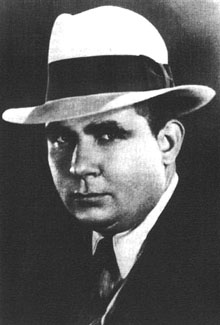 AKA Robert Ervin Howard
Born: 24-Jan-1906
Birthplace: Peaster, TX
Died: 11-Jun-1936
Location of death: Cross Plains, TX
Cause of death: Suicide
Remains: Buried, Greenleaf Cemetery, Brownwood, TX

Gender: Male
Race or Ethnicity: White
Sexual orientation: Straight
Occupation: Author
Nationality: United States
Executive summary: Original Conan series
Robert E. Howard was a prolific writer of pulp fiction short stories, including the original Conan the Barbarian saga. Other popular characters created by Howard included Kull of Atlantis, Sailor Steve Costigan, and Dark Agnes de la Fere. He submitted his work to publications with such lurid titles as Weird Tales, Fight Stories, Action Stories, and Oriental Stories, and while many of Howard's works were rejected (especially his poetry), he sold literally hundreds of stories. Supposedly he was able, in a single month during the Great Depression, to earn as much as $500 -- more than three times what the local bank president earned.
Despite his considerable commercial success (in 1935 he paid cash for a brand new car, something no one else in his small town could do) he was repeatedly plagued by thoughts of suicide. Spending most of his life in the former oil boomtown of Cross Plains, Texas, Howard was isolated from his neighbors who could not relate to his profession. He lived at home with his parents, looking after his mother (afflicted by some vague yet debilitating malady) while his father, a doctor, was away on frequent house calls. Howard never married, and is known to have dated only one girl, Novalyne Price. Although they seemed highly compatible the relationship foundered when Price (fed up with the noncommittal Howard and his clinging mother) finally spurned love for the graduate program in education at Louisiana State.
Ultimately Howard's devotion to his mother would prove fatal. On 11 June 1936, after learning she had slipped into a coma and would never regain consciousness, Robert Ervin Howard walked out to his car and shot himself in the head. This would not be the end of his success as an author, thanks largely to the efforts of friend L. Sprague de Camp who posthumously collected and edited Howard's Conan tales and saw them to publication. Other Howard stories continued to be published and republished for many years after his death.
A number of later science fiction writers count him among their earliest influences. In more recent times his writing has been rediscovered by the internet generation, with a number of fansites extolling the virtues of his work. Meanwhile Conan the Barbarian has found new life in the novels of author Robert Jordan, as well as in the Arnold Schwarzenegger films Conan the Barbarian (1982) and Conan the Destroyer (1984).
Father: Dr. Isaac Mordecai Howard
Mother: Hester Jane Ervin (d. 12-Jun-1936)
Girlfriend: Novalyne Price (ex-)

High School: Brownwood High School, Brownwood, TX (1923)
University: Business Certificate, Howard Payne College, Brownwood, TX (1927)

Shot: Self-Inflicted (11-Jun-1936)
Died Intestate

Do you know something we don't?
Submit a correction or make a comment about this profile

Copyright ©2019 Soylent Communications