Ronin (12-Sep-1998)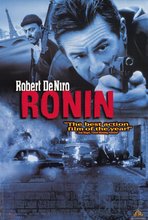 Director: John Frankenheimer
Writers: David Mamet; J. D. Zeik
Music by: Elia Cmiral
Producer: Frank Mancuso, Jr.
Keywords: Action/Thriller, Espionage, Mystery Package, Classic Car Chase, France, Explosions




Five highly skilled freelance operatives gather in Paris for a no-questions-asked snatch job of a metal briefcase, contents unknown, held by the Russian mafia. The title refers to a masterless samurai; presumably, these five are paid by the IRA. Gripping and complex thriller, with one of the best and longest car chase scenes ever committed to film.
[watch trailer]
CAST
Robert De Niro
... Sam
Jean Reno
... Vincent
Natascha McElhone
... Deirdre
Stellan Skarsgård
... Gregor
Sean Bean
... Spence
Skipp Sudduth
... Larry
Michael Lonsdale
... Jean-Pierre
Jan Triska
... Dapper Gent
and
Jonathan Pryce
... Seamus
Ron Perkins
... The Man with the Newspaper
Féodor Atkine
... Mikhi
Katarina Witt
... Natacha Kirilova
Bernard Bloch
... Sergi
Dominic Gugliametti
... Clown Iceskater
Alan Beckworth
... Clown Iceskater
Daniel Breton
... Sergi's Accomplice
Amidou Ben Messaoud
... Man at Exchange
Tolsty
... The "Boss"
Gérard Moulevrier
... Tour Guide
Lionel Vitrant
... The "Target"
Vincent Schmitt
... Arles Messenger
Léopoldine Serre
... Arles Little Girl
Lou Maraval
... Arles Little Girl
Frédéric Schmalzbauer
... German Tour Guide
Julia Maraval
... Girl Hostage
Laurent Spielvogel
... Tourist in Nice
Ron Jeremy
... Fishmonger
Steve Suissa
... Waiter in Nice
Katia Tchenko
... Woman Hostage
Dyna Gauzy
... Little Screaming Girl
Lilly-Fleur Pointeaux
... Little Girl
Amanda Spencer
... Little Girl
Dimitri Rafalsky
... Russian Interpreter
Vladimir Tchernine
... Russian Mechanic
Gérard Touratier
... Ice Rink Security Guard
Cyril Prentout
... Mikhi's Bodyguard
Henry Moati
... Bartender
Christophe Maratier
... Armed Police Officer
Pierre Forest
... C.R.S. Captain
REVIEWS
Do you know something we don't?
Submit a correction or make a comment about this profile

Copyright ©2019 Soylent Communications