Mariah Carey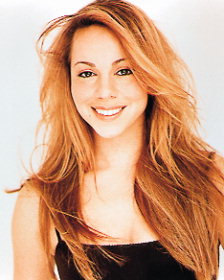 Born: 27-Mar-1969 [1]
Birthplace: Huntington, Long Island, NY

Gender: Female
Race or Ethnicity: Multiracial
Sexual orientation: Straight
Occupation: Singer/Songwriter
Nationality: United States
Executive summary: Diva with eighteen #1 hits
One of the most commercially successful pop performers of the 1990s, vocalist Mariah Carey was the third child of black/Hispanic aeronautical engineer Alfred Carey and Irish opera singer/voice coach Patricia Hickey -- a mix that made her the target of persistent racial prejudice throughout her childhood. The hostility against mixed marriages still persisting in New York at the time ultimately brought about her parents' divorce in the early 70s, putting Hickey in the position of having to keep multiple jobs in order to support her children on her own. By the age of 3, Mariah had already begun to show an enthusiasm for singing, and would sometimes accompany her mother while she rehearsed; taking note of her daughter's interest, Hickey initiated her vocal training soon afterwards. Singing quickly became the center of the young Mariah's existence. Her first public performance took place at the age of 6, and her schoolwork went largely ignored in favor of anything that could further her dream of becoming a star.
During her high school years, Carey made frequent trips to Manhattan in order to immerse herself in the professional music scene. After graduating in 1987, she immediately made a full-time move to the city -- sharing an apartment with two friends and attending beauty school, while supporting herself with a variety of menial jobs. In that first year, as much time as possible was spent in the studio, writing or creating demo tapes. Her entrance into the music business arrived the following year, when a friend convinced her to audition as a backing vocalist for Brenda K. Starr: Carey had little difficulty passing the audition, and Starr subsequently made it possible for the young singer to put one of her demo recordings in the hands of Sony/Columbia executive Tommy Mottola. The executive had been in search of a female performer who could compete with the success of rival label Arista's recording artist Whitney Houston, and a contract for Carey with Columbia was arranged in short order.
Work on Carey's debut continued between 1989 and 1990, maintained under the close supervision of a committee of Columbia executives seeking to maximize the album's "hit potential". The release finally materialized in June of 1990 and (as intended) was met with immediate commercial success, the singles Vision of Love, Love Takes Time, Someday, and I Don't Wanna Cry all taking their turn at the #1 position, and the album itself reaching the top of the mainstream pop charts. Grammys for Best New Artist and Best Female Pop Vocal Performance (for Vision of Love) arrived the following year. Carey's next two releases were given a slightly more restrained but still enthusiastic response: 1991's Emotions reaching #4 and earning her a fifth #1 single with the title track, while her 1992 MTV Unplugged EP reached #3 and featured a sixth #1 song in the form of the Jackson 5 cover I'll Be There. By this time Carey had assumed greater control over her output and significantly expanded on the production role she had taken on her first album; the Unplugged appearance also finally dispelled rumors that her unusually high vocal range was a product of studio trickery.
Having managed to establish herself amongst the most lucrative recording artists in the world, by 1993 Carey was already hard at work making all of the mistakes that typically accompany a sudden rise to fame. One of the more significant of these arrived in June of that year, when she took artist/management relations a little too far by marrying label head Mottola. Marrying the boss had it's perks, however, and her third studio release Music Box was given an enormous promotional push, making it her most successful release since her debut. Music Box not only returned her to the top of the album charts, but also added two more number one singles to her catalog, Dreamlover and Hero; the album's third single, a cover of Badfinger's Without You, made a respectable showing at #3 in early 1994 and provided the singer with her first UK #1.
After releasing the popular Christmas collection Merry Christmas at the end of 1994 (and no doubt the world needed yet another Christmas album), Carey made a stylistic shift towards R&B and hip-hop with her fifth studio effort Daydream (1995), surpassing the sales of even her first album as a result. Three more number one singles were included on the release -- Fantasy, Always Be My Baby and the Boyz II Men collaboration One Sweet Day -- and the album itself put her name back at the top of the mainstream charts for several more weeks. This genre-mixing direction was continued for the follow-up Butterfly (1997), an album whose title referred to her "emergence" from the stifling cocoon of her marriage to Mottola, which would be officially dissolved in 1998. Butterfly gave the singer not only another number one album and two more number one singles (Honey and My All -- her twelfth and thirteenth, respectively), but earned her some of the most positive critical notices of her career as well. The packaging and promotional videos for the album also revealed Carey moving away from the coy persona of her early career and assuming a more sexually aggressive public image.
In addition to the developments in her personal and performing life, the second half of the 1990s saw Carey establishing herself as an arranger and/or producer for other artists: Michael Bolton, Allure, Jermaine Dupri, 7 Mile, Bone Thugs-N-Harmony, Blaque and even Placido Domingo amongst them. The singer closed the decade with her seventh studio effort Rainbow (1999), which reinforced her ties to hip-hop through guest appearances by rappers Jay-Z, Da Brat, Missy Elliott, Snoop Dogg, Mystikal and Master P. While still a huge commercial success by any reasonable standards, the album proved to be one of lowest-selling releases of her career up to that point, and was the first since Emotions not to reach #1 (it shows how astonishingly shallow and irrational the music industry (and its inhabitants) can be that a multi-million seller could be considered "a disappointment"). The release of Rainbow marked the end of her relationship with Sony/Columbia, and an extravagant contract with EMI was subsequently arranged in 2001.
The stress of her enormous celebrity inevitably caught up with Carey in the 00s, first revealing itself in the form of erratic behavior during personal appearances and culminating in a withdrawal from the public and a brief period of hospitalization at a psychiatric hospital. This breakdown came in the midst of preparations for the release of her semi-autobiographical film Glitter (2001) and its accompanying soundtrack album, both of which were given a harsh reception from both critics and the public upon their arrival later in the year: the film in particular fared extremely poorly at the box office and has been numbered by some sources amongst the worst movies ever made. The album version suffered a corresponding drop from her usual sales, but still easily reached a tally in the millions. Spooked by the dual disaster, EMI paid the singer out of her contract in early 2002.
In 2002 Carey managed to restore some of her acting credibility through a role in the independent film production WiseGirls, also starring Mira Sorvino and Melora Walters; the recording side of her reputation did not recover quite so quickly, however, and Charmbracelet (2002) -- the singer's first album for the Def Jam label -- had some critics prematurely writing obituaries for her music career. Guest appearances on songs by rappers Busta Rhymes (in 2003) and Jadakiss (in 2004) were given a more optimistic appraisal, while also providing some renewed chart action. A dramatic turnaround in Carey's fortunes was subsequently made in 2006 with the album The Emancipation of Mimi, which once again found her making an immediate jump to the top of the album charts. Two more #1 singles (We Belong Together and Don't Forget About Us) were also launched by the release, as well the #2 entry Shake It Off.
---
[1] Also given as 1970, but according to People magazine she was actually born in 1969. In response to fan inquiries about the correct date, a spokesperson of the magazine issued a statement, "we have a copy of Ms. Carey's driver's license, which lists her birthday as March 27, 1969. Furthermore, we spoke with the administrators at the high school she attended who confirmed that Ms. Carey's birthday is March 27, 1969, as did her management when we made our initial interview."

Father: Alfred Roy Carey (black, Venezuelan, d. 2002)
Mother: Patricia Hickey (Irish)
Brother: Morgan
Sister: Alison
Husband: Tommy Mottola (record executive, m. 5-Jun-1993, div. 30-May-1997)
Boyfriend: Luis Miguel (Latin singer, ex)
Boyfriend: Derek Jeter (baseball player, ex)
Husband: Nick Cannon (actor, m. 30-Apr-2008, sep. 2014, one son, one daughter)
Son: Moroccan Scott Cannon (twin, b. 30-Apr-2011)
Daughter: Monroe Cannon (twin, b. 30-Apr-2011)
Engagement: James Packer (engaged 2016)


High School: Harborfields High School, Greenlawn, NY (1987)


Mariah Carey
Endorsement of Intel (Feb-2006)
Endorsement of Jenny Craig (2011-)
Grammy Best New Artist (1990)
Grammy Best Pop Vocal Performance, Female (for Vision of Love) (1990)
Caribou Club
Fresh Air Fund Board of Directors
Obama Victory Fund 2012
United Negro College Fund
Silver Hill Hospital
Nervous Breakdown (speculated) 2001
Miscarriage 2008
Visited Disneyland wedding vows renewal (30-Apr-2013)
Irish Ancestry Maternal
Venezuelan Ancestry Paternal
Risk Factors: Smoking, Yoga


TELEVISION
Empire (2015-)
American Idol Judge (2013)


FILMOGRAPHY AS ACTOR
Girls Trip (21-Jul-2017)
The LEGO Batman Movie (1-Feb-2017) [VOICE]
Popstar: Never Stop Never Stopping (24-May-2016)
Lee Daniels' The Butler (5-Aug-2013)
Bad 25 (31-Aug-2012) · Herself
Precious (16-Jan-2009) · Mrs. Weiss
You Don't Mess with the Zohan (6-Jun-2008) · Herself
Tennessee (26-Apr-2008) · Krystal
State Property 2 (13-Apr-2005)
Death of a Dynasty (7-May-2003) · Herself
Wisegirls (13-Jan-2002) · Raychel
America: A Tribute to Heroes (21-Sep-2001) · Herself
Glitter (21-Sep-2001) · Billie Frank
The Bachelor (3-Nov-1999)
Mariah Carey: Around the World (1998) · Herself


Official Website:
http://www.mariahcarey.com/

Is the subject of books:
Mariah Carey: Her Story, 1995, BY: Chris Nickson
Mariah Carey Revisited: The Unauthorized Biography, 1998, BY: Chris Nickson
Mariah Carey, 1999, BY: Sam Wellman
Mariah Carey, 2000, BY: Judy Parker
Mariah Carey, 2001, BY: Marc Shapiro





Requires Flash 7+ and Javascript.



Do you know something we don't?
Submit a correction or make a comment about this profile






Copyright ©2019 Soylent Communications