Herbie Hancock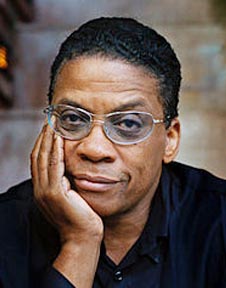 AKA Herbert Jeffrey Hancock
Born: 12-Apr-1940
Birthplace: Chicago, IL

Gender: Male
Religion: Buddhist
Race or Ethnicity: Black
Sexual orientation: Straight
Occupation: Jazz Musician, Pianist
Party Affiliation: Democratic
Nationality: United States
Executive summary: Innovative jazz/fusion composer and pianist
A leading figure on the jazz scene since the early 1960, Herbie Hancock is also one of the most versatile, always freely integrating a broad variety styles and new technologies into his music throughout his long career. Born in Chicago during the Second World War, Hancock developed an ear for music early in his life -- both of his parents having been music enthusiasts, although neither had any professional experience. Starting at the age of seven he was provided with lessons for classical piano, and only four years later his skills had advanced to the degree that he was invited to perform a Mozart piano concerto with the Chicago Symphony Orchestra as part of one of their youth concerts. During his high school years his interests moved towards jazz, inspiring him to assemble his own jazz ensemble. With this group he performed locally before enrolling in the electrical engineering department at Iowa's Grinnell College.
Hancock went on to earn degrees in both engineering and music at Grinnell in 1960, moving to New York immediately afterward at the invitation of jazz trumpeter Donald Byrd. It was Byrd that set the promising young pianist's career in motion by hiring him for his own group, but more importantly by introducing him to Blue Note Records' co-founder Alfred Lion; Blue Note signed him as a solo act within the year, and Hancock's debut album Takin' Off -- featuring the line-up of Freddie Hubbard, Dexter Gordon, Butch Warren and Billy Higgins -- was recorded for the label in May of 1962, successfully establishing him a composer and performer of considerable ability. In 1963 a version of the track Watermelon Man became a top ten hit for Latin jazz bandleader Mongo Santamaria, and the song would subsequently establish itself as a standard.
The musical ability displayed on Takin' Off caught the attention of Miles Davis, and in May of 1963 the trumpeter invited Hancock to join his new quintet. Hancock spent the next six years performing with Davis, during which he contributed to numerous live and studio albums such as The Seven Steps To Heaven (1963), Miles in Antibes (1963), Miles Davis in Europe (1964), Four and More, My Funny Valentine (1964), Miles in Tokyo (1964), Miles in Berlin (1964), Live at the Plugged Nickel (1965), E.S.P. (1965), Miles Smiles (1966), Sorcerer (1967), Nefertiti (1967), Miles in the Sky (1968) Filles de Kilimanjaro (1968) and In a Silent Way (1969). The pianist also continued recording under his own name (My Point of View (1963), Inventions and Dimensions (1963), Empyrean Isles (1964), Maiden Voyage (1965), Speak Like a Child (1968), The Prisoner (1969)) while keeping busy with sessions for other jazz performers including Wayne Shorter, Wes Montgomery, Sonny Rollins, Lee Morgan, George Benson and numerous others. In the midst of all of this other work, Hancock also found time to compose his first soundtrack, created for Michelangelo Antonioni's first English-language film Blowup (1966).
Not long after ending his tenure as a full-time member of Davis' band Herbie Hancock also changed over from Blue Note to Warner Brothers, his first album under this new arrangement being 1969's Fat Albert Rotunda, which featured music created for comedian Bill Cosby's animated television show Fat Albert. His tenure with Davis had introduced him to the use of electric and electronic instruments (particularly the Fender Rhodes), and with his next series of albums the pianist would extensively integrate the effects processing and synthesizer technology that was emerging at the time. The spacey, fusion atmospheres of Mwandishi (1970) led to the Moog-embellished experiments of Crossings (1971) -- although neither had much commercial impact, and Hancock subsequently moved from Warner Brothers to Columbia to release the even more experimental effort Sextant.
Ultimately Hancock was forced to dissolve his sextet as a result of financial difficulties, and in 1973 he created a new project oriented in a much more commercially viable funk direction. Head Hunters (1973), the first release from this new group, was a great success and earned Hancock a "crossover" pop audience through the single release of the track Chameleon. The new band -- referred to as The Headhunters -- continued to work with the pianist on several other well-received releases (Thrust (1974), Man-Child (1975), Flood (1975), Secrets (1976) and Sunlight (1977)) and later recorded a pair of albums as an independent unit towards the end of the 1970s. The Headhunters were additionally featured on Hancock's soundtrack to the controversial vigilante film Death Wish in 1974.
Not content to leave his acoustic roots behind entirely, in 1976 Hancock participated in a reunion of the Miles Davis quintet (with Freddie Hubbard replacing Davis) staged at the Newport Jazz Festival in New York. This line-up would continue to perform as V.S.O.P. ("Very Special One-time-only Performance") at irregular intervals throughout the next two decades, occasionally releasing a live document of its activities. During the late 70s Hancock was also involved in several solo and duo projects, such as his acoustic album succinctly titled The Piano (1978), a collection of duets with Chick Corea (also 1978) and several collaborations with bassist Ron Carter. His extensive session credits continued to grow to include participation in recordings by The Pointer Sisters, Stevie Wonder, Quincy Jones, Joni Mitchell and Phyllis Hyman.
The pop (primarily disco) sensibilities embraced by Hancock's subsequent band recordings -- starting with Sunlight and continuing well into the 80s -- brought the musician a considerable level of commercial success; this move accordingly alienated him from jazz critics, however, who felt the music had traded in its inventiveness for mainstream accessibility. Several tracks placed in the US and UK charts (I Thought It Was You from Sunlight, You Bet Your Love and Ready or Not from Feets, Don't Fail Me Now (1979), Stars in Your Eyes from Monster (1980)), many of which were co-written with R&B/Pop songsmith Ray Parker Jr. (later best known for his #1 single Ghostbusters (1984)).
It was the instrumental track Rockit (from 1983's Future Shock) that provided Hancock with his most popular single, aided considerably by the heavy MTV rotation that was given it's unusual, Godley and Creme-directed promotional video. By this time the records were moving away from the more straightforward disco evident on releases such as Feets and had once again taken on a harder and more experimental edge. This direction was maintained over two more albums: Sound-System (1984) and Perfect Machine (1988) (both, like Future Shock, produced by dub monger Bill Laswell). In the midst of these releases Hancock also initiated a collaborative relationship with Gambian kora player Foday Musa Suso, resulting in the studio album Village Life (1985) and it's eventual live follow-up Jazz Africa (1990).
In the 1980s Hancock added a considerable number of films to his list of soundtrack credits, beginning with Norman Jewison's A Soldier's Story and continuing with scores for The George McKenna Story (1986), Richard Pryor's Jo Jo Dancer, Your Life Is Calling (1986), the ass-kicking cop film Action Jackson (1988), Dennis Hopper's Colors (1988) and Eddie Murphy's Harlem Nights (1989). His most notable soundtrack contribution during this period, however, was for the jazz-centered drama Round Midnight, in which the pianist was also featured as an actor; the film would earn Hancock a number of Best Original Score awards including an Oscar, a LAFCA Award and France's César.
marked the end of a decade-and-a-half long relationship with Columbia, and the next several years witnessed a marked decrease in Hancock's recorded output. Eventually the musician signed to PolyGram, splitting his releases between their subsidiary labels Verve (for jazz projects) and Mercury (for pop/electronic projects). His first album for Mercury Dis Is Da Drum (1994) found him exploring a hybrid of jazz and hip-hop with a sizable ensemble of veteran and contemporary performers, ranging from fellow Bitches Brew alumnus Bennie Maupin to rapper Chill Factor. His first Verve studio release The New Standard (1995) featured pop and rock songs rendered into jazz "standards", Hancock's large ensemble tackling The Beatles (Norwegian Wood), Prince (Thieves in the Temple, Nirvana (All Apologies), Peter Gabriel (Mercy Street) and several other unlikely tunes.

In addition to recording and performing with his own band, Hancock's return to action in the mid 90s (as always) also included several side projects and collaborations. In 1996 Hancock released (and provided commentary for) Living Jazz, an interactive CD-ROM exploring the history and evolution of the genre using numerous interviews and photos, in addition to several excerpts of filmed performances. An album of duets with saxophone player Wayne Shorter was issued under the title 1 + 1 in 1997 -- the latter also featuring on the 1998 release Gershwin's World, a tribute celebrating what would have been George Gershwin's 100th birthday. In addition to Shorter, this ambitious project also included contributions from Chick Corea, Joni Mitchell and Stevie Wonder, as well as opera soprano Kathleen Battle and the Orpheus Chamber Orchestra. A reunion of The Headhunters took place that same year, resulting in a new album and a subsequent tour.

For his first release of the 00s Hancock renewed his collaboration with Bill Laswell to continue his tradition of exploring new forms of popular music in a jazz context. Future 2 Future (2001) integrated electronica and drum and bass into a blend of jazz and world styles, utilizing musicians from each of these areas: amongst them electronica performer A Guy Called Gerald, techno producer Carl Craig, R&B vocalist Chaka Khan, and jazz players Wayne Shorter and Tony Williams. The pianist then returned to a more conventional jazz setting with a trio that also included tenor sax player Michael Brecker and trumpeter Roy Hargrove, performing a concert at Massey Hall in Toronto to celebrate the musical legacy of Miles Davis and John Coltrane. The three continued to perform intermittently during the years that followed.

In 2005 Hancock assembled his most ambitious cast of guest performers for the album Possibilities, the long list featuring names such as Sting, Annie Lennox, Christina Aguilera, Paul Simon, Stevie Wonder, Carlos Santana, Joss Stone, Cyro Baptista, Angélique Kidjo and actress Gina Gershon. That year also saw him touring around Europe with both a new quartet and the resurrected line-up of Headhunters. Outside of his musical work, Hancock also devoted some time to founding the Rhythm of Life Organization (ROLO), an group established to promote the resposible use of technology, and the Bayview-Hunters Point Center for Arts & Technology.

Father: Wayman Hancock
Mother: Winnie
Sister: Jean Hancock
Wife: Gigi
Daughter: Jessica


High School: Hyde Park High School, Chicago, IL (1958)
University: BS Electrical Engineering, Grinnell College (1960)
University: BA Music, Grinnell College (1960)
University: Roosevelt University
Conservatory: MA Music, Manhattan School of Music


Herbie Hancock
Miles Davis Keyboardist (1963-72)
V.S.O.P. Keyboardist (1976-92)
Herbie Hancock and Foday Musa Suso Keyboardist (1984-86)
Herbie Hancock and Wayne Shorter Keyboardist (1997)
Los Angeles Philharmonic
EMILY's List
Gore 2000
Obama for America
Obama for Illinois
Obama Victory Fund 2012
Grammy Best R&B Instrumental Performance, for Rockit (1983)
Grammy Best R&B Instrumental Performance, for Sound System (1984)
Grammy Best Instrumental Composition, for Call Sheet Blues (with Billy Higgins, Ron Carter and Wayne Shorter) (1987)
Grammy Best Jazz Instrumental Performance, Individual Or Group, for A Tribute To Miles (1994) (with Ron Carter, Wallace Roney, Wayne Shorter and Tony Williams)
Grammy Best Instrumental Composition, for Manhattan (Island Of Lights And Love) (1996) (with Jean Hancock)
Grammy Best Instrumental Arrangement Accompanying Vocal(s), for St. Louis Blues (1998) (with Robert Sadin and Stevie Wonder)
Grammy Best Jazz Instrumental Performance, Individual Or Group, for Gershwin's World (1998)
Grammy Best Jazz Instrumental Album, Individual or Group, for Directions In Music (2002) (with Michael Brecker and Roy Hargrove)
Grammy Best Jazz Instrumental Solo, for My Ship (2002)
Grammy Best Jazz Instrumental Solo, for Speak Like A Child (2004)
Oscar for Best Music Original Score 1987 (for 'Round Midnight)
Hollywood Walk of Fame 7057 Hollywood Blvd (recordings)
NEA Jazz Master 2004


FILMOGRAPHY AS ACTOR
Valerian and the City of a Thousand Planets (17-Jul-2017)
Miles Ahead (10-Oct-2015)
Keep On Keepin' On (19-Apr-2014) · Himself
Hitters (Dec-2002)
Indecent Proposal (7-Apr-1993) · Himself
Listen Up: The Lives of Quincy Jones (3-Oct-1990) · Himself
'Round Midnight (12-Sep-1986)


Official Website:
http://www.herbiehancock.com/




Requires Flash 7+ and Javascript.



Do you know something we don't?
Submit a correction or make a comment about this profile






Copyright ©2019 Soylent Communications