Michael DeBakey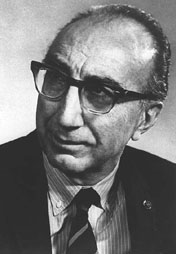 AKA Michel Ellis Dabaghi
Born: 7-Sep-1908
Birthplace: Lake Charles, LA
Died: 11-Jul-2008
Location of death: Houston, TX [1]
Cause of death: Natural Causes
Remains: Buried, Arlington National Cemetery, Arlington, VA

Gender: Male
Religion: Christian
Race or Ethnicity: White
Sexual orientation: Straight
Occupation: Doctor, Inventor
Party Affiliation: Republican
Nationality: United States
Executive summary: Father of cardiovascular surgery
Military service: US Army (to Colonel, 1942-46)
American cardiovascular surgeon Michael DeBakey helped develop modern treatments and surgical responses for arteriosclerosis (hardening of the arteries), conducted groundbreaking research of lipids and cholesterol, pioneered the surgical removal of fatty blockages in neck arteries as a treatment for strokes, and introduced several other procedures to help repair damaged hearts and arteries. He performed some 60,000 heart surgeries, published some 1,500 scientific papers, and his work added decades to the lives of patients afflicted with this disease. His students included Christiaan Barnard, pioneer of heart transplant surgery.
In 1932 — the same year that DeBakey earned his medical degree — he invented the roller pump, which became a key component in development of the heart-lung machine two decades later, allowing open-heart surgery. In 1939, working with Dr. Alton Ochsner, DeBakey conducted research that provided the first substantial evidence of a link between smoking cigarettes and lung cancer. During World War II he worked in the US Surgeon General's office, and with Gordon Holcomb laid the framework for the Mobile Armed Surgical Hospital (MASH) system of battlefield medical care.
In 1953 he introduced improved Dacron and Dacron-velour artificial grafts to replace damaged arteries, and in the same year he performed the first surgical removal of an aneurysm (a swelling caused by a weakness in a vessel wall) of the thoracicaorta. He was at the forefront of the development of artificial arteries and coronary bypass surgery, and in 1958 he performed the first successful patch-graft angioplasty to reverse arterial narrowing. In 1964 DeBakey and his team performed the first heart bypass operation, using a transplanted leg vein to route blood around blocked coronary arteries.
He is undoubtedly best known for performing the first successful implantation of a ventricular assist device (VAD), commonly but incorrectly called the artificial heart, in 1968. DeBakey's VAD was designed to help the heart pump blood, providing assistance for the main pumping chamber of the heart in cardiovascularly weakened patients, but it was never intended to fully replace the heart. The first artificial heart was surgically implanted by a former colleague of DeBakey, Dr Denton Cooley, in 1969.
With Robert Jarvik, DeBakey developed the Jarvik artificial heart, which was first installed in a human in 1982. In the 1990s, working with NASA technicians, DeBakey helped develop a miniaturized heart pump so small that it could be implanted in children. In 2006, he underwent open heart surgery to repair a torn aorta — a medical procedure first developed by DeBakey some five decades earlier. He was known to work from 5AM to midnight almost every day of his adult life, rarely taking vacations, holidays, or sick leave, and he died of natural causes in 2008, two months before what would have been his 100th birthday.
---
[1] Methodist Hospital, Houston, TX.

Father: Shaker Morris DeBakey (pharmacist)
Mother: Raheehja Zorba DeBakey
Brother: Ernest G. DeBakey
Sister: Lois DeBakey
Sister: Selma DeBakey
Sister: Selwa DeBakey
Wife: Diana Cooper (m. 15-Oct-1936, d. 1972 heart attack, four sons)
Son: Barry DeBakey (d.)
Son: Denis DeBakey
Wife: Ernest DeBakey (d.)
Son: Michael DeBakey, Jr.
Wife: Karin Fehlhaber (actress, m. 1975 until his death, one daughter)
Daughter: Olga-Katarina DeBakey


High School: Lake Charles High School, Lake Charles, LA (1926)
University: BS, Tulane University (1930)
Medical School: MD, Tulane University (1932)
University: MS, Tulane University (1935)
Scholar: Surgery, University of Strasbourg (1935-36)
Scholar: Surgery, University of Heidelberg (1936-37)
Teacher: Surgery, Tulane University (1937-42)
Teacher: Assoc. Prof. of Surgery, Tulane University (1946-48)
Professor: Olga Keith Weiss Professor, Baylor College of Medicine (1948-93)
Administrator: DeBakey Heart Center, Baylor College of Medicine (1948-93)
Administrator: President, Baylor College of Medicine (1969-79)
Administrator: Chancellor, Baylor College of Medicine (1979-96)


Legion of Merit 1945
AMA Distinguished Service Award 1959
Lasker Award 1963
Eleanor Roosevelt Humanities Award 1969
Presidential Medal of Freedom 1969
National Medal of Science 1987
John P. McGovern Award 1998
Library of Congress Living Legend 2000
Congressional Gold Medal 2008
Yearbook of Surgery Editor (1958-70)
Academy of Athens
Academy of Medical Sciences of the USSR Foreign Member
American Heart Association
Bush-Cheney '04
Cosmos Club
Eisenhower Institute Project Advisory Council
Lasker Foundation Trustee
Muscular Dystrophy Association
National Academy of Sciences
National Republican Congressional Committee
National Republican Senatorial Committee
National Research Council
National Space Society
Republican National Committee
Research!America Board of Directors (Honorary)
Rotary International Houston
Royal Society Foreign Member
Teamsters Medical Advisory Committee
US Information Agency Medical Science Advisory Committee
National Institutes of Health
Volunteer PAC
Alpha Omega Alpha Honor Society
Omicron Delta Kappa Honor Society Honorary
Sigma Xi Scientific Research Society
Aneurysm aortic (Feb-2006)
Open Heart Surgery (Feb-2006)
Lebanese Ancestry


Author of books:
The Blood Bank and the Technique and Therapeutics of Transfusions (1942, with Robert A. Kilduffe)
The Living Heart (1977)
The New Living Heart (1997)





Requires Flash 7+ and Javascript.



Do you know something we don't?
Submit a correction or make a comment about this profile






Copyright ©2019 Soylent Communications