Theodore Vail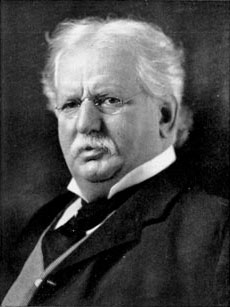 AKA Theodore Newton Vail
Born: 16-Jul-1845
Birthplace: Minerva, OH
Died: 16-Apr-1920
Location of death: Baltimore, MD
Cause of death: Kidney failure [1]
Remains: Buried, Vail Memorial Cemetery, Parsippany, NJ

Gender: Male
Religion: Presbyterian
Race or Ethnicity: White
Sexual orientation: Straight
Occupation: Business
Party Affiliation: Republican
Nationality: United States
Executive summary: Founder of AT&T
Telecom magnate Theodore Vail was the founder and twice President of AT&T, and set the stage for his company's monopoly on telephone service in America through most of its first century. He worked in the burgeoning railroad and telegraph industries, and rose to oversee mail contract work for Union Pacific and the US Post Office, before being lured to the emerging telephone industry in 1878. He was named General Manager of the National Bell Telephone Company as it was formed by the merger of the New England Telephone Company and Bell Telephone, both of which were founded by Alexander Graham Bell and his business associates. When Vail took the job, phone service was an extreme luxury, available only in the most upscale neighborhoods.
He was chief executive of NBTC for nine years, during which time the company added tens of thousands of customers and grew into a formidable communications power. With further acquisitions and mergers, National Bell was renamed American Bell in 1880, and it acquired the manufacturing and research subsidiary Western Electric in 1881. In the same year, American Bell inaugurated its first long-distance network, stretching from Boston to Providence, Rhode Island. Four years later Vail organized another American Bell subsidiary, American Telephone & Telegraph, to engineer, expand, and promote the company's long-distance service, and Vail named himself AT&T's first President. In 1888, after a blizzard in New England knocked most phones off-line, American Bell and AT&T pioneered underground wiring, and in 1889 the company installed its first pay phone.
Vail left both companies in 1889 and moved to Argentina, where he made a fortune in mining, constructed a water-power system in Córdoba, and set up a horsedrawn streetcar company in Buenos Aires. In 1907, after the deaths of his wife and son, he returned to the United States and to AT&T. During his absence, the firm's most lucrative patents had expired, myriad competitors started offering local phone service in major cities, and American Bell had been reorganized as a subsidiary of AT&T. When Vail became AT&T's President again, the company's market share had slipped to less than 50%. Vail responded by slashing rates, leasing access to the long-distance network to AT&T's local competitors, and selling $21M in bonds to fund aggressive expansion of AT&T's long-distance network across America. Service was stretched from coast-to-coast in 1915. He also hired top engineers for an elite research group that later became Bell Laboratories.
Vail was a fervent believer in AT&T's monopoly destiny, and chief architect of the Bell System that defined American telephones for decades after his death. In his second stint running AT&T he orchestrated the purchase of many local competitors, paid $30M to gain a controlling interest in telegraph giant Western Union, and worked as President of both AT&T and Western Union concurrently. As public and governmental anti-monopoly pressure grew, Vail was forced to sell Western Union, but during World War I AT&T was effectively nationalized and placed under the control of the US Post Office. Vail retired shortly after the company's autonomy was restored in 1919, and died less than a year later.
He founded the Vermont School of Agriculture (now the Lyndon Institute, a private high school) in Lydon, Vermont in 1910, and co-founded Telephone Pioneers of America (now Telecom Pioneers) in 1911, and the Boys' and Girls' Bureau Committee (now Junior Achievement) in 1919. His daughter, Katherine Vail Marsters (1882-1977), was a co-founder of Bennington College in Bennington, Vermont. His uncle, Stephen Vail (1780-1864), owned Speedwell Iron Works, maker of the first locomotive wheels and early steam engines for oceangoing ships. This wealthy uncle and two cousins provided the bulk of the funding for Samuel F. B. Morse to develop his wireless transmitter, and there is some evidence that one of Vail's cousins, Alfred Vail (1807-59), created the dot-and-dash system known as Morse Code. Another cousin, George Vail (1809-75), was a US Congressman from New Jersey.
---
[1] Reported in obituaries as either or both kidney disease and cardiac complications.

Father: Davis Vail (b. 26-Aug-1811, d. 3-Sep-1885)
Mother: Phoebe Quinby Vail (b. 5-Feb-1815, n. 27-Nov-1834, d. 3-Feb-1894)
Brother: Isaac Quinby Vail (b. 11-Dec-1835, d. infancy)
Sister: Sarah Vail (b. 1838)
Sister: Mary Eliza Vail (b. 4-Aug-1839, d. circa 1855)
Sister: Emma Eugenia Vail (b. 26-Nov-1840, d. 3-Apr-1842)
Brother: Isaac Quinby Vail (b. 1847)
Brother: William Alonzo Vail (b. 1849, d. 1904)
Sister: Mary Isabella Vail (b. 1855)
Sister: Louisa DeHart Vail (b. 1861)
Wife: Emma Righter Vail (m. 3-Aug-1869, d. 1905)
Son: Davis Righter Vail (attorney, b. 18-Jul-1870, d. 20-Dec-1906 typhoid)
Daughter: Katherine Vail Marsters (b. 1882 adopted, d. 1977)


High School: Morristown Academy, Morristown, NJ
Administrator: Major Benefactor, Massachusetts Institute of Technology


Western Union Telegraph Operator (1863-66)
Union Pacific to Head Clerk (1866-73)
US Post Office General Superintendent of Railway Mail (1873-78)
National Bell Telephone Co. General Manager (1878-80)
American Bell Telephone Co. President (1880-89)
AT&T Founder & President (1885-89)
AT&T President (1907-19)
Western Union President (1910-13)
Algonquin Club of Boston
National Unity League
Republican National Committee
Telecom Pioners Founding President
Union League Club of New York
English Ancestry





Requires Flash 7+ and Javascript.



Do you know something we don't?
Submit a correction or make a comment about this profile






Copyright ©2019 Soylent Communications