Courtney Love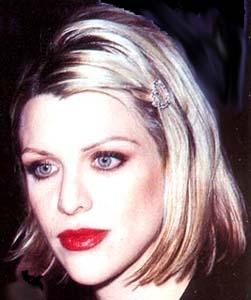 AKA Courtney Michelle Harrison
Born: 9-Jul-1964
Birthplace: San Francisco, CA

Gender: Female
Race or Ethnicity: White
Sexual orientation: Bisexual
Occupation: Singer, Actor
Nationality: United States
Executive summary: Kurt Cobain's widow, Hole
Courtney Love's parents divorced when she was 2, and her mother, a semi-famous psychologist, remarried twice. Love was Love's first name, but her mother had it changed to Courtney. Details of Love's early years remain publicly vague, as her answers to personal questions have varied wildly. It's generally acknowledged that her father was ordered by a court to have no contact with Love; that she spent time in a reform school for girls; and that she was emancipated from her mother at 16. After that, Love lived off a trust fund established by her maternal grandmother, and earned extra income as a stripper. Love was in Babes in Toyland and Faith No More, long before either band made it big. She started her own band, Hole, in 1989. Hole's early albums sold reasonably well, affording Love a low level of fame.
She met Nirvana's Kurt Cobain in 1989, got knocked up by him in 1991, and married him in 1992. Their shared addictions included alcohol, heroin, and painkillers. Love and Cobain had to battle Washington's Child Protective Services agency to keep their daughter when she was born, because Vanity Fair had reported Love used heroin while pregnant. His band eclipsed hers in fame, and both bands became much more popular after Cobain's suicide in 1994. Hole broke up in 2001, and Love announced a new "femme superstar" band, Bastard, which has apparently evaporated. She's now recording and touring solo.
She was in a messy lawsuit with Vivendi/Universal, her recording company, and Love and her lawyers effectively stifled release of a Kurt and Courtney, a 1998 documentary she deemed unflattering. Love lost custody of her daughter in 2003, after being charged with illegal possession of hydrocodone and oxycodone. Her rehabs and detoxes include a 2004 round at a Malibu clinic, where she reportedly danced naked for three hours before staff could convince her to get dressed.
While they were backstage at the Lollapalooza music festival in George, Washington, on 4 July 1995 Love flicked a cigarette at Bikini Kill vocalist Kathleen Hanna, pelted her with candy, and punched her in the face. Nine days later, Love described the incident in an AOL message board post, referring to Hanna as "Ratface":
I was speaking to Beckster...Eric comes up behind me "Give some candy to Ratface, she'll Flip!" He said I turned quickly and she was 2-3 feet from me smugly glaring-"BLECCCCHHHH" I screamed threw the candy in the air and at her, every witness there saw her attack("") me first, I do believe eventually my fist-ahhhhh-met her Rathead and it was orgasmic- too bad the security-oh yeah "MY" security? I'm Axl Rose now? We have a co-tour mgr. who was there...

I really wish these big guys wouldn't stop these fights that have been brewing for 5 years! I'd love the outcome! Hell I'd love an excellent fight with a total vile enemy of myself my family and the people such ass Ratface
Hanna pressed charges and Love ultimately plead guilty to assault later that September.

To her credit, Courtney Love has complained about the crookedness of the recording industry, where customers are lectured not to download music while artists get mere pennies -- if that -- for every $14.99 CD sold. In 2000 at the Digital Hollywood conference, she delivered a speech lamenting the state of the corrupt music industry, largely cribbed from The Problem With Music, a piece Steve Albini wrote for The Baffler.

Father: Hank Harrison (publisher; Grateful Dead groupie, b. 1940)
Mother: Linda Risi (psychologist)
Husband: James Moreland ("Falling James", musician, The Leaving Trains, m. 1989; div. 1989)
Husband: Kurt Cobain (musician, Nirvana, m. 1992, d. 1994 suicide)
Daughter: Frances Bean Cobain (artist, b. 18-Aug-1992)
Boyfriend: Edward Norton (actor, together 1996-98)
Slept with: Kate Moss (model, brief affair 1990s, according to Love)
Boyfriend: Trent Reznor
Boyfriend: Billy Corgan
Boyfriend: Steve Coogan (together 2005)
Boyfriend: Jack Donoghue (musician, Salem, together 2011)


Hole
Babes in Toyland
Faith No More
Rhinoplasty
Lost Child Custody 2009
Narcotics Anonymous
unknown detox facility Connecticut, Jul-2004
Exodus Recovery Center Apr-1994
Wavelengths International
Caron Foundation
unknown detox facility Aug-2005
Drug Overdose Hollywood Roosevelt Hotel, Los Angeles, CA 21-Jul-2005
Shoplifting KISS t-shirt from a Woolworth's, 1978
Drug Possession Los Angeles, CA (7-Apr-1994), charges dropped
Drug Paraphernalia Possession Los Angeles, CA (7-Apr-1994), charges dropped
Air Rage ignoring a stewardess on a Qantas flight, Jan-1995
Battery attacked Robert Lukas and Ryan O'Donell at a show in Orlando, FL (Mar-1995)
Assault punched Bikini Kill vocalist Kathleen Hanna, 4-Jul-1995
Battery attacked LA Weekly reporter Belissa Cohen, Apr-1998
Air Rage becoming combative with the crew on a Virgin Atlantic flight, Feb-2003
Vandalism breaking out the windows of her ex-boyfriend's house, Oct-2003
Drug Possession: Oxycontin Oct-2003
Assault allegedly hit someone with a microphone stand, 18-Mar-2004
Reckless Endangerment allegedly hit someone with a microphone stand, 18-Mar-2004
Assault with a Deadly Weapon allegedly attacked a woman with a metal flashlight, 25-Apr-2004
Failure to Appear Los Angeles, 9-Jul-2004
Disorderly Conduct
Contempt of Court
Violating Probation 3 counts, pled guilty 19-Aug-2005
Ordained by the Universal Life Church Minister
Liposuction
Endorsement of NJOY Electronic Cigarette Company
Jewish Ancestry
Risk Factors: Heroin, Cocaine, Smoking, Alcoholism, Oxycontin, Yoga


FILMOGRAPHY AS ACTOR
Jim & Andy: The Great Beyond (5-Sep-2017) · Herself
Soaked in Bleach (1-Jun-2015) · Herself
Cobain: Montage of Heck (24-Jan-2015) · Herself
Sunset Strip (16-Mar-2012) · Herself
Mayor of the Sunset Strip (17-Jun-2003) · Herself
Trapped (20-Sep-2002) · Cheryl
Last Party 2000 (2-Nov-2001) · Herself
Julie Johnson (26-Jan-2001)
Beat (29-Jan-2000) · Joan Vollmer Burroughs
Man on the Moon (20-Dec-1999) · Lynne Margulies
200 Cigarettes (26-Feb-1999) · Lucy
Kurt & Courtney (27-Feb-1998) · Herself
The People vs. Larry Flynt (13-Oct-1996) · Althea Leasure
Feeling Minnesota (13-Sep-1996) · Rhonda, the Waitress
Basquiat (9-Aug-1996) · Big Pink
1991: The Year Punk Broke (20-Nov-1992) · Herself
Straight To Hell (26-Jun-1987)
Sid and Nancy (7-Nov-1986) · Gretchen


Official Website:
http://www.courtneylove.com/

Rotten Library Page:
Courtney Love

Is the subject of books:
Courtney Love: The Real Story, 1997, BY: Poppy Z. Brite





Requires Flash 7+ and Javascript.



Do you know something we don't?
Submit a correction or make a comment about this profile






Copyright ©2019 Soylent Communications