Kurt Cobain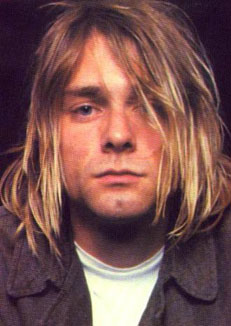 AKA Kurt Donald Cobain
Born: 20-Feb-1967
Birthplace: Hoquaim, WA
Died: 5-Apr-1994
Location of death: Seattle, WA
Cause of death: Suicide [1]
Remains: Cremated, Wishkah River, WA (one third), NY (one third), Courtney Love (one third)

Gender: Male
Race or Ethnicity: White
Sexual orientation: Bisexual [2]
Occupation: Musician
Nationality: United States
Executive summary: Lead singer of Nirvana
The son of a mechanic and a waitress, Kurt Cobain grew up facing the same deprivations as most children of working-class people. The divorce of his parents when he was ten apparently provided the first major blow to his happiness, which was further aggravated in his teen years by being constantly shuffled between homes and the demoralizing, abusive environment found in the American education system. Some release from the tedium of life in Aberdeen was achieved through music, and throughout high school Cobain put together a series of different garage bands; he also occasionally took refuge in the counter-cultural writings of authors such as William S. Burroughs, Jack Kerouac, Samuel Beckett and Charles Bukowski. A sympathetic accomplice was eventually found in the person of Krist Novoselic, who shared his enthusiasm for punk and provided a receptive ear to his friend's musical ideas.
Cobain and Novoselic worked through a variety of band names and personnel between '85 and '86 (initially with Cobain acting as drummer) before settling on a trio formation with drummer Chad Channing at the end of 1986; by 1987 they were calling this new line-up Nirvana. Fueled by the sounds of 70s heavyweights like Black Sabbath, punk acts like The Sex Pistols and contemporaries such as The Melvins and Mudhoney, Nirvana crafted their own mixture of punk, metal and dirgey folk-rock (a particularly commercially viable mixture, as it turned out), the prototype for which is displayed on their 1989 Sub Pop debut Bleach. This first release caused a fair amount of buzz on the college-radio "indie" scene, which, combined with the urgings of Sonic Youth member Kim Gordon, resulted in a deal with the corporate label Geffen a year later. By this time, some sessions intended for the next album had already been completed with punk producer Butch Vig, at the conclusion of which Channing had been shed. Following their new corporate sponsorship, Vig was enlisted once again, and, now joined by ex-Scream drummer Dave Grohl, the band once again set about recording their second offering.
As soon as Nevermind hit the shelves in 1991, any peace of mind that Cobain had hoped to achieve for himself was trampled out of existence. The music press, with the record-buying public firmly in tow, immediately began frothing and dribbling all over the place about the release, prompting sales to swell past the triple-platinum mark by the early months of 1992. Trumpet calls heralding the rebirth of rock music sounded from every mountaintop, while the single Smells Like Teen Spirit essentially became the anthem for this "new" and revolutionary musical style, appetizingly labelled "grunge" by the press. Some of the other Seattle "grunge" bands that were willing to adopt the more polished sound evident on Nevermind (Pearl Jam, Soundgarden, Alice in Chains) were also caught up in this tumultuous upsurge, while others (like The Melvins, who continued being too inventive and peculiar) were given only a momentary boost of popularity before being abandoned once again by the mainstream. Every move made by Cobain and his bandmates subsequently became a matter of legend: sneaking a few bars of Rape Me onto the MTV Video Music Awards, kissing on Saturday Night Live, goofing around on Top of the Pops, etc.
In this midst of this brou-ha-ha, Kurt Cobain married Hole frontwoman Courtney Love -- apparently reasoning that he would feel better if he was attached to someone even more screwed-up than himself. In any event, this proved not to be true: emotional, physical and substance abuse problems continued to worsen, and he found it increasingly difficult to deal with the demands of his fame. Incesticide (1992), a rarities collection, was quickly followed by Nirvana's third album In Utero (1993), on which a rawer and more stripped-down sound (courtesy of producer Steve Albini) was adopted, and then partially removed (courtesy of producer Scott Litt). The album was given an enthusiastic reception regardless, reaching #1 on the mainstream charts immediately upon its release, but was still considered a "disappointment" by the label because it didn't match the absurd success of Nevermind (despite the release of a specially-packaged version tailored to suit the conservative tastes of Wal-Mart and K-Mart executives).
By the end of 1993 Cobain's drug addiction had begun to overwhelm the rest of his life, and a heroin overdose in November was followed by an overdose on the prescription drug Rohypnol in March of 1994. Relatives convinced him to check into a rehab center in California, but almost immediately he fled back to Seattle, not making his movements known to Love or any other members of his family. On April 8th Cobain's body was found in his home by an electrician installing security lights: a coroner's report subsequently reported that he had committed suicide by a fatal shotgun blast to the head.
---
[1] The autopsy report issued by the Seattle-King County Department of Public Health, certified 14th April 1994, gives as cause of death: "contact perforating shotgun wound to head", and later, "self-inflicted shotgun wound." A suicide note written in his own hand was left at the scene. No signs of coercion were present. There is no evidence to indicate a diagnosis of murder or any other cause of death. No evidence exists to involve Courtney Love. Some of the claims otherwise are made by Richard Lee, a public-access host who lacks any credentials whatsoever and was never present inside the room of Cobain's death.

[2] Kurt Cobain was bisexual, though it is not clear that he ever consummated this part of his persona. As a teen he was arrested and fined $180 for spraypainting "Homosex Rules" on an outside wall. He received also a thirty-day suspended sentence (Come As You Are, pp. 39-40). Furthermore in the February 1991 issue of The Advocate, Kurt says, "If I wouldn't have found Courtney, I probably would have carried on with a bisexual lifestyle." At other times Cobain claimed to be heterosexual, but the Advocate interview is unambiguous.

Father: Don Cobain (auto mechanic)
Mother: Wendy Fradenburg Cobain O'Connor (waitress)
Wife: Courtney Love (musician, m. 24-Feb-1992, until his death)
Daughter: Frances Bean Cobain (artist, b. 18-Aug-1992)


High School: Aberdeen High School, Aberdeen, WA (dropped out)


Nirvana Vocalist/Guitarist (1987-94)
unknown detox facility
Exodus Recovery Center Mar-1994
Cedars-Sinai Aug-1992
Drug Overdose Heroin, 2-May-1992
Coma after overdosing on Rohypnol, Italy 1994
Intervention
Suicide Attempt 4-Mar-1994 (Rome, according to Courtney, but not doctors)
Drug Overdose 4-Mar-1994
Stomach Pumped 4-Mar-1994
Coma 4-Mar-1994
Shot: Self-Inflicted Seattle, WA (5-Apr-1994)
Died Intestate
Autopsy
Risk Factors: Depression, Heroin, Marijuana, Smoking, Alcoholism


FILMOGRAPHY AS ACTOR
Soaked in Bleach (1-Jun-2015) · Himself
Cobain: Montage of Heck (24-Jan-2015) · Himself
Pearl Jam Twenty (10-Sep-2011) · Himself
Nirvana Live! Tonight! Sold Out!! (1994) · Himself
Nirvana Unplugged (16-Dec-1993) · Himself
1991: The Year Punk Broke (20-Nov-1992) · Himself


Rotten Library Page:
Kurt Cobain

Author of books:
Journals (2003)





Requires Flash 7+ and Javascript.



Do you know something we don't?
Submit a correction or make a comment about this profile






Copyright ©2019 Soylent Communications