Antoine Fuqua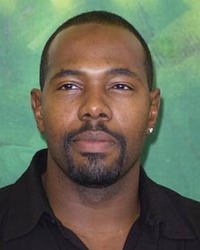 Born: 19-Jan-1966
Birthplace: Pittsburgh, PA

Gender: Male
Race or Ethnicity: Black
Sexual orientation: Straight
Occupation: Film Director
Nationality: United States
Executive summary: The Replacement Killers
Antoine Fuqua came to prominence directing music videos, including Coolio's "Gangsta's Paradise" and Prince's "The Most Beautiful Girl In The World". In his first chance to direct a feature film, Fuqua turned in The Replacement Killers, starring Chow Yun-Fat and Mira Sorvino. It was Chow's first American movie, a stylish, engrossing collection of shootouts that mimicked Chow's Hong Kong style without quite nailing it. He also directed the top-notch corrupt cop primer Training Day, which won an Oscar for Denzel Washington; Bait, an action-comedy you've seen, even if you haven't; and King Arthur, which was intended as a more "historically accurate" telling of the legendary tales, but was just more tedious.
In 2003, Fuqua and his wife, actress Lela Rochon, were sued by Tanya Evans, a personal fitness trainer who alleged that she had had a 10-month affair with Fuqua. The lawsuit further alleged Fuqua told her she would "wind up missing like Chandra Levy" if Evans told his wife about their affair. Fuqua and his wife then had her arrested and charged with telephone harassment, but Evans was acquitted. In response, the lawsuit sought damages for malicious prosecution.[1]
Fuqua's uncle, funk pioneer and doo wop crooner Harvey Fuqua, was the lead singer of the Moonglows, and is in the Rock and Roll Hall of Fame.
---
[1] Chuck Philips, "Director Accused of Making Threats", The Los Angeles Times, 7 March 2003. The article is based on a lawsuit filed by Evans in Los Angeles County Superior Court on the day prior to publication of the article. Also see Olivia Abel, People magazine, 7 April 2003.

Wife: Lela Rochon (actress, m. 9-Apr-1999, two children)
Daughter: Asia Rochon Fuqua (b. 28-Jul-2002)
Slept with: Tanya Evans (fitness trainer)


FILMOGRAPHY AS DIRECTOR
The Equalizer 2 (19-Jul-2018)
The Magnificent Seven (8-Sep-2016)
Southpaw (15-Jun-2015)
The Equalizer (7-Sep-2014)
Olympus Has Fallen (20-Mar-2013)
Brooklyn's Finest (16-Jan-2009)
Shooter (23-Mar-2007)
King Arthur (28-Jun-2004)
Lightning in a Bottle (12-Feb-2004)
Tears of the Sun (3-Mar-2003)
Training Day (7-Sep-2001)
Bait (29-Aug-2000)
The Replacement Killers (12-Jan-1998)





Requires Flash 7+ and Javascript.



Do you know something we don't?
Submit a correction or make a comment about this profile






Copyright ©2019 Soylent Communications