Lil' Kim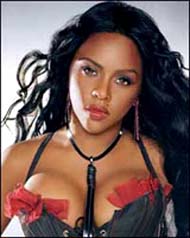 AKA Kimberly Denise Jones
Born: 11-Jul-1974 [1]
Birthplace: Brooklyn, NY

Gender: Female
Race or Ethnicity: Black
Sexual orientation: Straight
Occupation: Rapper
Nationality: United States
Executive summary: Wore a pastie to the 1999 MTV Video Awards
A woman who works hard to keep herself surrounded by controversy, Lil' Kim (born Kimberly Jones) is one of more prominent female rappers working today -- and certainly one of the most explicit. Brought up in Brooklyn, she received her street training when, following the divorce of her parents, she moved out on her own as a teenager. She began her music career in the early 1990s after meeting Biggie Smalls (also known as Notorious B.I.G.); Smalls brought her into the rap collective Junior M.A.F.I.A., with whom she would record the popular album Conspiracy (1995). The sex-spouting persona she presented with the band paved the way for her solo career, launched the following year with the release of Hard Core. Aided by contributions from B.I.G. and Puff Daddy, this debut effort reached #11 in the mainstream charts and spawned 3 hit singles.
In 1997 her mentor Biggie Smalls was assasinated in the culmination of a heated rivalry between hip-hop camps on the east and west coasts; a posthumous B.I.G. album Born Again would appear two years later, featuring contributions from Kim. A four year gap occured before the appearance of her second album, but during the interim Kim managed to keep herself in the news through publicity stunts such as appearing barely-clothed in numerous magazine spreads and whipping some tit on Diana Ross and the MTV Video Music Awards audience in 1999. That same year she launched her own label, Queen Bee Records, as well as launching an acting career with an appearance in the film She's All That. Occasional appearances on other artist's projects, including Puff Daddy's second album Forever filled in the time until her own return to music.
Her second record, The Notorious K.I.M. (2000), lingered at the top of the R&B charts for a week and was certified platinum. Ultimately it proved somewhat less popular than her debut, but she made up for this the following year with her involvement in the song Lady Marmalade (also featuring Missy Elliott, Christina Aguilera, Pink, and Mya), which would reach #1 on the pop charts and earn Kim her first Grammy Award.
In 2003 Lil' Kim maintained her momentum with a contribution to the soundtrack to the film Chicago and the release of her third album La Bella Mafia, featuring the most popular single of her career -- the not-at-all veiled euphemism Magic Stick. Her music would be somewhat overshadowed over the following year, however, by attention to her legal troubles. An arrest warrant was issued later in the year after Kim missed a series of court dates concerning a marijuana possession charge from 1996; in 2004 charges of perjury and obstruction of justice were brought against the rapper in relation to a shooting 3 years earlier -- allegedly a result of her public feud with fellow rapper and former friend Foxy Brown.
---
[1] Jones' publicly accessible Federal Inmate records indicate she was born in 1974, not 1975 as given by most sources.

Father: Linwood Jones
Mother: Ruby Mae Jones
Brother: Christopher (Bo Chris) Jones
Boyfriend: Notorious B.I.G. (dec. 9-Mar-1997)
Boyfriend: Damion Hardy (ex-con)


Failure to Appear Oct-2003
Drug Possession: Marijuana Jul-1996
Obstruction of Justice
Conspiracy to commit perjury:Apr-2004
Perjury Apr-2004
Shoplifting
Endorsement of Three Olives Vodka (2010-)
Abortion 1997
Rhinoplasty
Breast Augmentation Surgery
Grammy Best Pop Collaboration 2002
Risk Factors: Marijuana


TELEVISION
Dancing with the Stars Contestant (2009)


FILMOGRAPHY AS ACTOR
Superhero Movie (27-Mar-2008)
Lil' Pimp (11-Jan-2005) [VOICE]
You Got Served (30-Jan-2004) · Herself
Gang of Roses (10-Oct-2003)
Juwanna Mann (18-Jun-2002)
Zoolander (28-Sep-2001) · Herself
She's All That (29-Jan-1999)


Official Website:
http://www.lilkim.com/

Rotten Library Page:
Lil' Kim




Requires Flash 7+ and Javascript.



Do you know something we don't?
Submit a correction or make a comment about this profile






Copyright ©2019 Soylent Communications