Jonathan Wells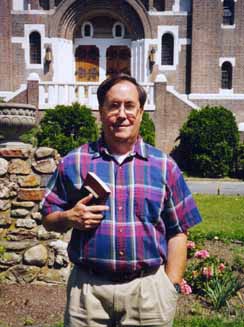 AKA John Corrigan Wells
Born: c. 1956

Gender: Male
Religion: Moonie [1]
Race or Ethnicity: White
Sexual orientation: Straight
Occupation: Religion, Author
Nationality: United States
Executive summary: Moonie for Intelligent Design
Chosen by his church to receive advanced education, Wells began his PhD at Berkeley explicitly for the purpose of gaining credentials for the fight against evolution. Shortly after getting his PhD he joined the Discovery Institute.
Does not believe HIV causes AIDS.
Urges US government to eliminate research funding for evolutionary biology.
Father's words, my studies, and my prayers convinced me that I should devote my life to destroying Darwinism, just as many of my fellow Unificationists had already devoted their lives to destroying Marxism. When Father chose me (along with about a dozen other seminary graduates) to enter a Ph.D. program in 1978, I welcomed the opportunity to prepare myself for battle.
Research papers from Wells' tenure at Berkeley:
Wells, J. Inertial force as a possible factor in mitosis. Biosystems. 1985;17(4):301-15.
Larabell CA, Rowning BA, Wells, J, Wu M, Gerhart JC. Confocal microscopy analysis of living Xenopus eggs and the mechanism of cortical rotation. Development. 1996 Apr;122(4):1281-9.
Rowning BA, Wells J, Wu M, Gerhart JC, Moon RT, Larabell CA. Microtubule-mediated transport of organelles and localization of beta-catenin to the future dorsal side of Xenopus eggs. Proceedings National Academy of Sciences1997 Feb 18;94(4):1224-9.
---
[1] Belongs to Sun Myung Moon's Unification Church. The Cornerstone, May 1997: "The ambitious plan which began to take shape in 1976 can be stated today with precision and conviction; 'To defend and articulate Unification theology especially in relation to Darwinian evolution,' he said."

Wife: (m., two children)


Theological: MA Religious Education, Unification Theological Seminary (1978)
Theological: PhD Religious Studies, Yale University (1986)
University: PhD Molecular and Cell Biology, University of California at Berkeley (1994)


Discovery Institute
Intelligent Design and Evolution Awareness Center Advisory Board
International Society for Complexity, Information, and Design Fellow
Evolution Skeptics


Official Website:
http://www.iconsofevolution.com/

Author of books:
Charles Hodge's Critique of Darwinism: An Historical-Critical Analysis of Concepts Basic to the 19th Century Debate (1988)
Icons of Evolution: Science or Myth? Why Much of What We Teach About Evolution is Wrong (2000)
The Politically Incorrect Guide to Darwinism and Intelligent Design (2006)





Requires Flash 7+ and Javascript.



Do you know something we don't?
Submit a correction or make a comment about this profile






Copyright ©2019 Soylent Communications