Harriet Miers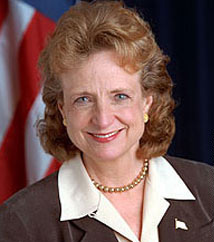 AKA Harriet Ellan Miers
Born: 10-Aug-1945
Birthplace: Dallas, TX

Gender: Female
Religion: Born-Again Christian
Race or Ethnicity: White
Sexual orientation: Straight
Occupation: Government
Party Affiliation: Republican [1]
Nationality: United States
Executive summary: White House Counsel, 2005-07
After graduating from law school, Miers worked at Locke, Purnell, Rain & Harrell (1972-99), and in 1999 she was named co-managing partner at Locke Liddell & Sapp, LLP. In 1992, she became the first woman President of the Texas State Bar. Formerly George W. Bush's personal attorney, Miers worked as counsel to Bush's campaign for governor in 1994, and after his win was appointed chair of the Texas Lottery Commission (1995-2000). After Bush was elected President, she became his staff secretary (2001-03), and then deputy chief of staff (2003-04). She replaced Alberto Gonzales as White House counsel in 2005.
On 3 October 2005, President Bush nominated Miers to replace outgoing Supreme Court Justice Sandra Day O'Connor, a position formerly intended for John G. Roberts, Jr. before he was selected as Chief Justice. With Miers having absolutely no judicial record she was perhaps a prudent choice by the president -- a choice done out of safety rather than boldness -- but to the rest of the country a great uncertainty.
Former Bush speechwriter David Frum opined on 29 September 2005:
In the White House that hero worshipped the president, Miers was distinguished by the intensity of her zeal: She once told me that the president was the most brilliant man she had ever met. She served Bush well, but she is not the person to lead the court in new directions -- or to stand up under the criticism that a conservative justice must expect.
Miers withdrew her nomination on 27 October 2005, retaining her position as White House Counsel. In her place, Bush nominated 3rd District Appeals Judge Samuel Alito.
---
[1] Switched from Democratic to Republican in September of 1994.

Father: Harris W. Miers
Mother: Sally Richardson
Brother: Robert L. Miers
Brother: Harris Miers, Jr.
Brother: Jeb Stuart Miers
Sister: Catherine Miers Zurier ("Kitty", d. 2003)
Boyfriend: Nathan L. Hecht (TX Sup. Ct. justice, "on-again, off-again" for over 25 years)


High School: Hillcrest High School, Dallas, TX (1963)
University: BS Mathematics, Southern Methodist University (1967)
Law School: JD, Southern Methodist University (1970)


White House Counsel (2005-07)
White House Staff Deputy Chief of Staff (2003-04)
White House Staff Staff Secretary (2001-03)
Texas State Official Chairman, Texas Lottery Commission (1995-2000)
Law Clerk for Chief Judge, US District Court, Northern District of Texas
Disney client of Locke, Liddell & Sapp LLP
Microsoft client of Locke, Liddell & Sapp LLP
American Bar Foundation Fellow
Bush-Cheney 2000
Bush-Cheney '04
George W. Bush for President
Kay Bailey Hutchison for Senate
Romney Victory Inc.
Kappa Beta Pi Sorority
Born-Again Christian 1979
Contempt of Congress 14-Feb-2008





Requires Flash 7+ and Javascript.



Do you know something we don't?
Submit a correction or make a comment about this profile






Copyright ©2019 Soylent Communications