Arianna Huffington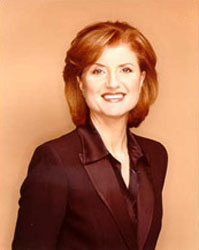 AKA Arianna Stassinopoulos
Born: 15-Jul-1950
Birthplace: Athens, Greece

Gender: Female
Race or Ethnicity: White
Sexual orientation: Straight
Occupation: Columnist, Publisher
Party Affiliation: Independent [1]
Nationality: United States
Executive summary: The Huffington Post
Arianna Huffington is a columnist, web publisher, and frequent presence on TV talking head shows. She wrote several non-fiction and non-political books in the 1980s and 1990s, and first came to moderate fame as the strong, somewhat domineering wife of 1994 Republican candidate for Senate in California, Michael Huffington, heir to oil magnate Roy M. Huffington's fortune. Her husband was defeated by Democrat Dianne Feinstein, and after the election he divorced her and publicly announced himself to be gay. He has said that his ex-wife knew of his interest in men before they were married.
The former Mrs Huffington went to work for Republican icon Newt Gingrich, and wrote a conservative newspaper column that was syndicated, but with minimal success. Readers and editors were perplexed when, instead of being utterly predictable in her views, Huffington's columns began inching bit-by-bit to the left. By the turn of the millennium, she had reinvented herself as a liberal columnist.
Huffington has taken vicious but well-deserved jabs at Rush Limbaugh and George W. Bush, but also described the Democratic Party's leadership as being "in complete denial". She supports medical marijuana, hardly a controversial stand in California. She has criticized then-Florida Governor Jeb Bush for pulling strings to ensure that his drug-addled daughter Noelle Bush sidestepped all the normal legal penalties for her crimes. She calls for programs that genuinely support the troops, from increased medical benefits to mental health counseling for returning war vets. She wants America to abide by the Geneva Conventions, and has called for the closing of Guantanamo and other extralegal U.S.-operated prisons.
In 2003 Huffington ran for Governor of California as an independent, finishing far in the distance behind Arnold Schwarzenegger. In the same year, she put together a series of TV and print ads that parodied the White House's "drug war" ads, which had claimed that smoking pot was supporting terrorism. In Huffington's ads, she argued that SUV sales and the oceans of fuel needed to keep those vehicles rolling, funneled much more money to terrorist governments than any pot purchases.
In 2005 she founded The Huffington Post, a website built around un-paid amateur bloggers, featuring news republished or summarized from traditional media coverage and celebrity columnists. The site has proven increasingly popular with a liberal-leaning audience, and in 2008 Huffington Post hired a small staff of paid investigative reporters, though most of the site's content remains the work of volunteers.
In 2011 she sold the Huffington Post to AOL, where she emerged as editor in chief of AOL's entire stable of news-oriented websites. In her new position, Huffington ordered mass layoffs at AOL within weeks, and added right-wing pundit Andrew Breitbart as a columnist at the previously left-leaning Huffington Post.
---
[1] Describes herself as an independent, unaligned with either party.

Father: Constantine Stassinopoulos (economist)
Mother: Elli Stassinopoulos
Sister: Agapi Stassinopoulos (author)
Husband: Michael Huffington (m. Apr-1986, div. Jun-1997, two daughters)
Daughter: Christina
Daughter: Isabella
Boyfriend: Werner Erhard
Boyfriend: Mort Zuckerman
Boyfriend: Jerry Brown
Boyfriend: Bernard Levin (London Times, 8 years)
Boyfriend: David Murdock (billionaire)


University: MA Economics, Girton College, Cambridge University (1972)


AOL Editor in Chief (2011-)
The Huffington Post Founder (2005-)
California Recall Election
Member of the Board of Uber (2016-)

Bush-Quayle '92
Campaign for American Leadership in the Middle East
Center for American Progress
Center for Public Integrity Board of Directors
Drug Policy Alliance Honorary Board
International Academy of Digital Arts and Sciences
Points of Light Foundation Advisory Board
The Reform Institute Advisory Board
Ordained Minister of the Movement for Spiritual Inner Awareness
Wedding: Michael Huffington and Arianna Stassinopoulos (1986)
Funeral: Nora Ephron (2012)
Greek Ancestry
Risk Factors: Yoga


TELEVISION
Politically Incorrect Frequent Guest
The McLaughlin Group
To The Contrary Panelist


FILMOGRAPHY AS ACTOR
Bhutto (21-Jan-2010) · Herself
Swing Vote (20-May-2008) · Herself
John Q (15-Feb-2002) · Herself
Running Mates (13-Aug-2000) · Herself
Ed TV (26-Mar-1999) · Panel Member
The Siege (6-Nov-1998) · Capitol Week Pundit


Official Website:
http://www.ariannaonline.com/

Author of books:
Maria Callas: The Woman behind the Legend (1981, biography)
The Gods of Greece (1983, mythology; with Roloff Beny)
Picasso: Creator and Destroyer (1988, biography)
The Fourth Instinct: The Call of the Soul (1994, spirituality)
Greetings from the Lincoln Bedroom (1998, novel)
How to Overthrow the Government (2000, politics)
Pigs at the Trough (2003, politics)
Fanatics and Fools: The Game Plan for Winning Back America (2004, politics)
Insurrection: Citizen Challenge to Corporate Power (2005, politics)
On Becoming Fearless in Love, Work, and Life (2006, non-fiction)
Right is Wrong: How the Lunatic Fringe Hijacked America... (2008, politics)
Third World America: How Our Politicians are Abandoning the Middle Class (2010, politics)





Requires Flash 7+ and Javascript.



Do you know something we don't?
Submit a correction or make a comment about this profile






Copyright ©2019 Soylent Communications