Mattie Stepanek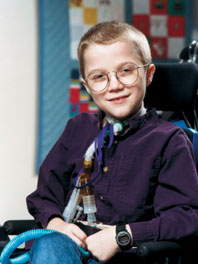 AKA Matthew Joseph Thaddeus Stepanek
Born: 17-Jul-1990
Birthplace: Rockville, MD
Died: 22-Jun-2004
Location of death: Washington, DC [1]
Cause of death: Illness
Remains: Buried, Gate of Heaven Cemetery, Silver Spring, MD

Gender: Male
Religion: Roman Catholic
Race or Ethnicity: White
Occupation: Poet
Nationality: United States
Executive summary: Muscular-dystrophic boy-poet
Mattie Stepanek suffered from dysautonomic mitochondrial myopathy, a genetic disorder causing atrophy of the muscles and eventual death. Three of his siblings died from the disease, and his mother Jeni suffers from a version of it as well. He appeared on the 2001 Jerry Lewis telethon. On Good Morning America he was able to meet his hero, former President Jimmy Carter.
In 2002, he told Larry King, "We're divorced from my father because he did some mean and scary things to us." When pressed on the matter, he refused to divulge futher details other than he does not see his father.
Stepanek's book Heartsongs (2001) reached the top of the New York Times bestseller list, and inspired the young musician Billy Gilman to record an album, Music Through Heartsongs: Songs Based on the Poetry of Mattie J. T. Stepanek (2003).
I have a song, deep in my heart,
And only I can hear it.
If I close my eyes and sit very still
It is so easy to listen to my song.
His books in total sold over a million copies, spurred by appearances on the Oprah Winfrey and other shows. Locomotion required a wheelchair and ventilation, assisted by a "service dog", Micah. Stepanek is the proud owner of what he calls a "remote controlled fart machine." At age 8, he earned a black belt in hapkido, a Korean martial art.
---
[1] Children's National Medical Center, Washington, DC.

Father: (estranged)
Mother: Jeni (b. 1959, has adult-onset muscular dystrophy)
Sister: Katie (b. 1985, d. muscular dystrophy aged 2)
Brother: Stevie (b. 1987, d. muscular dystrophy aged 6 mo)
Brother: Jamie (b. 1989, d. muscular dystrophy aged 3)


Muscular Dystrophy Association Poster boy and Goodwill Ambassador, 2002-4


Author of books:
Heartsongs (2001, poetry)
Journey Through Heartsongs (2002, poetry)
Hope Through Heartsongs (2002, poetry)
Celebrating Through Heartsongs (2002, poetry)
Loving Through Heartsongs (2003, poetry)
Reflections of a Peacemaker: A Portrait Through Heartsongs (2005, poetry)
Just Peace: A Message of Hope (2006, with Jimmy Carter)





Requires Flash 7+ and Javascript.



Do you know something we don't?
Submit a correction or make a comment about this profile






Copyright ©2019 Soylent Communications