Demi Moore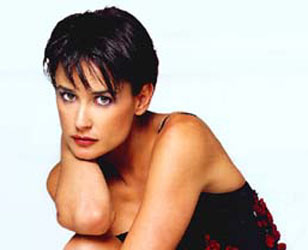 AKA Demetria Gene Guynes
Born: 11-Nov-1962
Birthplace: Roswell, NM

Gender: Female
Religion: See Note [1]
Race or Ethnicity: White
Sexual orientation: Straight
Occupation: Actor, Film/TV Producer, Model
Nationality: United States
Executive summary: Ghost
Demi Moore's parents were married for only two months, and her natural father was gone from the family before she was born. Her mother eventually remarried, but her stepfather was reportedly abusive when he drank, and moved the family more than two dozen times in an elusive search for steady work. Moore was a gawky, odd-looking child who suffered from severely crossed eyes, which required two surgeries to correct. Her stepfather committed suicide just as she was going into acting, and she was estranged from her alcoholic mother for many years, though they briefly reconciled before her mother's death from cancer in 1998.
Moore had her eyes straightened, and began working part-time as a model when she was 16, dropping out of high school when she was offered the opportunity to work in Europe. Shortly after her 18th birthday, she posed for a nude layout in Oui magazine, and married Freddy Moore. She then decided to become an actress, and signed up for lessons from a well-respected drama teacher. She made her film debut almost immediately, with a small role in a high school sports drama, Choices, and she was the nominal leading lady in the 3D horror Parasite. After a brief stint on General Hospital, a topless Moore was a splash in Blame It On Rio, the lecherous comedy of young girls falling for much older family friends, and in No Small Affair her affair was with younger man Jon Cryer. In St. Elmo's Fire, she played a cokehead, and she has admitted that she really had a cocaine problem at the time.
After divorcing Freddy Moore in 1984, she married Bruce Willis in 1987, with the Reverend Little Richard presiding over the ceremony. For years, Moore and Willis were perpetual tabloid fodder. She posed for Vanity Fair covers twice, once while seven months pregnant, and later clothed in only a body-paint men's suit. By the mid-1990s she was the top-paid female star in films, and the first woman to earn more than $10 million for a single performance.
In most of her many film roles she has been adequate but rarely described as an exceptional actress. She was at her most appealing in Ghost with Patrick Swayze and Whoopi Goldberg, but she needed a million dollars to sleep with Robert Redford in Indecent Proposal, and she was rather implausibly Michael Douglas' sexual harasser in Disclosure. In most of her better films -- A Few Good Men, Deconstructing Harry, Now and Then, One Crazy Summer, About Last Night... -- she shared the screen with better talents, and her career, especially as a solo star, began to falter just as she was earning her biggest paychecks. In her late-90s slide, she starred in The Scarlet Letter with a laughable happy ending added on, co-starred in Striptease, and sported a crew-cut as a Navy SEAL in G.I. Jane. She hit rock-bottom with 2000's Passion of Mind, which grossed less than a million dollars in its U.S. theatrical release.
After her 2000 divorce from Willis, she disappeared from movie screens, and was widely seen as all washed up. She remained a Hollywood power, though, and produced all three of Mike Myers' Austin Powers blockbusters. She has since returned to acting with supporting roles in Charlie's Angels: Full Throttle and Bobby, and starred in the low-budget thriller Half Light.
Lawrence Bass, the former manager of Moore and Willis's Idaho ranch, has claimed he was sexually harassed by Moore during his employment. Willis and Moore, still friends, have sued to stop Bass from publishing a tell-tale book, arguing that he signed a confidentiality agreement when he was hired. They also had a similar court battle against their former nanny, Kim Tannahill, who accused Moore of being a negligent mother, and described both Moore and Willis as "abusive employers". All three of Moore and Willis' children have worked as child actors in their parents' movies.
Moore denies that she ever had cosmetic surgery, but at some point after her topless scene in Blame It on Rio, she seems to have either had breast implants installed or undergone a second puberty. She is also whispered to have had work done on her hips, stomach, and buttocks.
---
[1] Dabbles in Kabbalah.

Father: Charles Harmon (Air Force veteran with gambling problem)
Father: Dan Guynes (stepfather, ad salesman, b. 1943, d. 1980, suicide)
Mother: Virginia Guynes (b. 27-Nov-1943, d. 2-Jul-1998, brain tumor)
Brother: Morgan Guynes (half-brother, b. Jul-1967)
Brother: James Craig Harmon (half-brother)
Husband: Freddy Moore (m. 1980, div. 1984)
Boyfriend: John Stamos (actor, dated early 80s)
Boyfriend: Emilio Estevez (actor, dated 1984-87, broken engagement)
Husband: Bruce Willis (m. 21-Nov-1987, sep. 1998, div. 28-Oct-2000)
Daughter: Rumer Willis (actress, b. 16-Aug-1988)
Daughter: Scout LaRue Willis (child actress, b. 20-Jul-1991)
Daughter: Tallulah Belle Willis (child actress, b. 3-Feb-1994)
Boyfriend: Oliver Whitcomb (martial arts instructor, reportedly dated 1999)
Boyfriend: Owen Wilson (actor, dated early 00s)
Boyfriend: Guy Oseary (Madonna's business partner, dated early 00s)
Boyfriend: Leonardo DiCaprio (actor, dated early 00s)
Boyfriend: Tobey Maguire (actor, dated early 00s)
Boyfriend: Colin Farrell (actor, dated early 00s)
Boyfriend: Anthony Kiedis (musician, dated 2002)
Husband: Ashton Kutcher (actor, dated 2003-05, m. 24-Sep-2005, sep. 17-Nov-2011, div. 27-Nov-2013)


High School: Fairfax High School, Los Angeles, CA (dropped out)


Planet Hollywood
Alcoholics Anonymous
Breast Reduction Surgery
Liposuction (according to tabloid reports)
Wedding: Eddie Murphy and Nicole Mitchell (1993)
unknown detox facility (2008)
Brain Seizure Los Angeles, CA (23-Jan-2012)
Cirque Lodge (Feb-2012)
Risk Factors: Cocaine, Smoking, Vegetarian, Yoga


TELEVISION
General Hospital Jackie Templeton (1982-83)


FILMOGRAPHY AS ACTOR
Blind (16-Jun-2017)
Rough Night (15-Jun-2017)
Forsaken (16-Sep-2015)
Very Good Girls (22-Jan-2013)
LOL (10-Feb-2012)
Margin Call (25-Jan-2011)
Another Happy Day (23-Jan-2011)
Bunraku (11-Sep-2010) · Alexandra
The Joneses (13-Sep-2009) · Kate Jones
Happy Tears (11-Feb-2009) · Laura
Mr. Brooks (31-May-2007)
Flawless (11-Feb-2007) · Laura
Bobby (5-Sep-2006)
Half Light (17-Jan-2006)
Charlie's Angels: Full Throttle (18-Jun-2003) · Madison Lee
The Hunchback of Notre Dame II (13-Feb-2002) [VOICE]
Passion of Mind (7-Jan-2000)
Deconstructing Harry (26-Aug-1997)
G.I. Jane (22-Aug-1997)
Destination Anywhere (16-Jun-1997)
Beavis and Butthead Do America (20-Dec-1996) · Dallas [VOICE]
If These Walls Could Talk (11-Sep-1996)
Striptease (28-Jun-1996) · Erin Grant
The Hunchback of Notre Dame (21-Jun-1996) [VOICE]
The Juror (2-Feb-1996) · Annie
Now and Then (20-Oct-1995)
The Scarlet Letter (13-Oct-1995) · Hester Prynne
Disclosure (9-Dec-1994) · Meredith Johnson
Indecent Proposal (7-Apr-1993) · Diana Murphy
A Few Good Men (11-Dec-1992)
The Butcher's Wife (25-Oct-1991)
Mortal Thoughts (19-Apr-1991) · Cynthia Kellogg
Nothing But Trouble (15-Feb-1991) · Diane Lightson
Ghost (13-Jul-1990)
We're No Angels (15-Dec-1989)
The Seventh Sign (1-Apr-1988) · Abby Quinn
Wisdom (31-Dec-1986)
One Crazy Summer (8-Aug-1986) · Cassandra
About Last Night... (2-Jul-1986)
St. Elmo's Fire (28-Jun-1985) · Jules
No Small Affair (9-Nov-1984) · Laura
Blame It on Rio (17-Feb-1984) · Nicole Hollis
Parasite (12-Mar-1982)
Choices (Oct-1981)


Appears on the cover of:
People, 16-Jun-2003, DETAILS: Demi's Hot New Romance -- With Ashton Kutcher!





Requires Flash 7+ and Javascript.



Do you know something we don't?
Submit a correction or make a comment about this profile






Copyright ©2019 Soylent Communications