Bobby (5-Sep-2006)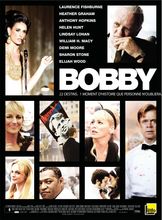 Director: Emilio Estevez
Writer: Emilio Estevez
Music: Mark Isham
Producers: Edward Bass; Michel Litvak; Holly Wiersma
Keywords: Drama, Assassination, Biography




The hours leading to the assassination of presidential candidate Robert F. Kennedy, told as fictional capsule portraits of the lives of 22 incidental individuals present at the Ambassador Hotel: doormen, a lounge singer, teenagers, campaign workers, kitchen staff, etc. Bobby Kennedy appears only via historical footage.
REVIEWS
Review by Chris Russell (posted on 18-Jun-2007)
Bobby In the summer of 1968 I was 9. My family lived in Skaneateles, Finger Lake Region in Upstate NY, Bobby Kennedy landed at our small local airport on his way to the Syracuse Hotel. This town recieved added national attention with a visit years later by President Clinton and his family, perhaps you remember? Before, just in the first grade,I walked home from school when his brother was assasinated, dazed, confused and with a deep-sad feeling inside, I remember my mother watching on our black and white TV Walter Cronkite and crying uncontrollably, I too began to cry not totally understanding what happened. I had recieved a Kodak instamatic that Christmas and took a picture of my sister Sue shaking hands with Bobby, she was turned to me but I had a clear shot of her back and Bobby's face, it was a memorable moment in my life, one I will never forget, I still have the photo ....we moved to Detroit in August and he was killed a few months later...I sit here wondering what our country would be like today if he or his brother had lived and been elected and served his terms as President... I am not a huge film follower but have been always a fan of your father, Charlie and you! ...god bless all of you and your family .....again thank you, great picture!
---
Do you know something we don't?
Submit a correction or make a comment about this profile

Copyright ©2019 Soylent Communications